UK DIY News
Bunnings UK - Our first impressions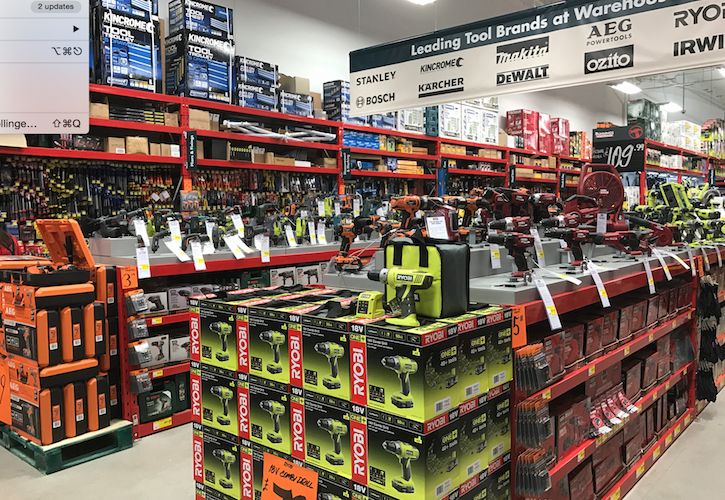 They've only gone and done it - 12 months since Wesfarmers acquisition of the Homebase business, the Bunnings UK team have delivered a stunning version of Bunnings on UK soil.
It's fair to say that this is the most significant development in our industry, since Richard Block turned to David Quayle over a pint in Southampton in 1969 and said 'I think it might be a cool idea to open a DIY store'. If you're under 30 and have no idea what I'm talking about, do yourself a favour and check this out – History of B&Q.
As you know, since the news broke that Wesfarmers was buying the Homebase business, Insight DIY has been watching this development very, very closely.
Last week we attended the official press day and having spent time trawling the store, these are our initial impressions:-
Widest Range
There's no doubt that this is a DIY Warehouse, a store whose single purpose is to provide massive stocks of home and garden products at very competitive prices. The store is smaller than their sister Warehouses back in Oz, at approximately 67,000 sq ft (6,000 sq.m), and stocks just over 30,000 lines. As well as all the usual stuff, the store has a café, small indoor kids play area, timber cutting (previously taken out of the Homebase estate, probably due to some Health & Safety nonsense) and the all essential key cutting.
OK, so the store was brand new and as a result was tidy and every shelf, peg, bin and basket was full to the brim, but they had a serious amount of stock. The stock investment compared to a standard Homebase or even a B&Q of similar size was quite frankly scary.
When Sir Jack Cohen (founder of Tesco) coined the phrase 'Pile it high, sell it cheap' in his now legendary 1972 book, it's clear that he wasn't actually referring to Tesco, he was talking about Bunnings. (I know, I thought it might be an interesting read too, but these days you simply can't pick up a copy for under £60!)
If you're heading to Bunnings for inspiration and ideas, don't waste your time, you wont find any. No pretty pictures, no 'Your garden or living room could look like this', purely aisle after aisle of products, functional home improvement products. I'm not certain, but I could have sworn that there was a warning sign above the door saying 'This is a store for blokes, sheila's wait outside'.
In terms of individual product categories, they have without doubt delivered a tool category or carale of note. A barn stormer of a department with more power and hand tools than I've ever seen under one roof. Total and utter category credibility. When the manager opens the store on a Monday morning, he'll be finding random middle aged males fast asleep in this department with their heads resting on angle grinders and big smiles on their faces.
The other standout categories are without doubt Decorative and Gardening, the two serious money earners. In Decorative, they've expanded the brands and rather than just mix Dulux, they also mix Johnstones and Crown and the colour wall offers over 3,000+ options. For pics, check out Lifting the lid on Bunnings St.Albans.
There are also some oddities. Having the Australian Brush Company's Monarch brand as the dominant player in decorating accessories with Harris a poor second, seems a strange decision to me and speaks more about Bunnings relationhships with suppliers back home than necessarily giving UK consumers what they want.
Homebase always were good at gardening and it's great to see that Bunnings have learnt from this and developed it further. The space allocation to gardening is huge and again they have delivered a very credible and sensible offer. I think the senior Bunnings team are still getting their heads around what UK consumers actually do in our gardens. In Australia a garden or 'back yard' is simply a storage area for their massive BBQ's and supporting paraphernalia, whereas in the UK we think it's a great idea to buy bags and bags of soil to put on top of our existing soil, must seem rather odd.
Lowest Prices
We expected Bunnings 'Lowest prices are just the beginning' to have total price alignment with the existing Homebase 'Always low prices' strategy, but we couldn't have been more wrong.
Later this week, we'll be publishing the first iPaint30 price basket to include B&Q, Bunnings, Homebase, Wickes and Wilko and believe me, it's an eye opener!
Best Service
During our two hours in the store, I was approached on 26 different occasions by store staff and each one, I felt, was genuinely interested in helping me. I believe the biggest achievement of Bunnings UK so far, is not the St.Albans store, it is in fact the indoctrination of the Homebase team. And I'm not making this comment based on the opening day of St.Albans, but based on my visits to many Homebase branches over the last six months. Previously, you'd see staff diving behind pallets of Brabantia bins to avoid customers, or trying to camouflage themselves by standing arms outstretched in front of the green and orange paint displays. The staff I see now are confident, knowledgable and most of all helpful.
To reinforce the message, the new store has 68 team members, almost double the numbers previously employed in the Homebase and as a result 30 new roles were created, which is great news for the local area. If this exact model is rolled out to all stores, then there'll clearly be a doubling of the store staff bill, which is a considerable investment in itself.
If service is the real differentiator and the single driver of customer loyalty (and I'm not 100% convinced that it is) then they do have a winning formula and Peter Davis may as well start spending the £500m converting the remaining 265 Homebase stores tomorrow.
Over the coming weeks, we'll be looking at each individual category in more detail and highlighting who we think are the supplier winners and losers between Homebase and Bunnings, so don't forget to check back regularly.
For further information, you can download a category plan of the St.Albans store and fact sheet and you can download all of our latest images here - Lifting the lid on Bunnings St.Albans.
Source: Steve Collinge - Managing Director Insight Retail Group Ltd.
Want to tell me what you think? Then email me at Steve@irg.co.uk.
Interested in all the very latest news on Bunnings UK? Then sign-up for our weekly Insight DIY newsletter here.
07 February 2017

Insight provides a host of information I need on many of our company's largest customers. I use this information regularly with my team, both at a local level as well as with our other international operations. It's extremely useful when sharing market intelligence information with our corporate office.

Paul Boyce - European CEO, QEP Ltd.