UK DIY News
Will Bunnings' strategy work in the UK? Part 2 Widest Range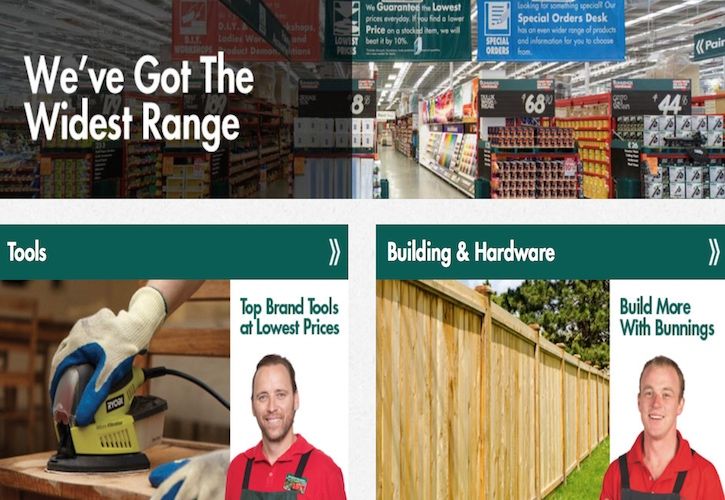 Last week, we took a close look at Bunnings strategy and examined whether we believed the revitalized Homebase business could effectively deliver that same strategy successfully in the UK market.
We concluded that there's no doubt that the Bunnings strategy will be copied and pasted into the Homebase business; why would you do anything else? Particularly when you consider the decade of year on year sales and EBITDA growth for the Bunnings business in Australia & New Zealand.
The first of the three Bunnings strategic pillars we reviewed was 'Every day lowest prices' and we concluded that it would be extremely difficult to both deliver on and make this commitment to UK consumers, when the Homebase business has lower volumes in key categories than both Kingfisher and Travis Perkins. If you'd like to catch up on this article, just click here.
This week, we examine the second of their three strategic pillars 'The Widest Range'.
So what does having the widest range actually mean? Does it mean the widest range across all channels, widest product offer in-store or the combination of both in-store and on-line, or does it simply mean having more products available in key categories than their competitors?
For the answer, let's look at what Bunnings say on their Australian website:-
Widest Range - Bunnings stores stock around 45,000 products, including; plants, gardening equipment and supplies, indoor and outdoor lighting, flooring, heating and cooling, hand and power tools, paint, home storage, kitchens and appliances, garden furniture and play equipment, plumbing and electrical products, building supplies and timber. An expanded range is available through the Bunnings Special Orders service.
So let's assume that to successfully deliver the Bunnings strategy in the UK, then they must be referring to offering the widest range in-store, compared to their competitors. After all, in Australia, Bunnings doesn't even have a transactional website, all you can do is add products to wish lists, you can't actually buy anything - see for yourself here.
Described as the 'corner-stone' of the Bunnings brand, the Australian Bunnings Warehouse stores (there were 240 at 31st Dec' 2015) the largest format they operate, ranges in size from 5,000 sq.m to a whopping 20,000 sq.m. They also operate 67 smaller format stores, ranging in size from 2,000 sq.m to the largest at 5,000 sq.m.
Homebase currently stocks a maximum of around 20,000 products in their stores (less than half of the products ranged by an average Bunnings store in Australia) and has an average store size of just over 4,500sq.m, of which 1,000 sq.m is garden centre. A further 20,000 products are then available to purchase from Homebase.co.uk. Clearly, it's always going to be easier to deliver a strategy based on the widest product range when you have the largest stores in a country. However, in the UK on average, a B&Q warehouse store stocks double the range of an average Homebase, with some 40,000 products under one roof and even more available on-line.
Can somebody therefore please help me to understand, how can Bunnings deliver a commitment of 'The Widest Range' to UK consumers and how can this strategy be delivered successfully, when the average Homebase store size is simply too small? I accept that Bunnings have stated that they intend to open a many as ten new Bunnings stores in the UK. However, I can't see anyone supporting that move, when the majority of retailers in the UK are currently contracting their store estates and large warehouse stores are not now seen as the category killer that they were ten years ago. Check out this article on Tesco from as far back as July 2014 'Tesco to build homes rather than supermarkets'.
So, do we think Bunnings strategy to offer the widest range of home improvement products in the UK can be successfully achieved? For the reasons explained above no, I'm afraid we don't.
If you disagree with this view, or would just like to make a comment, please email me at Steve@irg.co.uk and we'll happily publish your response.
Source: Steve Collinge - MD Insight Retail Group Ltd.
For information on the Insight DIY retailer price and range monitoring services, click here.
To advertise on the Insight DIY website and download our media pack, click here.
To sign-up for our weekly newsletter here.
19 April 2016

Insight DIY always publishes the latest news stories before anyone else and we find it to be an invaluable source of customer and market information.

Max Crosby Browne - CEO, Home Decor