Advertisers
Insight DIY is widely read by more than 330,000 unique users every year, including a growing number of retailers, suppliers, manufactures, service providers, investors, analysts and industry watchers. We continue to rapidly grow our website traffic every year (source: Google Analytics) and we're proud to say, we are the most read and followed Home Improvement industry news and market intelligence website.
With over 10,000 buyers, head office staff and store managers accessing the website and reading our weekly newsletter, there is no better place to promote your brands and raise awareness of new products and initiatives.
Here's some recent examples of brands who have successfully used Insight DIY to promote their brands, new products and latest initiatives:-
Gorilla Glue - Gorilla Glue expands into new categories
Yale Locks - Yale unlocks the home of the future - Conexis L1
Triton Showers - Now installing showers in living rooms
Shurtape - T-Rex scores with huge broadcast campaign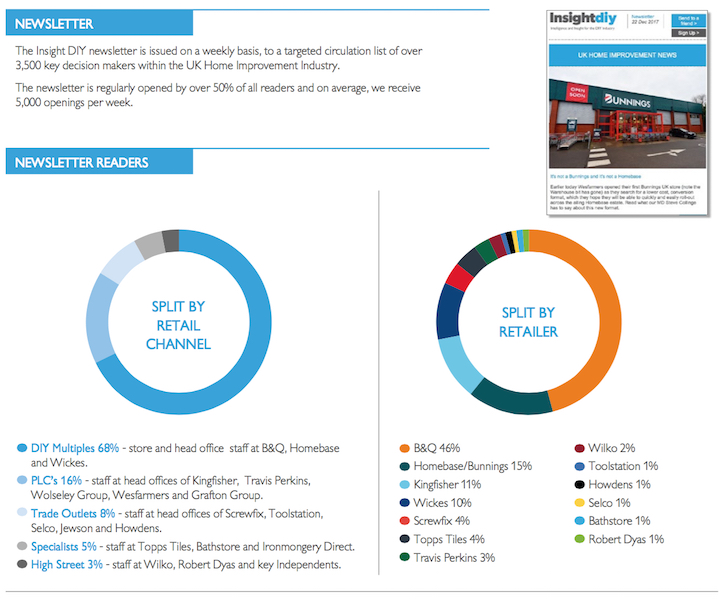 Our website has a range of high profile advertising options from as little as £250 plus vat and we can tailor packages to meet the objectives of your individual brands. Dependent upon what you're looking to achieve, this can include:-
Advertising banners and links - across every Insight DIY website page.
News, Articles and Videos - inclusion of content across each of the three high profile sections of the website, including press releases, images, infographics and videos.
What's New? - inclusion of new products and initiatives within our What's New? section.
Best of British - inclusion within our new Best of British section, showcasing the UK's best suppliers and manufacturers.
Weekly Newsletter - inclusion within our existing, high profile newsletter.
Exclusive Newsletter - option to issue a dedicated newsletter to our mailing list.
Social Media - inclusion of content across each of our social media channels.
For more information, please do not hesitate to contact us or download the latest media pack.
Download Insight DIY Media Pack 2020

Thank you for the excellent presentation that you gave at Woodbury Park on Thursday morning. It was very interesting and thought-provoking for our Retail members. The feedback has been excellent.


Martin Elliott. Chief Executive - Home Hardware.