What's New
Search
What's new in the Home Improvement & Garden industry:
Trendiswitch Launches 'Let's Do Colour' Range Of Sockets & Switches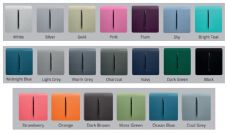 Innovative wiring accessory company Trendiswitch has expanded its range of plug sockets and switches with an inspiring new colour collection.
The new 'Let's Do Colour' range features 16 colours to compliment any home or business interior, featuring neutral shades of blue and grey alongside bright strawberry and orange hues.
For those looking for more traditional tones for their sockets and switches, Trendiswitch continues to offer its full product range in its core shades of classic black, white, gold and silver.
The new range came about following a discussion between Sean Toseland, Sales Director for Consumer Retail at Trendiswitch, and Homebase.
Sean said: "To compliment our traditional four core colours we decided in late 2020 to launch the "let's do colour" project and along with our retail partner HOMEBASE we have bought 16 new colours to the wiring accessory space, offering a huge choice of options to the consumer.
"With a strong emphasis on the current trends in home interior paint our new colours range is led by greys and tones of blue however we have been bold and added reds and oranges."
Sean added: "Our principal retail partner Homebase approached me in late 2019 with a radical brief, "how can we really shake up the electrical offer". After some small trials, social media surveys and experiments in colour we had the solution to that brief by the summer of 2020 and in November we rolled out to all stores, instantly adding something very different to a space dominated for many years by white plastic and chrome. By being brave and working very closely with Homebase we have changed the landscape of electrical accessories."
Products in the new range include:
Single and double switches
Single and double sockets
Single and double dimmer switches
Fused spur
4-Way USB socket
45Amp switch
Cooker panel
Notable features of the Trendiswitch range include:
High quality plastic face plate, which will not fade in direct sunlight or scratch easily
Screwless design with a clip on front plate
Interchange plates
Fireproof ABS Plastic module casing and face plate
Easy clean product, allowing you to keep it looking as good as new
A five-year manufacturer's guarantee.
Available in all Homebase stores and Homebase.co.uk; Next.co.uk, and many other authorised resellers
Trendiswitch products have been fitted within homes and hotels both at home and abroad and have even been seen on screen, with switches appearing on the BBC programme 'Your Home Made Perfect' and Coronation Street.
The bold new range represents a radical departure from the white plastic and chrome wiring accessories that have dominated the category for many years, and are sure to appeal to anyone seeking that colour-coordinated finishing touch.
Click here to buy Trendiswitch products from Homebase
Click here to visit the Trendiswitch website here
Source : Trendiswitch
If you'd like to know more about how Insight DIY can help you to raise awareness of your brands, new products and latest initiatives, contact us here.
Coral Tools - Headlock Roller Technology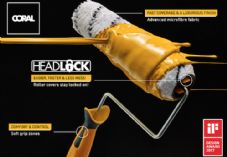 It's not often we come across innovation that's so simple and yet delivers such a significant consumer benefit, that we're surprised it hasn't been thought of before.
How many times have you purchased a paint roller set and usually after no more than 10 minutes of painting you find the roller sleeve starting to slip off the frame? Happens all the time and we just thought it was part of using paint rollers.
Last week, we met with Matthew Page, the MD of Coral Tools who introduced the Headlock paint roller to us. The company claims that the HEADLOCK® paint roller makes painting faster, easier, and less messy than ever before. The patented technology features a unique cartridge system that locks paint roller covers onto the frame. This prevents the roller covers slipping off their frames for faster and easier painting with less mess.

Since their invention in the 1940s, paint rollers have become one of the most widely used paint application tools around the world and yet, despite their popularity, paint roller covers tend to slide and move on the frame resulting in loss of productivity and time taken pushing the cover back onto the frame, getting paint on hands and other surfaces.
The patented Headlock technology solves this problem with a retaining cartridge featuring a positive locking and release mechanism. The practical use benefits enhance the sporty appearance and ergonomic handle for a leading total user experience.
The product has been recognised with a number of design awards including the prestigious 2017 iF Design Awardand the 2016 Good Design Award.
HEADLOCK technology is currently available in Bunnings, Homebase, Wilko, Argos, Amazon and many leading independent retailers.
Read more about the product here - Headlock Paint Roller Technology
Interested? You can contact Coral Tools on 0800 368 8080 or by email to hello@coral-tools.com
This is an Insight DIY sponsored feature on behalf of Coral Tools.
If you'd like to know more about how Insight DIY can help you to raise awareness of your brands, new products and latest initiatives, contact us here.
Climaflex - the new reference in climate protection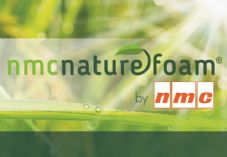 NMC the leading international player in the development, production and marketing of synthetic foams has developed a foam based on renewable raw materials.
This innovation significantly improved the climate and energy performance of NMC products and helps towards protecting the climate and resources. As a family company, NMC stands for quality and climate protection.
Plant-based raw materials make the difference
The new NMC Naturefoam® is made mainly from polyethylene manufactured from sugarcane. Sugarcane grows back every year absorbing CO2 as it grows and thereby saving finite resources such as oil. NMC Naturefoam® is available for NMC quality brands CLIMAFLEX® and EXZENTROFLEX®.
Environmental product declaration (EPD) for Climaflex® made of NMC Naturefoam® shows impressive results.
The EPD for the Climaflex range made of NMC Naturefoam® certified by the IBU (Institute for Construction & Environment) proves that the CO2 emission in the entire production process from cradle to the factory gate could be reduced to zero which is clearly better than initially estimated. In the production of the previous Climaflex formulation these emissions amounted to 62.8kg CO2 per m3 of foam whereas in common rubber insulation they can come between 200-220kg per m3 of foam.
Pipe Insulation made NMC Naturefoam® offers double the contribution to climate protection
Technical pipe insulation products carrying the proven NMC quality brands CLIMAFLEX® and EXZENTROFLEX® are improved by the use of at least 50% renewable materials. Recycled manufacturing scrap and additives to improve insulation values and fire protection complete the composition.
Top Class Product properties
CLIMAFLEX® and EXZENTROFLEX® from NMC Naturefoam® have the same technical properties as the previous CLIMAFLEX® in terms of:
Insulation values
Fire performance
Simple installation by craftsman
Longevity
Climate protection as a major driver in renovation and construction.
Politicians and consumers are demanding more sustainability in all areas of life, including in the construction industry. Consistent environmentally conscious construction and restoration thus means
Using materials which generate fewer greenhouse gases,
Contain a high percentage of renewable raw materials
Manufactured by means of environmentally sensitive production processes.
More information on NMC Naturefoam® is available from; nmc (uk) ltd
Tel: 01495 713266, Fax: 01495 713277
Email: enquiries@nmc-uk.com Web: www.nmc-naturefoam.com
Source: Sponsored Insight DIY content.
Yale unlocks the home of the future - Conexis L1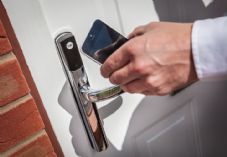 Leading lock specialist Yale, has launched the brand new Conexis®L1 Smart Door Lock that puts homeowners fully in control of their door, allowing them to configure, control and unlock the door all from a smartphone, via a Bluetooth low energy App.
When investigating the smart home market, research revealed 62% of consumers want the ability to remotely lock and unlock their door from anywhere at anytime*. The Conexis® L1 does just that, enabling users to create and send mobile keys to family and friends, and keep track of who comes and goes simply using their smartphone. Thanks to the new Twist and Go functionality, homeowners can also twist their phone 90 degrees to unlock the front door, as well as having the choice of key tag, key card or phone tag.
As such, Yale is encouraging retailers to stock up on the future of door hardware to meet customer demand.
The lock has been specifically designed for quick and easy DIY installation, requiring only a single screwdriver and tape measure to fit. It is suitable for both PVCu and Composite doors. And don't worry if the electricity goes down! The smart lock is powered by four AA batteries and will send a warning notification to your smartphone when the batteries begin running low. It even has a backup battery connection port on its external side, which can be used to power the lock in the event of a flat battery.
Stephen Roberts, Marketing Manager for Yale, comments: "The Conexis® L1 gives homeowners total control of who can access their home and provides the ultimate peace of mind, knowing your loved ones are home safely.
"In addition to a tamper alarm, the Conexis®L1 is PAS24 accredited, providing the superior standard of security that Yale is famous for, giving retailers and consumers confidence in the quality of the technology."
When linked with a Yale wireless module, users can connect the Conexis® L1 to other Yale smart products, including the Yale Smart Home Alarm or Smart CCTV range, which can then be controlled via the free Yale Home app.
For more information about the Conexis® L1 Smart Door Lock and the rest of the Smart Living range, please visit www.yale.co.uk/smart-living.
New hit in interior design - George Quinn launches staircase renovation videos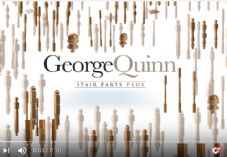 The Irish leader on the stair parts market created staircase renovation videos to show people how to renovate each part of a staircase. The tutorials presented by their Staircase Renovation Specialist, Damien Reilly, enable carpenters, builders and people passionate about DIY to easily renovate a staircase.

George Quinn, stair parts designer, manufacturer and supplier in Ireland and the United Kingdom, released a complete set of staircase renovation videos to come to the help of carpenters, builders and DIY people. The video tutorials are publicly available on their stair parts website and on their YouTube channel and can be watched for free from anywhere in the world.
"We want everyone to learn how to renovate a staircase and have the possibility to renovate their stairs", said Martin McGinn, the Managing Director. "We tried to incorporate and to answer every question that we received from our customers and we believe that we managed
to create something simple to follow, attractive and even funny. These videos contain tips for carpenters and builders, and also step by step explanations for people that are not so familiar with woodwork."
The trend to renovate staircases started in 2015 when more and more people started to buy stair parts online. Based on a market research done by George Quinn in 2015, this trend is going to grow even more in 2016 as it is the most advantageous solution for staircase renovation, financially speaking.
The company promised to continue creating video tutorials and answer any questions about staircase renovation. They invite people to watch the videos that were already released and to contact them if they have any questions.
Short video on how to renovate a staircase
For more information:
Contact: Dominic Amariei
Tel.: 0044 800 0850 479
Email: dominic@georgequinn.ie
Website: http://georgequinn.co.uk/
Richard Burbidge launches Elements with glass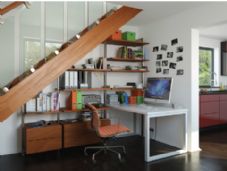 Richard Burbidge, the stairpart specialist, has launched Elements with Glass, a new range of contemporary stairparts that feature striking glass infill panels and solid wood newels.
The unique glass panels turn traditional stair design on its head, creating the illusion of light and space, and are also easy to install, enabling contractors to provide something visually impressive, with minimum mess and disruption to the household.
Ideal for domestic refurbishment and projects requiring a modern twist, the Elements with Glass range is easy to fit, while maintaining a high-end look and feel. The products are available in white oak and are supplied with gun-metal connectors and fittings.
Louise Morris, Group Brand and Communications Manager, from Richard Burbidge said, "In recent years we have invested heavily in product development, creating contemporary designs using different materials to give your customers the widest choice possible.
"Our stair parts are designed to stand the test of time, and Elements with Glass range offers a contemporary solution that will stay looking good for many years to come."
All stairparts from Richard Burbidge come fully strength tested to meet UK regulations.
To find out more about Richard Burbidge, visit www.richardburbidge.co.uk
Source: Richard Burbidge
Harris Brushes launches new product range exclusively for independent retailers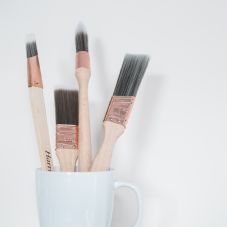 Harris Brushes has added to its expanding portfolio and launched a brand new range of paint brushes, that are available exclusively to its independent retailers.

The Artisan range includes four brushes; the Angled, Round, Flat and Fitch brush, each available in three sizes. Designed and developed with the consumer in mind, this new collection allows customers to paint with more control, ease and accuracy.

All Artisan products feature a copper plated ferrule and long-lasting beech wood handle that has a contemporary look and feel that will ensure it will be flying off the shelves as the latest 'must-have' product.

The Angled brush, ideal for window and door frames, has silky, long and soft synthetic filaments that make cutting in easier and also produces smooth solid lines.

The Round Brush has super-fine, tapered, synthetic filaments and the smooth wooden handle rotates easily to help paint evenly. The pointed tip ensures customers can paint detailed areas with pinpoint accuracy and is perfect for confined, restricted spaces.

There is also the Flat brush, which has a nimble head, super soft bristles and a precise tip, perfect for cutting in and recoating, as it produces a much finer distribution of paint. It's great for touching up areas.The Fitch brush is great for light switches, coving and cutting in. The fine head gives increased precision and control, while the angled tip provides ease when painting edges and corners.

Stuart Hobbs, Sales and Marketing Director at Harris comments:

"This is no normal paint brush range. It is in fact a selection of specialist brushes that have been designed and developed to help consumers paint those tricky areas much faster but with accuracy and detail. The synthetic bristles pick up the precise quantity of paint for completing detailed areas and the fine tips help to give a smooth finish."What is so brilliant about this range, is that it has been designed to enable amateur decorators to achieve that professional finish. We are really certain that these new, innovative products will prove to be best sellers for our retailers."
| | | |
| --- | --- | --- |
| Brush | RRP Ex Vat | RRP Inc Vat |
| Artisan 25mm Round | £2.91 | £3.49 |
| Artisan 21mm Round | £2.49 | £2.99 |
| Artisan 15mm Round | £2.08 | £2.50 |
| Artisan 2" Angled Sash | £2.49 | £2.99 |
| Artisan 1.5" Angled Sash | £2.08 | £2.50 |
| Artisan 1" Angled Sash | £1.66 | £1.99 |
| Artisan 2" Flat | £1.66 | £1.99 |
| Artisan 1.5" Flat | £1.49 | £1.79 |
| Artisan 1" Flat | £1.24 | £1.49 |
| Fitch 25mm | £2.09 | £2.51 |
| Fitch 18mm | £1.99 | £2.39 |
| Fitch 12mm | £1.89 | £2.27 |
Get smart! Yale showcases Smart Living at Grand Designs Live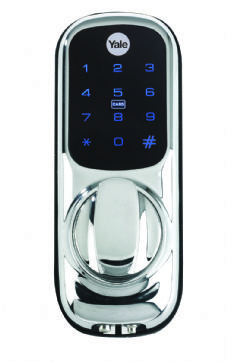 Yale's new Smart Living range is set to take Grand Designs Live by storm, whetting consumer appetite for all things smart!

Grand Designs Live, which runs 8-11th October at the NEC Birmingham, offers consumers the opportunity to see the latest trends for the home, including many products that have never seen before.

The show will include live demonstrations of Yale's award winning CCTV system, smart locks, digital door viewers and alarms; encouraging homeowners to get to grips with the new smart technologies on the market.

Dave Herbert, Business Development Director for Smart Living, said: "Our Smart Living range is available in a variety of options to suit all consumer needs, Smart Living is the smart choice for trade professionals looking to increase sales. From standalone products, to a complete home security system, built around an intelligent smart security hub, which integrates with a wide range of modular accessories… Yale has smart security sorted.

"If homeowners have already invested in a
leading smart home system network, Yale's standalone modular products easily integrate with other system providers, so homeowners can be assured they have the very best protection, offering a lucrative revenue stream for trade professionals."

For further information please visit www.yale.co.uk/smart-living, or the Yale Smart Living blog www.yalesmartliving.co.uk.
Buttacup Flow curved planter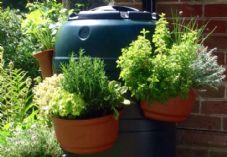 The world's first crescent shaped planter designed specifically to brighten up the common garden water butt has been launched by Buttacup.
Buttacup Flow is curved to fit the side of any standard circular water butt, its drip-feed valve system keeps plants continuously watered even when you're away on holiday.
Manufactured in the UK, this unique, stylish and functional planter also makes it incredibly easy to create a new habitat for flora and fauna anywhere in the garden.
As well as dark green to match a standard water butt, Buttacup Flowis available in a range of colours, is easy to install and comes complete with all components and clear instructions.
The Buttacup Flow is patented and trademarked with an RRP of £11.95. It is available through a growing network of approved stockists. For further information visit www.buttacup.co.uk .
See the image gallery here.
Screwfix launches Zep Commercial® retail assortment in 395 stores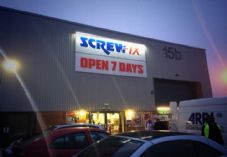 Zep Inc., a leading consumable chemical packaged goods company that manufactures a wide variety of high-performance maintenance and cleaning chemicals, today announced that Screwfix, the UK's leading supplier of trade tools and a retail brand of Kingfisher PLC, Europe's largest home improvement retailer, now stock an assortment of 17 Zep Commercial® cleaners, degreasers and wash products in its 395 Screwfix stores. "We are excited to be launching our Zep Commercial product line with Screwfix, the UK's largest home improvement retailer," stated John K. Morgan, Chairman, President and Chief Executive Officer of Zep Inc. "I'm confident that tradespeople will be impressed by the quality of our products."
Zep Commercial® Products Available at Screwfix: http://www.screwfix.com/search?search=zep
IronmongeryDirect adds fence hardware to its expanding range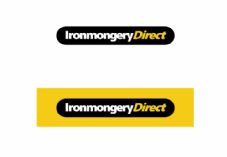 IronmongeryDirect, the UK's largest online and mail order supplier of ironmongery products, has introduced fence hardware to its range for the first time in preparation for the summer months. Thirty five new fence hardware products have been added to IronmongeryDirect's existing range of over 14,000 products to cater for people who are looking to prepare their gardens for the warmer months ahead. Jamie Johnson, product manager, said: "We're delighted to have expanded our current gate and shed hardware range to now include hardware for fences. It was a natural progression for these products to be added as they are closely linked. Now the weather is beginning to brighten up, more people will be looking for ways to spruce up their gardens. As such, our new range will make it easier for customers to buy all of their garden hardware in one place."
To see the full range, please visit http://www.ironmongerydirect.co.uk/products/gate_fence_and_shed_hardware

Thank you for the excellent presentation that you gave at Woodbury Park on Thursday morning. It was very interesting and thought-provoking for our Retail members. The feedback has been excellent.


Martin Elliott. Chief Executive - Home Hardware.