Best of British
Search
Great Britain is full of brilliant manufacturers and suppliers who have the capabilities to supply quality, home improvement products and services at competitive prices. We've started to build a database of British suppliers and manufacturers that we will pass on to our retailer clients and feature regularly within our newsletters and articles.
If you would like to be on the list, just contact us here.
Splashback.co.uk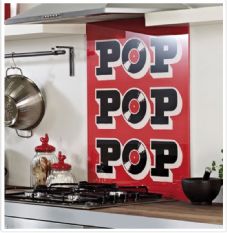 If you haven't noticed already, we love splashbacks. We love the way they transform your kitchen, the way they can be personalised to create a totally unique look and the way they can be coordinated with everything from your kettle and toaster to your chopping boards.
At Splashback.co.uk, we've created an exciting range of 30 of the most popular colours and the best designer splashbacks, all available in a full range of sizes to ensure a perfect fit in your kitchen.
We want to make the process of choosing, buying and then installing a new splashback as simple and easy as possible.
Check us out at Splashback.co.uk
LG Harris & Co. Ltd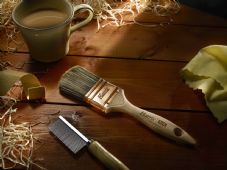 Founded in 1928, Harris is an industry leading manufacturer of decorating tools with a mission to make decorating easy and enjoyable, while attempting to change the throwaway culture mind set of 'buy cheap and chuck'.
With coming up to 90 years' experience in design, manufacture and testing, they know that regardless of how good your paint is, it's only ever as good as the tools you use to apply it.
The company provides employment to just over 300 people at a high standard manufacturing facility in Stoke Prior, Worcestershire and with an intense programme of research, innovation and development, each product is carefully designed to alleviate the common frustrations of decorating.
The company's dedication to using quality materials and maintaining British manufacturing standards earned them a Royal Warrant in 1961 which they still hold today. Since then, Harris has continued to grow into a thriving company, leading the way in product quality and innovation for millions of decorators around the world and is now the UK's No.1 paint brush and roller brand. You can discover more at www.harrisbrushes.com.
Kit Out My Office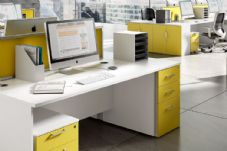 Kit Out My Office is a manufacturer and online retailer of desks, storage solutions, meeting room and reception furniture for both home and commercial environments. From traditional woodgrain through to vibrant colours, Kit Out My Office have furniture to match every style of office or home.

As Kit Out My Office manufacture their own products they are able to offer industry-leading variety, with 7 ranges of desks and storage available as well as multiple colour choices and finishes. Furthermore, desks are available in multiple sizes and opening options, such as touch-to-open fronts.

Established by Bluespot Furniture Ltd, who have over 20 years' experience in manufacturing office furniture, the aim of Kit Out My Office is to provide high-quality furniture with unrivalled customer service. Every piece of office furniture is manufactured in their own factories in West Yorkshire to the highest of environmentally friendly standards (FSC and ISO accreditation).

Kit Out My Office achieve their aim of unrivalled service by providing all furniture with a 10-year guarantee, next day delivery on the majority of furniture and a 60 day returns policy that allows you to easily return furniture if you're not happy.

For more information, visit the Kit Out My Office website.
British Ceramic Tile Ltd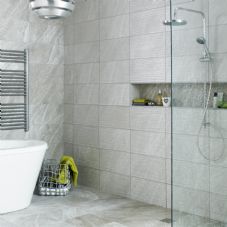 British Ceramic Tile is the UK's leading ceramic and glass tile manufacturer. With a history of manufacturing for over 100 years, British Ceramic Tile has a long established heritage of producing quality wall and floor tiles. From its state of the art factory in Devon, it supplies a diverse product portfolio supported by an unrivalled level of service to meet the diverse needs of its customers.
Keeping market trends and design at the heart of each collection, the company offers an all-encompassing collection of products from ceramic and porcelain through to glass, natural stone and decorative products, becoming a one-stop shop for every tiling need.
Using the finest quality raw materials, modern production techniques and a highly skilled workforce, British Ceramic Tile aims to set new standards in tile design and manufacture, constantly looking to innovate and push the boundaries of the industry. Product, design and innovation are central to the business, with trends and technological advances translated into commercial successful tile collections such as the market-leading HD and glass tile ranges, which offer the best in class.
A proud UK manufacturer, the company designs and manufactures here in Britain and has a serious commitment to its environmental responsibilities with every product it manufactures and every process within the factory, done so with its environmental impact front of mind.
For further information visit www.britishceramictile.com
What More UK Ltd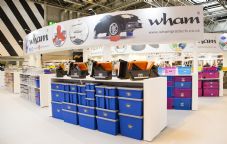 Established in 1999, What More UK Limited has grown rapidly to become the UK's largest manufacturer and brand leader of plastic housewares, gardening and storage products, under the brand name WHAM®. After purchasing presses and a full range of moulds, What More added bakeware to its growing list of manufactured products. Presented to the market as Wham® Cook it has been very well accepted in the UK and abroad.
An extensive and ongoing product development program has rapidly given the Wham® Cook collection substantial depth. Ranges within Wham® Cook now include bakeware, food storage and tools & gadgets.
In 2015 there were further acquisitions, including purchasing brushware machinery and the well-respected patented PushPan® range of bakeware products with its unique silicone seal. Since then the PushPan® range has already been expanded to over 40 items.
The superior quality of our products has been recognised all over the world and we currently export to 68 countries. We are proud holders of The Queens Award for International Trade and many other local, national and International awards.
With over 800 products currently on the market, we never stand still, constantly looking to expand the ranges by acquisition and by developing new innovative ideas for the home, from our state-of-the art 500,000 square foot manufacturing and distribution facility in the North West of England.
Investment is the key to the company's continued success. Investment in our manufacturing and distribution capabilities, investment in products and equally important is our investment in our staff.
For more information on What More UK Ltd click here.
Be Modern Group Ltd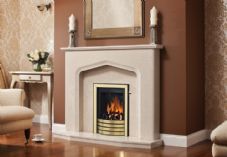 Be Modern Group Ltd are a British manufacturer aiming to make life at home more stylish, simple and comfortable through products that make a real difference - fireplaces, fires, stoves and bathroom and bedroom furniture.

Founded in 1964, the company now hold multiple brands, enabling them to appeal to the widest range of tastes.
To satisfy their customer's expectations in every detail of design, quality and service means being in control of everything they do. And they do everything. Research, design, development, manufacture, warehousing, service, sales, and logistics are integrated in a seamless operation at the company's 500,000 square foot facility in North East England.

The resulting efficiencies mean Be Modern is recognised across the industry as the UK's leading independent furniture manufacturers in product range, market share, level of service and competitive pricing. Be Modern stands out as a wholly British, family owned business with huge pride in the products they make and sell.
To respond to changing tastes, the company are continually creating innovative designs, made possible by consistent investment in the latest technology, in improving the skills of their people and in developing brands that broaden their range and market appeal.

All this makes Be Modern not only exceptional furniture manufacturers by UK standards, but world class by any standards. To find out more about their product ranges please follow the links below:
Be Modern – bemodern.com | 0191 489 8006
Elgin & Hall – elginandhall.co.uk | 0191 430 9434
Broseley – broseleyfires.co.uk | 01743 461 444
Contract Solutions – bemodern4homes.com | 0191 489 8006
Atlanta Bathrooms– atlantabathrooms.com | 0191 428 0444
Be: Bathrooms - bebathrooms.co.uk | 0191 428 0444
Mallard Bathrooms - mallardbathrooms.co.uk | 0191 428 0444
Mallard Bedrooms – mallardbedrooms.co.uk | 0191 428 0444

Insight DIY is the only source of market information that I need and they always have the latest news before anyone else.

Neil Anderton - Sales Director, British Ceramic Tile