Digital Retail News
71% of Brits Wiling to Use Augmented Reality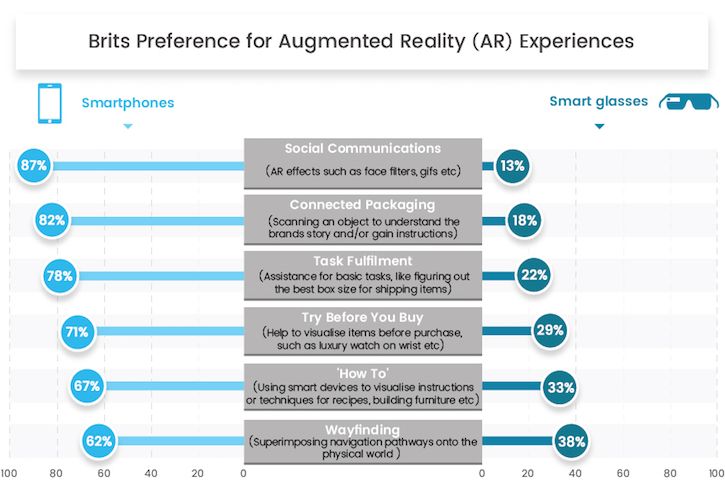 Despite still being in its infancy, augmented reality (AR) technology has enormous potential and is already enabling individuals to seamlessly project virtual images/objects through their smart devices onto the physical world. With such capabilities, AR is set to redefine the ways in which consumers intend to interact with brands.
Interested in AR, OnBuy.com analysed findings from Mindshare, who surveyed 1,000 UK smartphone users to see whether they preferred a handful of 'experiences' facilitated by AR via their own smartphone or through a pair of smart glasses.
The company found that the majority of Brits would prefer to experience aspects of social media communication enabled by AR effects (e.g. face filters, gifs etc) through their smartphones (87%) rather than smart glasses (13%).
Connected packaging, which allows consumers to scan a QR code on the packaging or product itself to primarily get usage/assembly instructions or greater insight into the brand's story, would be favoured to be accessed by smartphones (82%) as opposed to smart glasses (18%). Likewise, Brits would opt to use smartphones (78%) over smart glasses (22%) when utilising AR to assist them with the fulfilment of basic tasks such as capturing the dimensions of an item to virtually figure out the best box size to use for shipping it.
Further on, 71% of Brits would select smartphones and 29% smart glasses when using online shopping tools specifically designed to help them visualise items before buying. This integration of AR notably exhibited by Ikea, whose ARKit app allows consumers to virtually try furniture around their home to see how it looks and fits before making any purchasing commitments.
More Brits would also choose smartphones (67%) above smart glasses (33%) for visualising 'how to' instructions or techniques for carrying out activities such as DIY (e.g. constructing furniture) and cooking (e.g. recipe tutorials).
Lastly, despite smartphones (62%)still reigning supreme, Brits would be most open to using smart glasses (38%) for wayfinding purposes. Wayfinding referring to superimposing navigation pathways onto the actual world to follow a set destination. This AR 'experience' successfully encapsulated by the worldwide popularity of 'Pokémon Go'– which allows gamers to harness their smartphone GPS to locate, capture, train and battle virtual creatures from the franchise as they appear in the real- world environment.
Cas Paton, Managing Director of OnBuy.com commented:
"With established brands in several industries already incorporating augmented reality capabilities within their applications, it is ushering in a fascinating new era of immersive technology. An era where the digital and physical world is effortlessly blended by the technologies which underpin AR to create deeper interactions and experiences for consumers. This research certainly shows that Brits are receptive and excited by the different types of experiences created by AR, though their current preference to enjoy them seems to be through smartphones rather than smart glasses. Though as smart glasses become more prominent and their adoption rate increases, the gap between the two devices for AR related activities will surely get narrower".
Source: Insight Digital Team & OnBuy.com
For all the very latest digital news and intelligence on the Home Improvement and Garden retailers, sign up for the weekly newsletter here.
18 June 2018

Insight DIY always publishes the latest news stories before anyone else and we find it to be an invaluable source of customer and market information.

Max Crosby Browne - CEO, Home Decor