Digital Retail News
Amazon, Jet and Wal-Mart orders compared (US)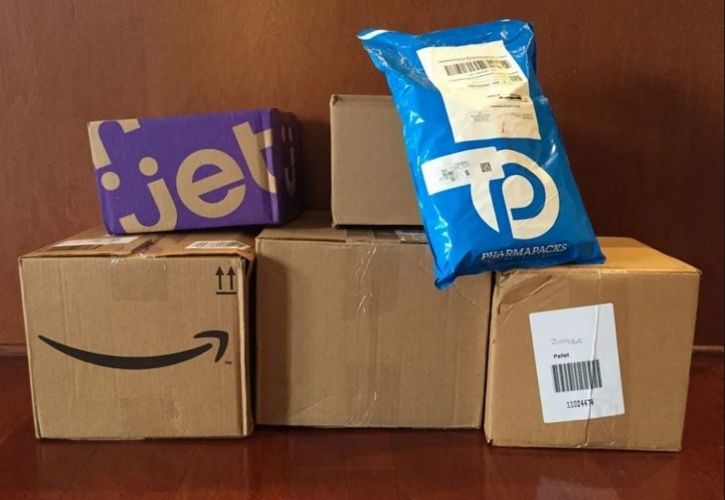 The battle for your e-commerce dollars heated up significantly this summer. When Amazon, the Goliath of the category, held a massive Prime Day sale, Wal-Mart hit back with a rival event. Meanwhile, the well-funded startup Jet launched in July, attracting big buzz with its promise to offer the lowest prices.
The flurry of activity may have you wondering: Is it time to shake up my online shopping routine?
To help you decide, I conducted a simple experiment: On Aug. 10, I ordered the same three items from Amazon, Jet and Wal-Mart's Web sites. I placed all the orders within less than 30 minutes of one another, and purchased the same brand and package size of each item.
The order included two household staples: A bottle of ibuprofen and a package of AAA batteries. But I also wanted to see how the retailers would do with something that wasn't exactly an everyday item, so I included a Spalding Tip-In basketball in each order.
Of course, this is just one order, and thus a limited snapshot. But it nevertheless provides some insight into these online retailers' strengths and weaknesses. Below is a breakdown of how they each fared on price, speed and other measures.
Price:

Jet easily won on price. My order at Jet rang up at $31.01. The same order cost $39.82 at Amazon and $41.01 at Wal-Mart. But keep in mind that while I currently have a free trial membership at Jet, there is typically a $49 annual fee to get access to those prices. At Amazon, I've paid $99 to join its Prime program, which gets me free two-day shipping on some items. My shipping costs would have been free on this order anyway because Amazon offers free shipping on many purchases over $35 to non-Prime shoppers.
At Wal-Mart, I paid no such fee. So, while Jet may have bested Amazon and Wal-Mart on price on this specific order, it's worth thinking about how often you'll shop on any of these sites as you try to determine their overall value to you.
Speed and meeting promised deliver-by date: This is the area where Jet's rookie status really showed. The ibuprofen from the newcomer arrived lightning-fast, showing up on my doorstep a little more than 24 hours after I placed my order. But I am still waiting for the batteries, nine business days later. In an era when Amazon has trained us to expect things to arrive in two days, this seemed like a painfully long time to wait for such a basic item.
Amazon got the Advil and the basketball to me within two business days, fulfilling its Prime shipping promise. The batteries didn't arrive until Aug. 14, two business days later, but those were not eligible for Prime's speedy delivery and Amazon still met its shipping promise on that purchase. But it should serve as a reminder that while 20 million items are Prime-eligible, there are still many purchases on Amazon for which even Prime can't buy you speed.
Wal-Mart met its promised deadlines. When I selected its free shipping option, it told me I should expect to receive my order by Aug. 18 — six business days after I ordered them. And, indeed, they achieved that: My basketball arrived on Aug. 12, and a second package containing the rest of the order arrived on Aug. 18 after a failed delivery attempt the previous day by the package carrier. Still, Amazon got the entire order to me faster than Wal-Mart did.
Wal-Mart may soon get more competitive in this area. It is currently testing its Shipping Pass program, which would be similar to Prime. For an annual fee of $50, shoppers receive free, unlimited three-day shipping on their walmart.com orders.
Selection:
Jet seemed to struggle on this measure, too. Jet has practically no apparel on its site right now: A search for "jeans" turns up books that have the word "jeans' in the title. A search for "high heels" returns one pair of shoes. Also, searches such as "dishwashing detergent" and "Monster High," a popular toy line among young girls, had significantly fewer results on Jet than on Amazon or Wal-Mart. It may be that Jet just has a smaller selection than its rivals, or that its search function may need some fine-tuning. Either way, it's harder to find what you're looking for on Jet — at least for now.
Customer service:
There weren't any hitches in my Amazon and Wal-Mart orders, so I didn't need to utilize their customer service programs. But it's worth noting that Jet tried to make nice with me when it realized those batteries would be showing up really, really late. Jet sent me an e-mail saying, among other things, "We're so sorry that we're experiencing a little Jet lag." While the delay on the order was frustrating, it was at least somewhat reassuring that they knew they messed up and were working to correct it.
Packaging and presentation:
The biggest difference here was the appearance of the basketball upon its arrival. The basketball from Jet arrived encased in bright-blue, branded Spalding cardboard packaging. The Wal-Mart basketball arrived in that same packaging, but it was partially deflated. (And I don't have an air pump, so I would've been out of luck if I wanted to shoot hoops that day.) The Amazon basketball was fully inflated but wasn't wrapped in anything and appeared to have some smudges on its surface. That would be fine if I were planning to take it to the park and scuff it up more myself, but it would've been frustrating if, say, I planned to give it to someone as a gift. You can see for yourself below how they arrived: The ball on the left is from Jet, the top middle one is from Amazon, and the lower right one is from Wal-Mart.

So what's the bottom line? It appears that Amazon remains the one to beat when it comes to speed. (Amazon's chief executive, Jeffrey P. Bezos, owns The Washington Post.) While Wal-Mart was a bit slower, it was at least reliable, with the items showing up in the promised timeframe. And both Amazon and Wal-Mart have easy-to-use Web sites and vast enough merchandise that you can usually easily find what you're looking for.
Jet still seems to be experiencing growing pains, but its victory on price means it should not be counted out. Even if shoppers aren't pinching their pennies like they were during the recession, they remain deeply conscious of whether they're getting a good deal. If Jet can regularly make people feel like they're getting the best price, that may yet earn Jet a deeply loyal following and buy the upstart time to work out its kinks.
Source : Sarah Halzack - Washington Post
www.washingtonpost.com/news/business/wp/2015/08/21/i-placed-the-same-order-at-amazon-jet-and-wal-mart-heres-how-they-did/
24 August 2015

Thank you for the excellent presentation that you gave at Woodbury Park on Thursday morning. It was very interesting and thought-provoking for our Retail members. The feedback has been excellent.


Martin Elliott. Chief Executive - Home Hardware.