UK DIY News
And then there were four!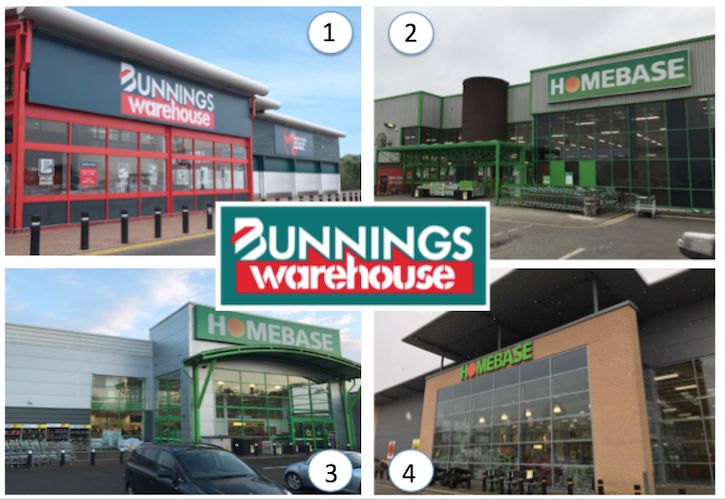 Bunnings UK Head Office has confirmed the locations of the third and fourth Homebase stores that will be converted to Bunnings by this summer.
Hot on the heels of the first conversion, opening to a fanfare of sizzling sausages and local choirs in St.Albans, it was announced that the second store would also be in St.Albans, this one located on the Hatfield Road, around 3 miles from the first store.
Read Bunnings UK - Our first impressions.
St.Albans#2 closed on 12th February and will re-open at some point during April.
It was then announced that the third location would be the Homebase at Apsley Mills Retail Park, Hemel Hempstead, although dates for the closure and conversion of this store have yet to be confirmed.
On Friday is was announced that the fourth conversion would be the monster store located on Snowdon Drive, Milton Keynes. This store (near to the new Bunnings UK Head Office) is much closer in size to the Bunnings Warehouses in Australia and will tell us everything we need to know about how Bunnings plan to tackle the UK market.
Wickes anticipated that this store would be one of the first to convert to Bunnings and last year invested £1m in their nearly store (only 500m away) offering the brand new Wickes format including a stunning kitchen and bathroom showroom.
By the early Summer, all four Bunnings stores will be up and running and with a geographical proximity of only 30 miles, provides Bunnings UK with the opportunity to blitz all local advertising channels as they build awareness of their brand and latest offers.
The Bunnings UK website is now live and does a great job of explaining to UK consumers what Bunnings is all about. At this point it is non-transactional, although in time, it is understood that it will offer the Bunnings range and will operate alongside Homebase.co.uk. Check out the new website here https://www.bunnings.co.uk
Source: Steve Collinge - Managing Director Insight Retail Group.
Follow me at InsightDIYSteve
Don't miss the latest breaking news on Bunnings UK store openings, sign up for our weekly Insight DIY newsletter here.
13 February 2017

Insight provides a host of information I need on many of our company's largest customers. I use this information regularly with my team, both at a local level as well as with our other international operations. It's extremely useful when sharing market intelligence information with our corporate office.

Paul Boyce - European CEO, QEP Ltd.