UK DIY News
Argos' half-year LFL sales decline by 3.4%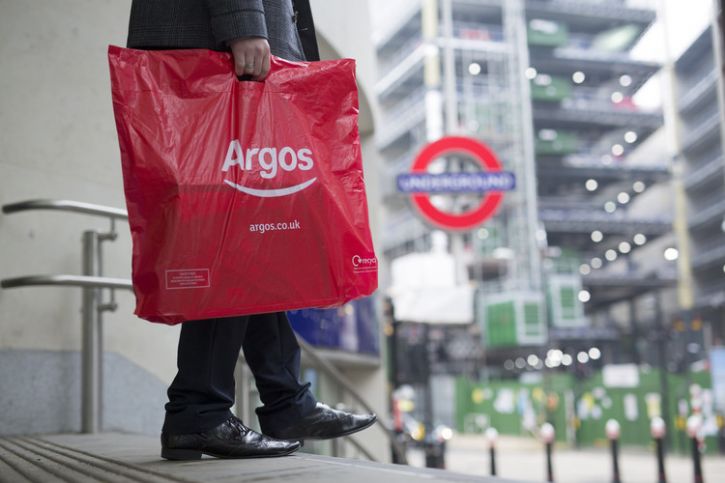 Home Retail Group has reported on half-year sales for the 26 weeks ended 29th August.
John Walden, Chief Executive of Home Retail Group, said:
"While Group benchmark profit before tax increased slightly during the first half, performance overall was mixed. Homebase delivered a good first half, with like-for-like sales growth and an improvement in operating profit. It also made good progress with its Productivity Plan and the store closure plan in particular, which helped Homebase to achieve further cost reductions.

"Argos' first half sales and profit were negatively impacted by declines in both electrical and seasonal product categories. Argos continued to make good progress with its Transformation Plan, delivering strongly against its digital store opening programme. Argos also substantially completed the technology and operational steps necessary to launch 'Fast Track' – its new home delivery and store collection propositions. Argos is investing significantly in the launch of Fast Track and although the rate of customer take-up cannot be certain, we are confident that customers will increasingly embrace this market leading service over time. "We look forward to an improved sales performance for both Argos and the Group in the second half. However, as I have previously stated, trading at Argos during this year's important Christmas season seems less predictable than usual, as both retailers and customers determine whether to repeat last year's unusual Black Friday patterns. The combination of this trading uncertainty, an increased level of investment in the launch of Fast Track and the underlying profit reduction from Argos' challenging first half, mean that at this stage of the financial year we expect the Group's full-year benchmark profit before tax to be slightly below the bottom end of the current range of market expectations of £115m to £140m."

The following excerpts are taken from Home Retail Group's operational review of Argos. To view the publication in full please click here.
Financial Review
Total sales in the 26 weeks to 29 August 2015 declined by 1.5% to £1,743m. Net space increased sales by 1.9% with the store estate increasing by a net 85 stores to 840. Like-for-like sales declined by 3.4%. As anticipated, sales of electrical products declined versus last year, driven principally by TVs, tablets and white goods. These declines were partially offset by growth in mobiles and toys.

The gross margin rate increased by approximately 100 basis points. This was principally driven by the anticipated impact of favourable currency and shipping costs, together with the timing benefit of a small number of other positive items, both of which are expected to reverse in the second half of FY16. These increases were partially offset by an increased level of promotional sales. In respect of the timing benefit of a small number of other positive items, this represented c.50 basis points of the first half gross margin improvement which, based on Argos' first half sales of £1.7bn, equates to approximately £8m of gross margin that benefitted the first half profit versus the comparable period last year. This £8m timing benefit is expected to unwind in the second half of FY16.
Total operating and distribution costs increased by £14m principally driven by cost increases as a result of the Transformation Plan's strategic initiatives, such as the net 93 stores added since the first half of FY15 and the commencement of the hiring of vehicles and drivers for Argos' new Fast Track delivery capabilities, together with the impact of an increased level of depreciation and underlying cost inflation.

Benchmark operating profit declined by £5.6m, or 47% to £6.4m (H1 FY15: £12.0m).

Digital fulfilment propositions
In the past two years Argos has been building on the systems and operations underlying its product fulfilment, including improving its real-time stock visibility and stock picking systems, and implementing its 'hub & spoke' distribution network on a national scale. In the first half of FY16, Argos further evolved 'hub & spoke' to improve stock availability, through both better stock allocation systems and increased investment in stock. In the first half Argos also substantially completed the systems, operational and marketing preparations for the launch of new propositions – Fast Track Collection and Fast Track Delivery – both of which were successfully introduced shortly after the half-year.

Both Fast Track Collection and Fast Track Delivery offer customers Argos' most popular general merchandise products, stocked locally and flagged online with a Fast Track logo.

These propositions have been introduced nationally after extensive operational testing, which began early in 2015, and included several weeks of market testing in a pilot region. Both offers require customers to pay for their Fast Track products online, which is a capability new to Argos and which was introduced nationally in the first half.

Digital stores
Convenient local product collection, supported by good customer service, continues to be of increasing value to customers. Argos' store estate therefore remains a key point of competitive advantage and it is being adapted to support a more digital future. Facilitated by the 'hub & spoke' distribution model, Argos continued to increase its number of collection points through its digital concession stores during the first half of FY16.

- It opened a further 76 digital concessions within Homebase, taking the total number to 96. This is in line with previous guidance of a further 80 concessions during FY16.
- 10 digital concessions within Sainsbury's were also opened during the first half of FY16; and
- One small format store was opened in London (Islington), which brings the total number to eight

In addition, Argos completed one conversion of an existing store to a digital format during the first half of FY16, which tested a new, lower cost version relative to the 33 conversions completed to date. Around a further 50 digital conversions are planned for completion during the second half of FY16. Overall, the investment in digital format stores to date, is on track to deliver a good return on investment and Argos remains on target to complete a cumulative total of 200 digital format stores by the end of FY16.

Products
Product strategies continue to be a focus for Argos, as it aims to provide strong choice across its breadth of customers. During the first half of FY16, Argos added approximately 3,000 products to its range, and introduced another six aspirational brands including Nespresso coffee machines and Makita power tools. Argos also improved its own brand portfolio.

Source : Home Retail Group
www.homeretailgroup.com
21 October 2015

Insight DIY always publishes the latest news stories before anyone else and we find it to be an invaluable source of customer and market information.

Max Crosby Browne - CEO, Home Decor