UK DIY News
Argos Q3 LFL sales decline by 2.2%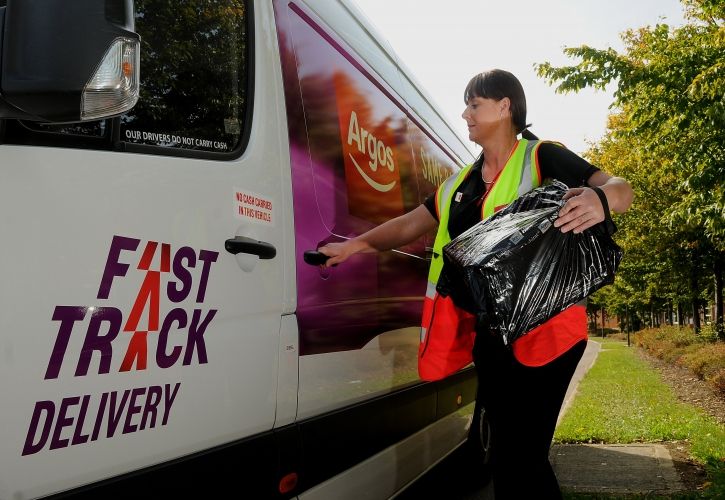 Home Retail Group, the UK's leading home and general merchandise retailer, today publishes a trading statement for the 18 weeks from 30 August 2015 to 2 January 2016.

John Walden, Chief Executive of Home Retail Group, commented: "This has been a very eventful period for the Group. Argos traded through a challenging market while launching significant new propositions. During the period we also commenced and progressed discussions for the sale of Homebase to Wesfarmers Ltd., and received an approach from J Sainsbury plc for the potential acquisition of the Group.

"Against this backdrop, whilst Argos trading performance was mixed, I am pleased that we made material steps forward in the Argos Transformation Plan. Total sales at Argos increased 0.9%. They were affected by volatile trading patterns resulting from particularly strong sales during Black Friday week, a shift in consumer demand from both the weeks before and after Black Friday, growth in digital transactions, reduced store footfall particularly on the high streets, and the continuing effects of price deflation. Argos like-for-like sales decreased 2.2% in the period, while new digital concession locations added in the past year contributed 3.1% to growth.

"In October Argos introduced FastTrack, market-leading nationwide propositions for both same-day home delivery and store collection, made possible by our hub & spoke distribution network. FastTrack, together with our now-proven store concession model and improvements in digital channels, drove increases in digital sales, digital participation and home delivery. I continue to believe that the capabilities being developed in the Argos Transformation Plan will position Argos as a retail leader in an increasingly digital future.

Argos

Argos has made meaningful progress in developing new strategic capabilities since the
introduction of its Transformation Plan to 'reinvent Argos as a digital retail leader',
including:

• A national hub & spoke distribution network which currently supports c.20,000 products in local hubs, making them available for faster fulfilment via home delivery or store collection. Argos has recently further extended this concept to a regional hub trial, with potential to hold substantially more products, including third party products, for same day fulfilment.
• Introduction of FastTrack Delivery and FastTrack Collection, marketleading home delivery and store collection propositions that leverage hub & spoke, 844 Argos store locations, and a national home delivery network, offering c.20,000 products for immediate store collection or same day home delivery to c.95% of UK mainland households. Argos has also introduced an express 2-man home delivery service offering leading large item delivery across a broad range of products.
• Proven digital store model, including small formats and concessions, which require lower capital outlay and provide customers with fast access to an expanded product range regardless of store stocking capacity. Argos recently extended the concession model to begin trialling collection via convenience stores that hold no Argos stock.
• Digital development and digital channel capabilities. Although the Internet is now central to most businesses, the market has both broad variation in digital standards and a shortage of sufficient digital leadership capability. Argos has developed teams with strong digital capabilities, and aggressively shifted the business from a catalogue retailer to a digital specialist.
• Partnership with Ebay, which provides over 200,000 Ebay merchants with access to Argos' click and collect capabilities, driving footfall into Argos stores. The partnership has also been recently extended to include the trial of a consumer to consumer parcel drop off service.
• More universally appealing offer, including expanded ranges and marketing communications that are beginning to reposition the Argos brand among consumers as more dynamic, while preserving its strong heritage.
• A more flexible store cost base, with substantial reductions in the average lease term of Argos stores to below five years, combined with new options for store locations presented by small stores and concessions, Argos has the flexibility to add, eliminate and relocate stores to minimise costs and meet previously unaddressed consumer demand.

Against this strategic backdrop, total sales at Argos in the period grew by 0.9% to £1,837m. Net new space contributed 3.1%, principally as a result of 95 digital concession stores in Homebase and Sainsbury's stores added within the past year. In the recent trading period the store portfolio increased by a net 4 stores to 844. Like-for-like sales declined by 2.2% in the period.

On a category basis, like-for-like sales in electrical products continued to decline, principally driven by declines in video gaming, tablets and white goods, partially offset by good growth in mobiles. Argos achieved positive like-for-like performances in a number of non-electrical product categories such as toys, freetime and furniture, while sales in homewares and jewellery declined.
Similar to last year, the week of Black Friday had a disproportionate effect on Argos trading patterns during the period. Argos performed well over the Black Friday period, achieving total sales growth of 41% on Black Friday itself, its highest ever sales day, and 23% growth during the week of Black Friday. Digital sales increased by 45% for the same week, with digital participation accounting for 62% of total Argos sales in the week versus 52% last year. Consumer enthusiasm for Black Friday resulted in sales shifts from both the weeks before and after the event. Furthermore, during December, Argos experienced a 13% reduction in traditional store walk-in sales, exacerbated in highstreet and shopping centre stores, while digital sales overall increased 10% during this same period.

Argos introduced FastTrack Delivery and FastTrack Collection in October. For the months of November and December, Internet sales grew 13% versus the same months last year, and represented 55% of total Argos sales, up from 50% last year. There was a strong take up of the FastTrack delivery offer, such that one-man home delivery grew 82% for these months versus the prior year with customers being offered same-day slots at on average 90% availability. FastTrack delivery also achieved the highest customer satisfaction scores amongst Argos' channels.

For the entire reporting period, Internet sales grew 9% and represented 53% of total sales, up from 49% last year. Within this, mobile commerce sales grew by 9% to represent 31% of total Argos sales, up from 28% in the prior year.

The approximate 225 basis point gross margin decline was principally driven by the anticipated impact of adverse currency and shipping costs, an increased level of promotional sales and the anticipated reversal of the previously disclosed timing benefit
recorded during the first half of the current financial year.

See the full publication here
See Homebase's results here
Source : Home Retail Group
www.homeretailgroup.com
14 January 2016

Insight provides a host of information I need on many of our company's largest customers. I use this information regularly with my team, both at a local level as well as with our other international operations. It's extremely useful when sharing market intelligence information with our corporate office.

Paul Boyce - European CEO, QEP Ltd.