UK DIY News
Barclaycard: Consumer spending growth reached record levels in October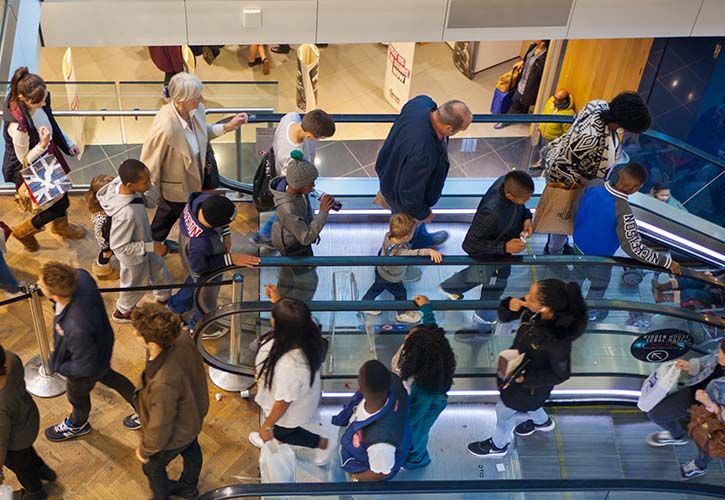 Consumer spending growth reached record levels in October, up 5.5 per cent year-on-year, driven by a mix of increased spend in some categories and rising prices in others.
Data from Barclaycard, which processes nearly half of all the nation's credit and debit card transactions, shows that spending on the 'experience economy' boosted overall growth, with entertainment spend rising 12.7 per cent.
This was partially driven by the strongest-ever increase in cinema spending, up 20.9 per cent, with the highly anticipated releases of The Girl on the Train, Inferno and Trolls making the cinema a key destination for every member of the family in October. Weekend box office figures throughout the month outperformed those from the same period last year.
Pubs and restaurants continued to enjoy double-digit growth, rising by 12.5 and 12.2 per cent respectively. Supermarket spending, a large contributor to the overall figure, jumped 2 per cent after muted growth of 0.6 per cent in September.
Not all spending growth was due to consumers splashing out, however – rising prices drove up petrol spending 6.6 per cent, a 26-month high. In addition, the weakening pound inflated hotel spending (11.2 per cent) as consumers faced unfavourable exchange rates when travelling abroad.
After a contraction in September (-1.8 per cent), clothing spend rebounded to 4.0 per cent growth, a figure likely flattered by a rise in prices and consumers investing in winter wardrobes after the weather turned colder.
With the value of the pound deteriorating sharply in October, consumers are becoming increasingly concerned at the potential impact of inflation on their purchasing power. Amid rumours that supermarket staples may rise in price, eight in 10 (81 per cent) shoppers expect that changes in inflation over the next 12 months will affect the cost of everyday goods.
As a result of concerns about inflation, the continued weakening of the pound and other deteriorating economic indicators, only a third (32 per cent) of consumers are confident in the UK economy, down from almost half (48 per cent) in September and reversing a trend which last month saw optimists surpass pessimists for the first time since Barclaycard began tracking consumer confidence in 2014. There has also been a corresponding drop in the proportion of those confident in their household finances, from seven in 10 (70 per cent) in September to just five in 10 (55 per cent) in October.
This perceived decrease in purchasing power is notably reflected in spending intentions for Christmas – traditionally an expensive time of year with gifts, socialising and travelling; over a third (37 per cent) of consumers say they plan to spend less on Christmas this year than they did in 2015.
Paul Lockstone, Managing Director at Barclaycard, said:
"Consumer spending growth hit a record high in October. While growth in some categories, such as cinemas, restaurants and pubs, was driven by consumers willingly opening their wallets, rising prices were also a contributing factor – notably on petrol forecourts and for consumers travelling abroad.
"The backdrop of 'hard Brexit' headlines, the weakening pound and high profile issues such as 'Marmite-gate' mean consumers are starting to worry about the impact of inflation on their everyday lives. As we approach Christmas, an expensive time in many households, many consumers are telling us they plan to rein in their spending to ensure they are able to make ends meet."

Image: IR Stone / Shutterstock.com
Source : Barclaycard Press Release
Interested in advertising on Insight DIY? Learn more here.
Want more news like this? Sign-up for our weekly newsletter here.
If your business is interested in pricing intelligence or you're currently trying to track retail prices manually, there really is a much easier way. Just contact us here.
08 November 2016

Insight provides a host of information I need on many of our company's largest customers. I use this information regularly with my team, both at a local level as well as with our other international operations. It's extremely useful when sharing market intelligence information with our corporate office.

Paul Boyce - European CEO, QEP Ltd.