UK DIY News
B&M Delivers 10.4% Sales Growth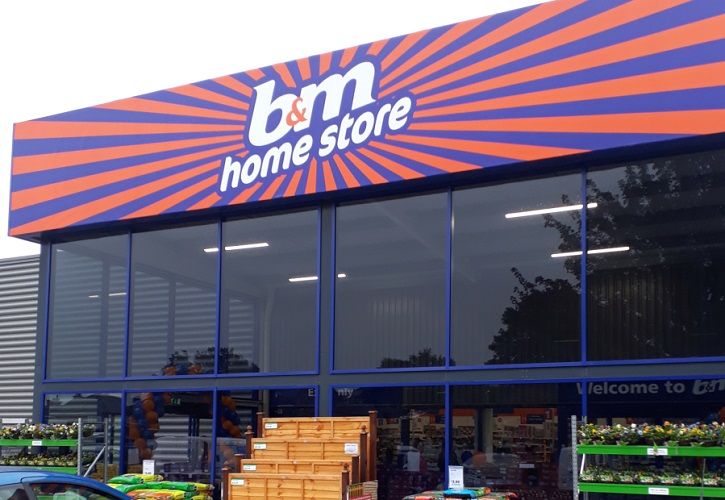 B&M European Value Retail S.A. has published its FY24 interim results announcement covering the 26 weeks to 23 September 2023. advising of disciplined profitable growth momentum
Highlights
Group revenues increased by 10.4% on prior year to £2,549m (+10.3% constant currency1)


Group adjusted EBITDA4 (pre-IFRS 16) of £269m and margin of 10.5% (H1 FY23: 10.0%) represents 16.1% growth vs. last half year (H1 FY23: £232m)


Group adjusted operating profit4 increased 19.1% to £263m (H1 FY23: £221m), with statutory operating profit of £275m (H1 FY23: £248m) and statutory profit before tax of £222m (H1 FY23: £201m)


Group inventory in a clean exit position of £856m (H1 FY23: £837m)


Group cash generated from operations was £352m (H1 FY23: £370m), reflecting a normalised working capital movement with strong stock availability ahead of the Golden Quarter across the three fascias


All fascias trading well with positive transaction numbers and new space growth


Now expect to reach not less than 1,200 B&M UK stores in total, vs. previous guidance of 950


Opened 28 gross new stores across the Group (13 in B&M UK, 10 in Heron Foods and 5 in B&M France). Total average selling area increase continues to outpace the increase in number of stores


Net debt7 to adjusted EBITDA4 (pre-IFRS 16) leverage ratio of 1.1x (H1 FY23: 1.3x)


An interim dividend6 of 5.1p per Ordinary Share will be paid on 15 December 2023 (H1 FY23: 5.0p)


FY24 Group adjusted EBITDA (pre-IFRS 16) guidance, increased to be in the range of £620m - £630m, materially higher than FY23 (£573m)
Financial results (unaudited)
| | | | |
| --- | --- | --- | --- |
| | H1 FY24 | H1 FY23 | Change |
| Total Group revenue | £2,549m | £2,309m | 10.4% |
| Group adjusted EBITDA2,4 (pre-IFRS 16) | £269m | £232m | 16.1% |
| Group adjusted EBITDA4 (pre-IFRS 16) margin % | 10.5% | 10.0% | 52 bps |
| Group adjusted operating profit2,4 | £263m | £221m | 19.1% |
| Group statutory operating profit | £275m | £248m | 11.0% |
| Group statutory operating profit margin % | 10.8% | 10.7% | 6 bps |
| Group cash generated from operations | £352m | £370m | (4.7)% |
| Group statutory profit before tax | £222m | £201m | 10.5% |
| Adjusted (pre-IFRS 16) diluted EPS4 | 15.5p | 14.4p | 7.6% |
| Statutory diluted EPS | 16.3p | 15.7p | 4.2% |
| Ordinary dividends6 | 5.1p | 5.0p | 2.0% |
Notes:
1. Constant currency comparison involves restating the prior year Euro revenues using the same exchange rate as that used to translate the current year Euro revenues.
2. References in this announcement to the B&M UK business include the B&M fascia stores in the UK except for the 'B&M Express' fascia stores. References in this announcement to the Heron Foods business include both the Heron Foods fascia and B&M Express fascia convenience stores in the UK. When reporting adjusted EBITDA (pre-IFRS 16) and adjusted operating profit, B&M UK also includes the corporate segment as referred to in note 2 of the financial information, and includes an adjusted loss of £2m in this period (H1 FY23: adjusted loss of <£1m).
3. One-year like-for-like revenues relate to the B&M UK estate only (excluding wholesale revenues) and include each store's revenue for that part of the current period that falls at least 14 months after it opened compared with its revenue for the corresponding part of FY23. This 14-month approach has been adopted as it excludes the 2-month halo period which new stores experience following opening.
4. Adjusted values are considered to be appropriate to exclude unusual, non-trading and/or non-recurring impacts on performance which therefore provides the user of the accounts with additional metrics to compare periods of account. See notes 2, 3 and 4 of the financial information for further details.
5. Trading gross margin is considered to be a meaningful measure of profitability as it refers to the measure of gross margin used by management to commercially run the business. It differs to the statutory definition for B&M UK, which increased 233 bps from 34.5% to 36.8%, due to technical accounting adjustments in relation to the allocation of gains and losses from derivative foreign exchange accounting, commercial income and storage costs, with the derivative adjustments the main factor.
6. Dividends are stated as gross amounts before deduction of Luxembourg withholding tax which is currently 15%.
7. Net debt comprises interest bearing loans and borrowings, overdrafts and cash and cash equivalents. Net debt was £700m at the half year end (H1 FY23: £736m), reflecting £924m (H1 FY23: £959m) as the carrying value of gross debt netted against £224m of cash (H1 FY23: £223m). See note 7 of the financial information for more details.
8. UK market share is calculated based on the reported revenues of B&M UK and Heron Foods, compared to NIQ Scantrack, Total Store, Total Coverage inc. Discounters, 52 weeks ending 31.12.22.
Alex Russo, Chief Executive, said:
"Another strong half year has seen the Group deliver 10.4% total sales growth, 16.1% adjusted EBITDA4 (pre-IFRS 16) growth and £352m cash generated from operations. All four of our channels of growth are delivering strong results, underpinned by our relentless focus on low prices, cost control, simplicity in everything we do and disciplined profitable growth. Highlights for the half include:
Existing B&M UK stores saw like-for-like3 sales increase by 6.2%, with around half coming from increased customer transaction numbers and helped by the material step change in store operational standards - a key focus for management


Opened 13 gross new B&M UK stores, a net increase of 5 stores, with total sales area outgrowing growth in store numbers. We expect to open not less than 35 stores this financial period, and not less than 45 stores in each of the next two years


France delivered total sales growth of over 26%, with LFL sales growth in double figures. France remains on track for 10 new stores across this financial year, and at least the same number next year


Heron Foods total sales were up 17.0% including 9 net new stores. We remain on track to open 20 new stores in this financial year
The agreement to acquire up to 51 ex-Wilko stores is a significant step which underpins our opening programme. Over the next three years we expect to open not less than 125 new B&M stores in the UK, adding up to 20% to our sales area.
I am delighted that many of our existing shareholders have been with us since our IPO and continue to see our long-term growth potential. With our new store number guidance (of not less than 1,200 B&M UK stores) and continued LFL growth, we have the runway to at least double our size in the UK in the medium term, while France also offers sizeable long-term potential."
Current trading and outlook
In the first six weeks of the Golden Quarter, B&M UK LFL3 growth has been 1.6%. Momentum has been particularly strong in the last three weeks, with LFL3 exit growth of 4.5%. The Group is trading against tough comparatives making this a pleasing result against an uncertain and ever-changing economic background.
This volatile background makes forecasting for the full year difficult. However, given the strong first half results and positive momentum, the Group's FY24 adjusted EBITDA (pre-IFRS 16) guidance is increased to a range of £620m - £630m, materially higher than FY23 performance (£573m).
Financial results (unaudited)
| | | | |
| --- | --- | --- | --- |
| | H1 FY24 | H1 FY23 | Change |
| Total Group revenue | £2,549m | £2,309m | 10.4% |
| Group adjusted EBITDA2,4 (pre-IFRS 16) | £269m | £232m | 16.1% |
| Group adjusted EBITDA4 (pre-IFRS 16) margin % | 10.5% | 10.0% | 52 bps |
| Group adjusted operating profit2,4 | £263m | £221m | 19.1% |
| Group statutory operating profit | £275m | £248m | 11.0% |
| Group statutory operating profit margin % | 10.8% | 10.7% | 6 bps |
| Group cash generated from operations | £352m | £370m | (4.7)% |
| Group statutory profit before tax | £222m | £201m | 10.5% |
| Adjusted (pre-IFRS 16) diluted EPS4 | 15.5p | 14.4p | 7.6% |
| Statutory diluted EPS | 16.3p | 15.7p | 4.2% |
| Ordinary dividends6 | 5.1p | 5.0p | 2.0% |
Source : B&M European Value S.A.
Image : B&M Spalding
For all the very latest news and intelligence on the UK's largest home improvement and garden retailers, sign up for the Insight DIY weekly newsletter.
09 November 2023

Thank you for the excellent presentation that you gave at Woodbury Park on Thursday morning. It was very interesting and thought-provoking for our Retail members. The feedback has been excellent.


Martin Elliott. Chief Executive - Home Hardware.