UK DIY News
B&M 'returns to form' in Q3 trading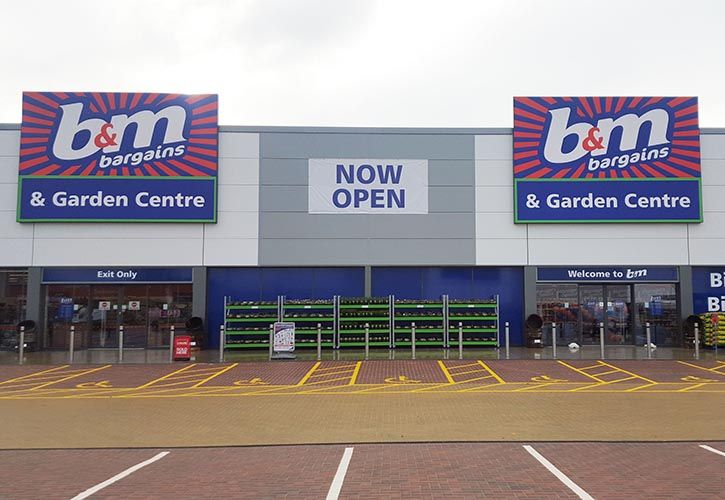 B&M has reported on third quarter trading, covering the period 25th September to 24th December 2016.

Highlights
* Group revenue growth in the quarter of 20.5% at constant currency, including a 7.2% rise in UK like-­for-­like revenues.
*Strong operational and financial performance through the peak trading period, including good Christmas seasonal sell­-through.
* Management is confident that the Group will meet market expectations for Adjusted EBITDA in the financial year to March 2017
View the full publication here.
Group sales revenue for the quarter increased by 20.5% on a constant currency basis. On an actual currency basis, total sales revenue increased by 21.8% (2015: 22.8%) to £789.1m (2015: £647.8m).
UK sales revenue for the 13 week period increased by 20.7% to £741.4m (2015: £614.5m) with like­-for-­like sales of 7.2% in the quarter. This performance reflects our successful store opening programme, combined with a strong like-for-­like sales performance versus the second quarter.
The stronger like-­for­-like growth reflects several factors, including strong seasonal product performance, improved instore standards for customers and the normalisation of service levels from our two new distribution centres, compared with last year. The Group also benefited from an extra day's trade in the quarter compared with last year, which added 1.1% to the headline like­-for-­like total. This timing benefit will unwind in the fourth quarter.

The deliberate impact of new B&M stores on existing stores has continued to reduce as expected and was 1.2% in the quarter. We expect this number to fall further in Q4 and thereafter we expect the impact to stabilise.
Jawoll's sales revenues increased by 18.8% on a Euro basis, which equates to an increase of 43.2% in Sterlin to £47.7m in the quarter vs the same period in the financial year 2015/16.

Strategy
At the end of the quarter the UK business of the Group was trading from a total of 533 stores, having opened 14 stores in the last 13 weeks and a net 34 in total during the financial year to date. In Germany Jawoll is now trading from 73 stores having opened 7 stores in the third quarter and the business is performing to plan.

Outlook
Management is confident that the Group will meet market expectations for Adjusted EBITDA in the financial year to March 2017.
Simon Arora, Chief Executive, said,
"I'm delighted to report that B&M has delivered a strong performance through peak trading, reflecting a powerful return to trading form, helped by increased levels of operational stability in our stores and supply chain.

"We have once again demonstrated the strength, relative appeal and popularity of our model at a time of uncertainty for consumers generally and continuing structural change in the retailing sector. We have delivered our best ever Christmas trading and served over 5.5 million customers in a single week in the UK alone as we continue to gain market share.

"Our German business Jawoll has also performed well and our first steps towards a faster pace of expansion are going to plan.

"I would like to thank the whole B&M team for their hard work and commitment. They have delivered consistently for our customers whilst meeting the challenges which come with our continued rapid expansion."
Source : B&M Retail
www.bandmretail.com

To advertise on the Insight DIY website and download our media pack, click here.
Sign-up for our weekly newsletter here.
If your business is interested in pricing intelligence or you're currently trying to track retail prices manually, there really is a much easier way. Just contact us here.
04 January 2017

Insight DIY always publishes the latest news stories before anyone else and we find it to be an invaluable source of customer and market information.

Max Crosby Browne - CEO, Home Decor