UK DIY News
B&Q 'City Store' Holloway Rd - our first impressions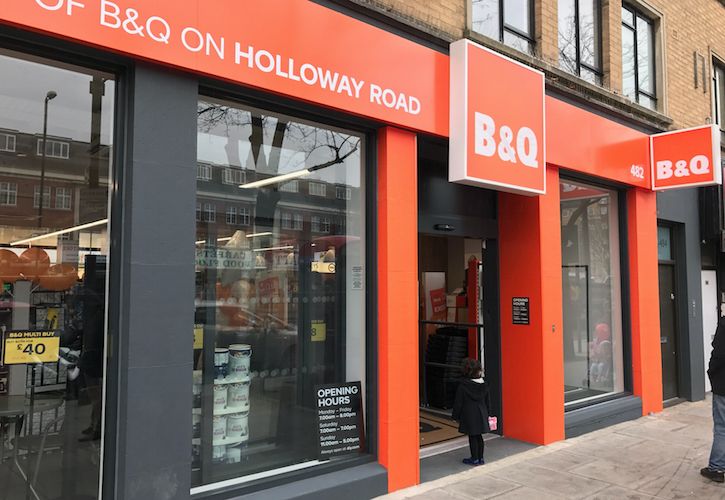 In a week when B&Q turned 48 years old, it was poignant they decided to open a new format, high street or 'City' store. It was in 1969, the first B&Q opened in an old cinema building, on a high street, Portswood Road in Southampton.
The new B&Q store at only 3,000 sq ft occupies an ex-post office premises at 482, Holloway Road, north London. B&Q's toe in the water with an urban, high street concept opened at 9am Friday morning, accompanied by the all important ribbon cutting, balloons, an ex-football star, in this case Martin Keown (Emirates stadium is only 3 mins away) and some impressive opening offers.
Read - Martin Keone kicks off events at B&Q's first City store
B&Q made it clear that this is a trial and although speculation has been rife about a second location, there are no plans at this stage. With the market continuing to change rapidly, this is clearly something that B&Q needed to do and the learnings from Holloway Road will without doubt, provide valuable insights and data that will help the business.
To read the rest of the article plus loads of images (we don't have enough space here), it's available on LinkedIn at the link below. Please feel free to provide your own thoughts and comments at the end of the article,
Steve Collinge - B&Q 'City Store' - Our first impressions
Source: Steve Collinge, Managing Director - Insight Retail Group Ltd.
At Insight DIY, our mission is to deliver breaking news, insight and intelligence on the Home Improvement Industry and you can sign-up for our weekly newsletter here.
16 March 2017

Thank you for the excellent presentation that you gave at Woodbury Park on Thursday morning. It was very interesting and thought-provoking for our Retail members. The feedback has been excellent.


Martin Elliott. Chief Executive - Home Hardware.