UK DIY News
B&Q Like-For-Likes Down 2.9% in Q3 Trading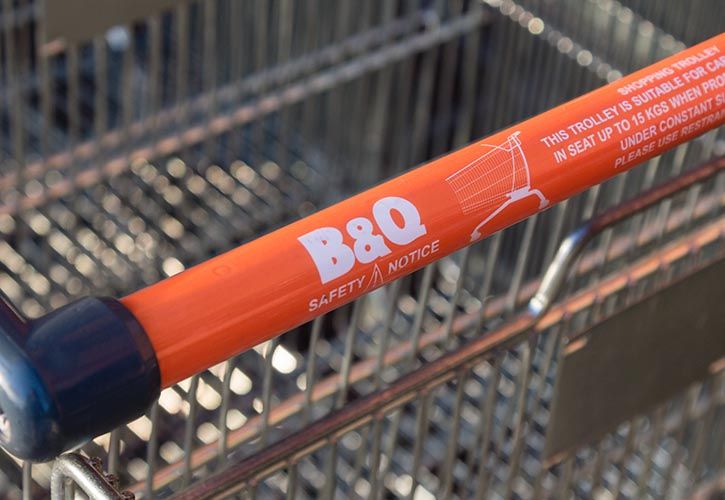 Kingfisher has reported on third quarter trading, covering the three months ended 31st October. The Group reported sales of £3.0 billion up 1.2% in constant currency, LFL(1) down 1.3%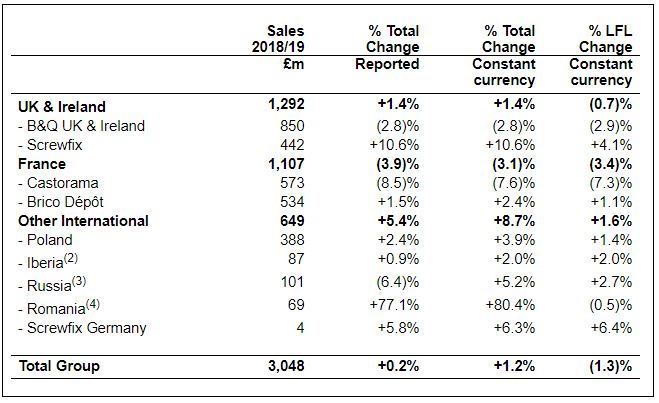 Strategic decisions
Exiting Russia, Spain & Portugal

to focus on markets where we have, or can reach, a market leading position
Q3 trading performance
Q3 total sales up 1.2% in constant currency, LFL down 1.3% reflecting continued weak sales in Castorama France

Q3 Group gross margin after clearance up 40bps versus Q3 last year (H1 down 40bps)

Year to date gross margin after clearance is up in UK, Poland and Brico Dépôt France
FY 18/19 technical guidance
In FY 18/19 expect to grow the gross margin after clearance in the UK, Poland and Brico Dépôt France however the outlook for Castorama France is more uncertain given difficult trading and the ongoing impact of recent national demonstrations

Completing the final £50m tranche of c.£600m capital return commitment

(5)

via share buyback (£140m by end of FY 18/19)
Q3 trading highlights by division (in constant currencies):
UK & IRELAND
Total sales +1.4% (LFL -0.7%)
· B&Q UK & Ireland sales -2.8%. LFL -2.9% including -c.1.5% impact from the discontinuation of showroom installation services
· Screwfix sales +10.6%. LFL +4.1% with 9 new outlets opened during Q3
FRANCE
Total sales -3.1% (LFL -3.4%). Sales for the home improvement market (Banque de France data(6)) were flat in Q3
· Castorama sales -7.6%. LFL -7.3% reflecting continued weak footfall and the impact of transformation-related activity
· Brico Dépôt sales +2.4%. LFL +1.1% reflecting good growth from the new unified ranges, which continue to re-energise the Brico Dépôt offer
OTHER INTERNATIONAL
Total sales in Poland +3.9% (LFL +1.4%) despite the introduction of new laws on Sunday trading and against a strong comparative (Q3 17/18 LFL: +6.0%)
Download the full trading update here.
Véronique Laury, Chief Executive Officer, said:
"We continue to make progress on our ONE Kingfisher transformation. We remain on track to achieve our key strategic milestones for the third year in a row, and increased our gross margin in the quarter.
"Transformation on this scale is tough, and we are operating in a difficult retail environment. We face challenges and we are addressing them. Our main challenge is Castorama France and we shared our action plan to fix it at the half year. Our action plan is now implemented for this year. We have accelerated our move to an everyday low price strategy and have launched a new marketing campaign to make it visible to our customers, however there is no quick fix.
"We are committed to our plan and to building a strong business for the long-term. As part of this commitment, we have taken the decision to exit Russia, Spain and Portugal. This will allow us to apply our strategy with more focus and efficiency in our main markets where we have, or can reach, a market leading position and create good homes by making home improvement accessible for everyone.
"Finally, I'm pleased to announce we are also returning a further £50m via share buyback which completes our £600m capital return commitment in the first three years of the plan."
Insight & Commentary - Steve Collinge
What a different picture to just 12 months ago. Kingfisher PLC ended their 2017/2018 financial year in a positive position as management told investors that the Transformation Programme had recovered following earlier teething problems. Only a year later, the share price is down almost 25% from £3.22 to £2.46, two key members of the management team have left or are leaving and investors are now starting to ask some serious questions of the remaining management team.The decision to exit the markets in Russia, Spain and Portugal (which combined contributed a loss of £8m operating profit) is probably a sound one, although a clear admittance that the Kingfisher model cannot beat the competition. This will mean exiting and disposing of 51 stores - 28 in Spain, 20 in Russia and 3 in Portugal.
Source : Kingfisher PLC
For all the very latest news and intelligence on Kingfisher and the UK's largest home improvement and garden retailers, sign up for the Insight DIY weekly newsletter.
Footnotes
(1) Like-for-like sales growth representing the constant currency, year on year sales growth for stores that have been open for more than a year
(2) Brico Depôt Spain & Portugal. Brico Dépôt Spain reported an operating profit of £2m & Portugal reported an operating loss of £2m in FY 17/18
(3) Russia reported an operating loss of £8m in FY 17/18
(4) Includes Praktiker Romania acquired on 30 November 2017
(5) Through to end of FY 2018/19 (over and above the annual ordinary dividend)
(6) Includes relocated and extended stores http://webstat.banque-france.fr/en/browse.do?node=5384326
21 November 2018

Insight DIY always publishes the latest news stories before anyone else and we find it to be an invaluable source of customer and market information.

Max Crosby Browne - CEO, Home Decor