UK DIY News
Brits Are Clicking - But Not Collecting - £228m Worth of Goods Each Year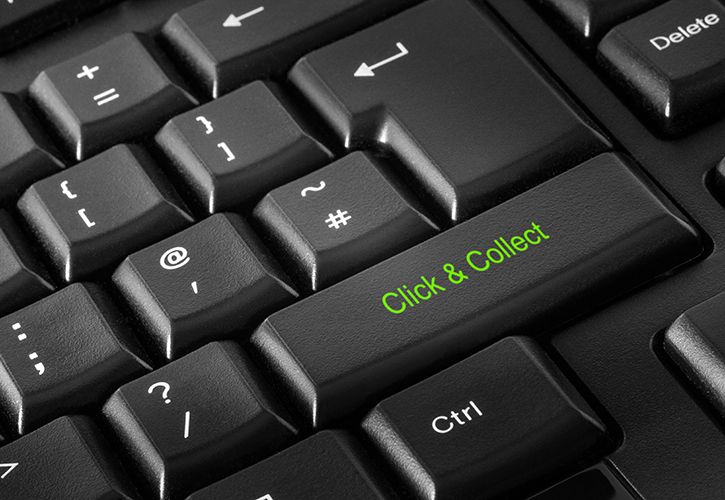 New research from Barclaycard – which processes nearly half of the nation's credit and debit card transactions – reveals that 72 per cent of retailers see Click & Collect services as a solution to drive high street footfall. Yet, with UK shoppers leaving £228 million* worth of items uncollected each year, it's clear that more needs to be done to enhance the experience for shoppers.
More than seven in ten Brits (71 per cent) now use Click & Collect – selecting the option twice a month on average – yet 15 per cent of shoppers admit to not collecting their purchases in-store. Despite the challenges this can cause retailers, for instance in processing returns and managing stock flow – 87 per cent still consider it the fastest-growing delivery option.
One in three who have failed to pick up an item put it down to the Click & Collect process being a 'hassle' (30 per cent), preferring to wait for a refund before re-ordering for home delivery. Other reasons cited by shoppers include long wait times (25 per cent), poorly staffed collection points (25 per cent), struggling to find the designated Click & Collect area (17 per cent), and having to pay for the service (15 per cent).
A solution for the high street?
However, implemented well, Click & Collect could be beneficial for the high street. 89 per cent of merchants offering the service have seen footfall increase over the past two years and 97 per cent have benefitted from additional revenue. Almost two in five (39 per cent) UK adults also say they would visit shops more often if the process was improved.
Cost efficiencies can also be made, with the retailers surveyed estimating that they could each save over £178,500** across delivery, packaging, returns and restocking costs, if more customers chose this option.
In today's experience-driven economy, more than half of Brits (53 per cent) want retailers to offer special rewards and experiences to Click & Collect customers. A third of shoppers (34 per cent) would also like to try out the products they have purchased; for instance, by exposing outdoor clothing to the appropriate conditions or trialling kitchen equipment before they take it home with them.
Bringing the Click & Collect experience to life
To demonstrate how brands can create a more engaging experience for Click & Collect customers, Barclaycard has partnered with Europe's number one sports retailer, Decathlon, to create a microclimate experience for hiking fans at the Surrey Quays store.
With hiking products being among the most popular items that Decathlon shoppers purchase via Click & Collect, Barclaycard has re-created the microclimate of one of Britain's most popular hiking spots***, Mount Snowdon, to allow shoppers to try out their products in conditions that mimic its temperature and mountainous conditions. A video showcasing the experience is available to view below:
Kirsty Morris, Director, Barclaycard Payment Solutions, said: "Click & Collect is a win-win for both retailers and consumers. Brands have the opportunity to not only increase the number of shoppers through their doors but also to reduce costs and returns, while generating revenue from 'Click & Collectors' purchasing additional items in-store.
"Enhancing the Click & Collect experience is a potentially lucrative way for retailers to ward off the unprecedented challenges of the high street and bridge the gap between online and in-store shopping."
Christian Baggaley, Head of Operations at Decathlon UK, said: "We have seen a real increase in the number of shoppers opting to use Click & Collect since 2017 and are constantly looking at ways to make the overall shopping experience better for our customers. That's why we are excited to collaborate with Barclaycard on this 'Click & Connect' trial – to further encourage shoppers into our stores so they can experience everything it has to offer.
"Hiking products are really popular with our shoppers and so we'll be hosting the microclimate experience at our Surrey Quays store to enable shoppers to test items they've ordered through Click & Collect, in the same mountainous temperatures they will experience on their hike."
The microclimate experience is available for Click & Collect shoppers to try out at the Decathlon Surrey Quays store between 20th and 23rd August.
Source : Insight DIY Team and Barclaycard
For all the very latest news and intelligence on the largest UK home improvement and garden retailers, sign up for the Insight DIY weekly newsletter.
*£228,442,500 figure calculated by multiplying the average value of uncollected Click & Collect items per person in this nationally representative survey, by the total UK population (18+).
** £178,545.30 figure calculated by adding together the average annual cost savings that merchants indicated their business could save if more customers used Click & Collect. This encompasses delivery, returns, packaging costs, relabelling costs and restocking costs.
20 August 2019

Thank you for the excellent presentation that you gave at Woodbury Park on Thursday morning. It was very interesting and thought-provoking for our Retail members. The feedback has been excellent.


Martin Elliott. Chief Executive - Home Hardware.