International DIY News
Bunnings to open smaller shopping centre stores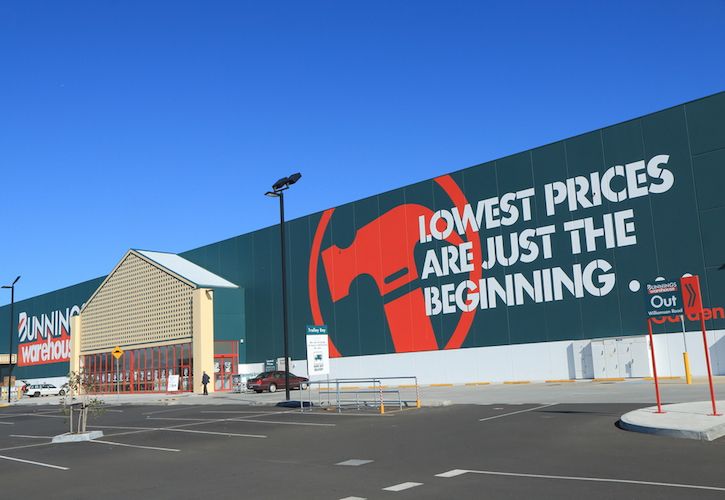 The Australian press has reported that Bunnings has launched a plan that could help the hardware giant stay ahead of competitors.
The DIY chain is expanding and opening more small retail stores in shopping centres, and one publication – the Northside Chronicle – understands that one such store will open in the Vicinity Toombul Shopping Centre later this year.
Experts think it's a good move for the hardware giant and it could be Bunnings' way of competing with other big box stores that could emerge in the future.
Just last week hardware consultant of DGC Advisory Geoff Dart said he was working on a plan that would see Woolworths' hardware brands start making money.
He suggests Masters be rebranded as Woolworths' other building brand, Home Timber & Hardware, and focus on selling paint, carpet and tiles instead of timber and tools.
Mr Dart thinks the small retail business plan is a smart move for Bunnings because it's tapping into a market of impulsive shoppers who are after convenience.
He said McEwans, a hardware chain Bunnings took over in 1993, used to have stores in shopping centres.
"The good thing about that smaller range is people just impulsively buy things they might need at home, like hooks to hang your pictures or tape for fixing things," Mr Dart said.
"It used to work really well for McEwans.
"Someone needs to fill this need, supermarkets have a fairly pathetic hardware range and Kmart and Big W have little tool kits but they couldn't service somebody who wanted to fix their tap or wanted a new type of paint."
The success of these small stores will also be driven by the high number of people now living in cities.
"There are a number of apartments being built and there are no hardware stores around them," Mr Dart said.
"People don't want to drive 20 or 30 minutes for a large warehouse and they don't need a lot of things for apartments, they just need paint and some power tools."
Melbourne University business and economics expert Dr David Byrne said we saw a similar move to this before when petrol stations started to relocate closer to supermarkets.
"That's been a good move for companies, taking one line of their business and putting it near another business," he said.
"There's some rationale behind Bunnings' decision to open smaller scale stores. Time will tell if it's successful but you can see the economic rationale for doing it."
Dr Byrne said people associated Bunnings with large, big box stores and he believed smaller shops would appeal to a new market.
"Depending on how they roll out these smaller scale stores, it may allow them to enter smaller markets and profit from smaller markets around Australia," he said.
Bunnings general manager of property Andrew Marks said the new store would employ 50 staff.
"It's an exciting opportunity as it's located within an existing sub-regional shopping centre," he said.

Bunnings thinks it will breathe new life into the shopping centre and it will service the inner northern suburbs of Brisbane.
This is not the first Bunnings within a shopping centre but it's not widely popular either.
There are just 69 smaller format stores across Australia and New Zealand.
"We have a variety of examples of smaller Bunnings store formats across QLD and Australia," Mr Marks said.
"They're part of our DNA."
The conversion of a former supermarket in a small shopping centre at Indoorooopilly in mid-2014 was a first for Queensland and received a great response so Bunnings is now expanding even more.
IS THIS A RESPONSE TO MASTERS' FAILURE?
Mr Dart believes Bunnings has been busy over the last couple of years pushing Masters out of the market.
"The good thing about Masters is it made Bunnings competitive and made them lift their game," he said.
"As a result of that, they have been thinking about what else they can do and how they can better cater to customers."
Mr Dart said it was an exciting time and if Masters did not merge with Home Timber & Hardware, he hoped somebody would buy the business.
"I think Bunnings would enjoy having a strong competitor and it would be good for the consumer," he said.
WHAT DO THESE NEW STORES LOOK LIKE?
The Northside Chronicle reports it will cost $8 million to develop and fitout the store and fill it with stock.
The new store will reside in an old Coles site.
Mr Dart believes it will be similar to what McEwans used to be, it had paint as the best selling product and also sold nuts and bolts and wallpaper.
"Look at Officeworks and other express retail, it's really about convenience and being where the people are and where they are congregating, and that's around shopping precincts," he said.
"Nobody really knows how big this market is at the moment but what we do know is with population density and impulse purchases, it makes sense."
WHAT THIS MEANS FOR BIG BOX STORES?
Dr Byrne does not believe the smaller retail shops will eventually take over big box stores.
He thinks instead it will just expand Bunnings' customers.
"Opening smaller shops near other retail outlets and supermarkets is probably a way of picking up customers who are just out buying bread but also need paint," he said.
"They are going to try and get supermarket customers into their stores as well and I suspect we won't see them selling timber in these smaller retail stores but instead small scale things like super glue, insect repellent and other things you can get while at the shops.
"I think with the construction industry we're always going to have a physical need for large warehouse stores but the question is whether there is an appetite for big box stores in smaller markets."
Source : Olivia Lambert - News.com.au
www.news.com.au/finance/business/retail/bunnings-will-open-small-retail-stores-in-shopping-centres/news-story/ec4b077c4137fbe0c5f9061d9860f33f
05 April 2016

Insight provides a host of information I need on many of our company's largest customers. I use this information regularly with my team, both at a local level as well as with our other international operations. It's extremely useful when sharing market intelligence information with our corporate office.

Paul Boyce - European CEO, QEP Ltd.