UK DIY News
Cardiff Wyevale Garden Centre reveals giant spade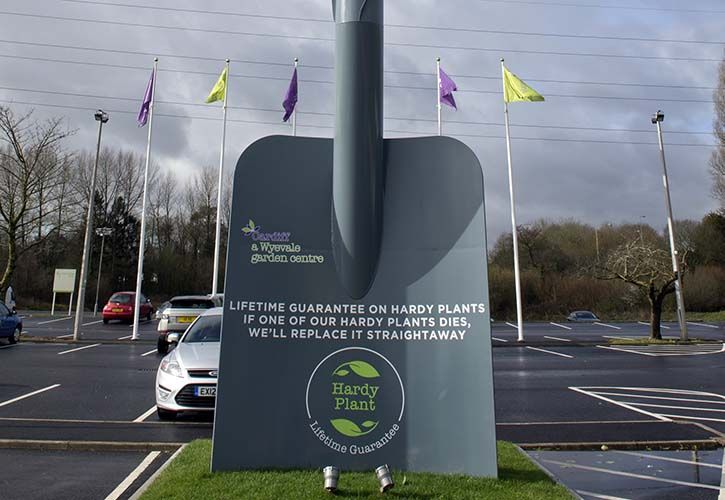 Following the highly anticipated re-opening of Cardiff Wyevale Garden Centre, in November 2015, the centre yesterday launched what is sure to be one of the UK's quirkiest selfie-spots by unveiling a 12.6 metre giant spade. The occasion was marked by a community 'selfie-sweep', led by local councillor Michael Costas-Michael.
The epic spade is in fact bigger than the current world's official biggest spade which sits at 12.4 metres in Gardenville, Texas. Displayed outside the garden centre, the spade is expected to become a unique addition to Cardiff's existing tourist trail, and a spot for visitors to take their own #spadeselfie.
To celebrate the launch, locals gathered alongside Councillor Michael Costas-Michael for a selfie-sweep, which saw centre colleagues and shoppers simultaneously take a selfie in front of the giant spade and upload images to Twitter and the Cardiff garden centre Facebook page using the hashtag #spadeselfie.
The spade is truly enormous, weighing in at 8 tonnes with foundations 2 metres deep. The UK built steel structure had to be transported in three pieces and required over 30 litres of paint to cover in full. Installing the spade was no mean feat either, requiring the assistance of several local tradesmen. As of a result of all this preparation the spade is expected to form part of the Cardiff landscape for many years to come.
Mike Greenwood, Centre Manager at Cardiff said: "With the selfie craze sweeping the nation, what better addition to our garden centre than a towering giant spade to attract visitors from Cardiff and beyond – and we hope it becomes a symbol of our resilient garden centre. We encourage everyone to come down to the centre and take their own quirky spade-selfie, before making the most of our new Spring-ready ranges… and hopefully fit in a coffee and cake at the Botanic Kitchen too."
Councillor Michael Costas-Michael commented: "The launch of Cardiff's giant spade is another great development for the local economy, presenting a valuable opportunity to attract more visitors to the area. Increased tourism will likely help to boost footfall, consumer spending and job creation, benefiting local businesses and residents alike."
The new attraction solidifies Cardiff Wyevale Garden Centre's triumphant return to the local market. A destructive fire in November 2013 saw the centre close and undergo a large scale state-of-the-art redevelopment, including the launch of a new concession building. Concessions include Regatta, Yankee Candle, Bon Marche, Cotton Traders, Edinburgh Woollen Mill, Hot Springs and Maidenhead Aquatics.
Source : Wyevale Garden Centres Press Release
www.wyevalegardencentres.co.uk
04 April 2016

Thank you for the excellent presentation that you gave at Woodbury Park on Thursday morning. It was very interesting and thought-provoking for our Retail members. The feedback has been excellent.


Martin Elliott. Chief Executive - Home Hardware.