UK DIY News
Clas Ohlson: Online Sales Grew By 61% in April; COVID-19 Update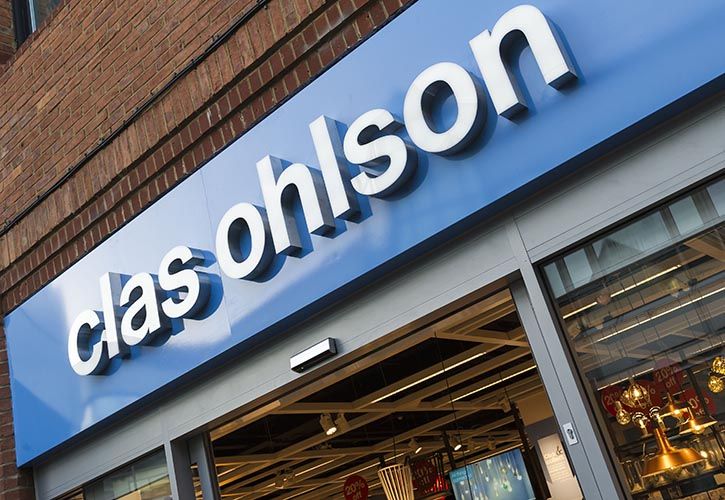 Clas Ohlson has reported on trading in April, advising that sales grew organically in April by 2 per cent and online by 61 per cent.
For the 2019/20 financial year, total sales were in line with last year and organic growth in the Nordic countries was 3 per cent.
Organic sales in April increased 2 per cent compared with the preceding year. Sales in comparable units and local currency increased by 2 per cent. Sales in April decreased by a total of 4 per cent to 571 MSEK (592), which, in addition to COVID-19, were impacted by the closure of stores outside the Nordics and the weaker NOK. Sales in the Nordic countries declined by 3 per cent, corresponding to organic growth of 3 per cent. Online sales in April increased by 61 per cent to 59 MSEK (37).
Compared to the same month last year, there was a net reduction in the store network of four stores (an increase of three in the previous year). The total number of stores at the end of the period was 228 (232). As part of the ongoing review of the store network, the store on Kullagatan in Helsingborg will be closed in the third quarter of this year. The date of the planned opening of the stores in Trondheim and Uddevalla will be determined by developments resulting from COVID-19. E-commerce in the UK was transferred to Amazon's online shopping platform on 1 May.

Countries, MSEK
April
2019/20
April
2018/19
Percentage
change
Organic
growth
Sweden
265
272
-3
-3
Norway
249
241
3
17
Finland
51
68
-24
-27
Nordics
565
580
-3
3
Outside the Nordics*
6
12
-50
-51
Total**
571
592
-4
2
* Affected by store closures in the UK and Germany.
** Of which 59 MSEK (37) comprises online sales.
Total sales for the 2019/20 financial year (May 2019 to April 2020) were in line with last year and amounted to 8,758 MSEK (8,772). Organic sales were marginally higher compared with previous year. Sales in comparable units and local currency increased 1 per cent. Sales in the Nordic countries increased by 2 per cent, corresponding to organic growth of 3 per cent. Online sales for the financial year increased by 25 per cent to 542 MSEK (432).
Total sales for the fourth quarter of 2019/20 (February to April 2020) declined by 6 per cent to 1,644 MSEK (1,742). Organic sales decreased by 2 per cent. Sales in comparable units and local currency were unchanged. Online sales for the fourth quarter increased by 45 per cent to 138 MSEK (96).
Comments
Under the exceptional circumstances caused by COVID-19, Clas Ohlson's relevant range in stores close to the home or via online shopping, with flexible delivery options, has remained popular with customers:
All of Clas Ohlson's physical stores in the Nordics remain open – some with standard opening hours, others with reduced opening hours based on the conditions in each country and location.

Due to the restrictions that came into force in the UK on 25 March, the Reading store remains temporarily closed.
Significant growth online, home delivery as a delivery option has increased and the "drive-in" solution that was launched is popular. Sharp increase in sales of Clas Ohlson's range on Mathem.se and Kolonial.no.
Expansion of the Clas Fix it service is postponed to a time when the market situation is more predictable.
The operations are continuously being adapted to the strategic plan and the consequences of COVID-19:
To better capitalise on synergies and best practice between countries, stores, online and other services, the management structure was simplified on 1 May. The objective is also to shorten and more clearly define internal decision-making channels.

Staff levels in stores have been continuously adjusted through temporary lay-offs based on the prevailing conditions in the form of higher sickness absence than normal and the shorter opening hours and restrictions applicable in each country. Currently, about 300 store employees (corresponding to about 90 FTEs) have been temporarily laid off from about 70 stores. In addition, about 200 office employees have had their working hours reduced by approximately 20 per cent for two months.
A number of long-term cost-saving measures, for example, in the form of reductions among the office organisation, have been implemented.
Talks are being held with all tenants to find a constructive solution for both parties as regards lease and payment terms.
The prevailing uncertainty and other factors have impacted purchasing and sales currencies. Clas Ohlson has now returned to its normal currency hedging policy after a period of assessing currency hedges on a case-by-case basis.
Lotta Lyrå, President and CEO:
"With a combination of rapid action and continued change activities aligned with our strategic agenda, we have adapted both our offering and operations to the prevailing circumstances. These actions are generating results and we will achieve our target of an operating margin of 4-6 per cent for the current 2019/20 financial year.
"Considering that April was also impacted by COVID-19, we are satisfied and can report organic growth of 3 per cent in the Nordics for the 2019/20 financial year. We have partially been able to offset the negative impact of COVID-19 with the positive effects of active measures on our commercial agenda. We have received confirmation that we have the ability to address changed customer behaviour in terms of providing a relevant range, attractive offering and convenient delivery options. With online growth in April of a full 61 per cent and 45 per cent for the fourth quarter, we can also see that the development of our e-commerce platform is continuing to bear fruit.
We remain humble with respect to the time ahead. We do not know what will happen as regards COVID-19, the foreign exchange market and the macroeconomic situation. Accordingly, it is too early to draw any conclusions on the impact of the external business environment on our earnings for the coming financial year. I would like to emphasise that Clas Ohlson is approaching these challenges both from a strong financial position and we will leave no stone unturned to as quickly as possible continue to implement our established strategy that has been adapted to both changed customer behaviour and a difficult market climate."
The year-end report for the 2019/20 financial year will be published at 7:00 a.m. on Wednesday, 3 June 2020.
Source : Clas Ohlson
For all the very latest news and intelligence on the largest UK home improvement and garden retailers, sign up for the Insight DIY newsletter.
15 May 2020

Insight DIY is the only source of market information that I need and they always have the latest news before anyone else.

Neil Anderton - Sales Director, British Ceramic Tile