UK DIY News
DIY Milestones: The Tasks You Should Master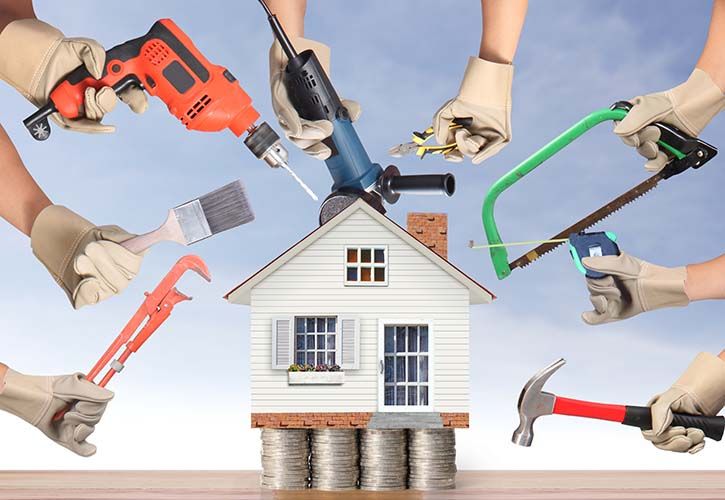 Younger generations are often criticised for not knowing the most basic DIY skills, but it's not just millennials losing their DIY touch - it's the whole of the UK. Last year, there were nearly 3 million Google searches regarding the most common DIY tasks - and that's from Britain alone.
That's why Insulation Express have collaborated with a DIY & Home expert to drill down on the tasks you should have mastered by the ages of 16, 21, 30 and 40. Better yet, we've also uncovered the financial saving of learning how to do-it-yourself.
The DIY Skills You Should Know by Each Age Milestone
Being able to accomplish these skills not only gives you the freedom to work on home renovation projects but also a massive sense of achievement. Better yet, mastering these projects will save you a huge £2,450* in professional costs.
How many DIY milestones have you already got to grips with? Why not read on to discover how to become an expert in every task.
By the Time You're 16
While you may be surprised to see the age 16 on this list, Creative DIY & Home Decor Expert, DiY Blonde® explains that "it is never too early to start practising and getting to grips with all things DIY."
DiY Blonde® adds, "without even realizing, at school you would have been taught some basic DIY techniques like sewing on a button or wiring a plug, so there is no reason to not put these new skills into practice at home."
Change a Lightbulb - Professional Cost: £0
As one of the most simple DIY tasks, everyone should be able to do this by the age of 16 years old. Yet, 62,150 Britons Googled 'how to change a lightbulb' last year.
Wire a Plug Professional Cost: £40 per hour
Whilst this may seem a tad intermediate for a 16-year-old to master, this handy skill is actually taught in high-school. But despite this, last year nearly 102,780 Brits searched 'how to wire a plug' in Google.
By the Time You're 21
At 21 years old you may be living away from home which will leave you feeling independent. With this in mind, "the need to know some basic DIY is really important," DiY Blonde® adds, as "you may, for example, find you have a dripping tap."
Turn off the Water Supply - Professional Cost: £0
At this age, you may be living in rented accommodation, therefore, being able to turn off the water can be particularly handy in an emergency. That's why it's no surprise that 56,110 Brits Googled 'how to turn off the water supply' last year.
Assemble Furniture - Professional Cost: £35 - £70
"Projects such as attempting to construct furniture can often feel like a drag, but the sense of achievement you will feel when you have built the furniture is surprisingly satisfying" claims DiY Blonde. Plus there's the added benefit of saving money as a professional will charge between £35 - £70 to construct a single piece of furniture. Last year, 27,240 Brits Googled 'how to assemble furniture'.
Fix a Dripping Tap - Professional Cost: £94
Last year, 'how to fix a tap' racked up 214,300 Google searches from Brits.
By the Time You're 30
By the age of thirty, chances are that you're in your 'forever' home (rented or bought) "so the need to be able to carry out some DIY is essential," DiY Blonde® comments. Not only will you be saving money through DIY, but it will "inspire you to be creative with the décor in your home - having the freedom to change a room scheme whenever you desire."
That's why it's good to know "simple DIY projects such as painting a wall or hanging a picture."
Hang a Picture - Professional Cost: £138 for six pictures
Although hanging a picture seems like a straightforward task, last year 223,310 Brits asked Google 'how to hang a picture'.
Paint a Wall - Professional Cost: £1,500 for the whole house
Painting a wall can seem like a daunting task so much that it racked up an astounding 248,430 Google Searches from Brits last year.
Bleed a Radiator - Professional Cost: £100 for up to 10 radiators
This DIY task is a must for any homeowner. Which is probably why it's the second most googled DIY question, with 338,910 Britons asking Google 'how to bleed a radiator' last year.
Put Up a Shelf - Professional Cost: £88 per shelf
Last year, 'how to put up a shelf' received 24,620 Google Searches from Brits.
By the Time You're 40
"With age, comes confidence and this can apply to pushing yourself to develop your practical skills further. By now you will probably find DIY a breeze and you won't bat an eyelid at cleaning your gutters or changing a plug socket." DiY Blonde® says.
You may even be inspired to take on your own dream build project, or start restoring furniture, "leading to sustainable living, which is very topical at present."
But, DiY Blonde® says "the main benefit of expanding your DIY repertoire, is that it encourages you to stay active and it will keep your mind young."
Restore Furniture - Professional Cost: £150 per item
Restoring furniture can mean anything from, repairing, reupholstering, or revarnishing. This can give an old piece of furniture a new lease of life, which can be particularly handy if you're short on money, or just fancy remodelling your furniture into something else. What's more, it's definitely a niche DIY skill as 'how to restore furniture' received only 51,130 Google searches last year.
Clean Gutters - Professional Cost: £150
Last year, only 29,660 Brits Googled 'how to clean a gutter' suggesting that not many Brits tackle this task themselves.
Wire a New Light Switch
Professional Cost: £75 per switch
'How to wire a light switch' received 292,910 Google searches last year. This is definitely one of the more tricky DIY jobs on our list, as you need to follow the rules around electrical safety and you must comply with electrical regulations.
If you manage to complete all these DIY tasks, you would save yourself a colossal £2,450*, so it really pays to DIY. Even if you're experienced or inexperienced with DIY, there's always time to learn new projects and give you the satisfaction of a job well done!
*Professional costs added up using averages from tradesmen prices.
Source : Insight DIY Team and Insulation Express
For all the very latest news and intelligence on the UK's largest home improvement and garden retailers, sign up for the Insight DIY weekly newsletter.
13 November 2019

Insight DIY always publishes the latest news stories before anyone else and we find it to be an invaluable source of customer and market information.

Max Crosby Browne - CEO, Home Decor