UK DIY News
Do they know something we don't?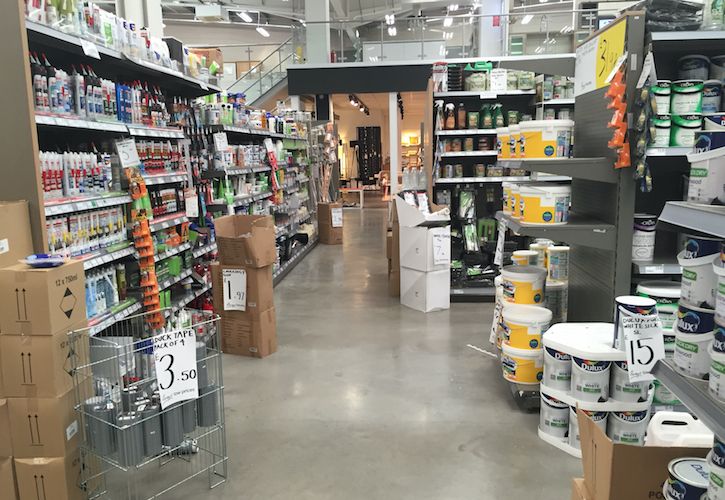 Just over six months ago the acquisition of Homebase by Wesfarmers was announced and how the business has changed in that short period of time.
Above, you see a picture taken inside the Homebase branch in St Albans earlier this week. This store re-opened in September 2014, a flagship for Home Retail Group, located adjacent to an Argos, with a huge showroom department and concessions from Habitat and even Wiggle Cycles (although they realised this was a bonkers idea and closed them all in October 2015). The branch even had it's own Homebase coffee shop located inside the store.
Only one year ago, the inside of this store would have looked immaculate, with perfect product displays, impeccable point of sale and aisles so tidy and free from clutter, you'd have thought you were in a hospital.
Well, look at the picture above closely and see what a difference 6 months of Wesfarmers ownership makes and before you think this is going to be another Bunnings bashing article, you're wrong I'm afraid.
I still think the £340m paid by Wesfarmers was £200m too much for the Homebase business, that they'll soon realise investing anything more than £50m in the company will be a huge mistake and will have packed up their unused sun-hats and flip-flops and be already back home sunning themselves before 2018 is out, but that my dear friends is beside the point.
This image could have been taken at any one of the 265 Homebase stores up and down the country and what a mess this store looks. Gone are the tidy displays, the neat merchandising, the perfectly filled point of sale holders and the expensive agency created point of sale.
In it's place, we have price labels written on toilet roll by the spotty Saturday boy, cardboard boxes looking like they wouldn't make the journey from the back to the front of the store, never mind from China and more secondary product locations in this one photograph than would have been allowed in the entire store just 12 months ago.
This apparently is retailing Aussie style.
Take a closer look, in this one image, we have six cardboard dump stacks in view, at least six clip strips and one white hexagonal paint display unit. Which I personally must claim credit for, as thinking it was such a brilliant idea, I borrowed one from a Home Depot store in Chicago, sneaked it back to the UK in my luggage to give to our POS supplier when I worked for Dulux). Most importantly we have shelves absolutely choc a block full of stock.
If you'd been a Homebase store manager 12 months ago and your store looked like this; you and your entire store team would have been publicly flogged and you would have been tied to the stocks in Milton Keynes, while people threw wallpaper paste and the content of grow bags at you.
But that was the days when stock and more particularly customers were a major inconvenience and a huge headache to the Homebase business and frankly got in the way - messing up all those shelves and wanting to be served all the time, what was wrong with them!
So, here's the essence of todays article and for a moment, let's step into the mind of the DIY consumer.
Consumers shopping for home improvement products more often than not have a project in mind. This might be refreshing a room with paint and maybe new flooring, it could be as complex as laying a deck or purchasing a new kitchen or bathroom or it could be as simple as replacing a light bulb or batteries. The work that we've done, has identified 28 different projects that almost 95% of home improvement products fall into. The notable exceptions to this are 'distress purchases', new locks, cooling fans or ant killer and obscure categories like car care.
That's how consumers think; they've been inspired through a whole host of different routes like TV programs, magazines, friend's houses etc. and they have a project to complete. However, the issue when they arrive in a DIY store is that the retailers don't think that way. They manage their stores and their business in functional product categories. At times, they'll try and put linked products together on promotional ends or they'll locate paint brushes on clip strips in the paint aisle, but that's only scratching the surface of what consumers are looking for. DIY shoppers want a category solution, giving them everything they want all in one place, easy to find, easy to choose, easy to use and plenty of stock.
Why don't the retailers offer this? Because their commercial teams are organised by functional product groups. For example, if in-store decking space is used to display all the associated decking treatments, then the decking treatment buyer will get the credit for the sale and profit from that space and not the decking buyer. Repeat this across every product category and every product group and there's the problem.
And that brings me back to the Homebase store in St Albans. Despite the obvious mess and clutter, Bunnings are trying to breakdown the artificial boundaries between these categories and simply give consumers what they want. How successful this will be, depends entirely upon how many consumers really care about the DIY shopping experience. I've written before about how the DIY purchase process can often be summed up as consumers having to buy products they know nothing about, with money they don't really want to spend, for a job they don't want to do.
Yes, they want the end result, the living room transformed by new flooring and freshly painted walls, the perfectly manicured lawn and the shower that no longer leaks, but the process of getting there, consumers just want it be as short and painless as possible.
So, the Bunnings effect on Homebase may not be kind on the eye, it may make some retail experts recoil in horror, but to the consumers who shop in those stores, Bunnings has made finding the right products at the right price, a whole lot easier.
And to finish on this subject, call me old fashioned, but I've always signed up to the retailing principle 'It's always a good idea to expose products to the risk of them actually being sold'.
Source: Steve Collinge - MD Insight Retail Group Ltd.
If you agree, disagree or just want to contribute to the discussion, email me at steve@irg.co.uk
If your business is facing strategic challenges and you'd like to have a conversation with Steve or one of our industry experts, just contact us here.
If you want to make sure that you don't miss the very latest breaking news and industry comment and insight like this, then sign up for our weekly newsletter here.
To advertise on the Insight DIY website and download our media pack, click here.
22 July 2016

I find the news and articles they publish really useful and enjoy reading their views and commentary on the industry. It's the only source of quality, reliable information on our major customers and it's used regularly by myself and my team.

Simon Fleet - Sales & Marketing Director, Thomas Dudley Ltd