UK DIY News
Dulux reveals new advert and colour study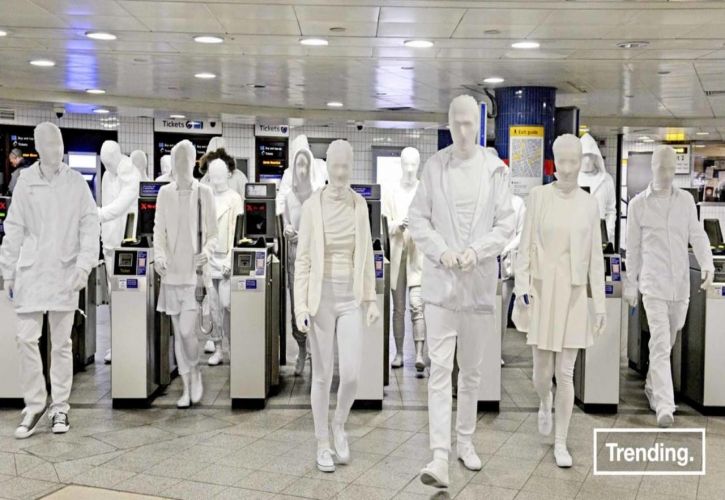 Dulux's new TV campaign warns that a colourless future means a future without the emotional power of colour and inspires us all to avoid sleepwalking into a colourless future and instead become 'colour rebels'.
To further support the launch of the new advert Dulux has also commissioned a new study dubbed the 'Colourless Future Census', to warn that the country is sleepwalking into a colourless future. The study shows how colour is gradually draining out of all elements of life from fashion and beauty, to technology, architecture and homes and interiors.
* Nation currently embracing colour less than ever before -
* Brits associated the 1960's, 1970's and 1980's with bright colours including sunshine yellow, purple and electric blue
* Since the 1990's colour has been seeping out of our lives with the most popular colours over the last three decades being sand, grey and black
* A fifth (21%) aren't confident enough to use colour in any aspect of their modern-day lives, be it decorating, clothes or even make-up
* Brits think the most popular colours in the future will be silver, white and grey
* Findings revealed as part of the Dulux "Colourless Future Census" released today
1970, the year Jimi Hendrix played at the Isle of Wight Festival, was the most colourful year of the last 65 years, with nearly one in ten (8%) of people voting it as the best year for colour, a new report has revealed.
A new study dubbed the 'Colourless Future Census' commissioned by Dulux, the country's best loved paint brand, warns that the country is sleepwalking into a colourless future. The study shows how colour is gradually draining out of all elements of life from fashion and beauty, to technology, architecture and homes and interiors.
Applied Colour Psychologist, Karen Haller, states: "If we were to live in a world without colour, we would switch off all natural human feelings and emotion and, in essence, would lose touch with who we really are".
The findings also reveal the colours that Brits associate with certain decades. People lived for sunshine yellow for the 1960s, purple for the 1970s and electric blue for the 1980s. But we see the 1990s as sand coloured, the 2000s as a more muted gunmetal grey and the current decade as black. Looking ahead, when asked which colours are likely to be most prevalent in the future, 65% plumped for silver, 41% white and 28% grey.
To bring the problem to life and demonstrate that a future without colour would be lacking in emotion and expression, Dulux staged a disruptive stunt in the streets of London. The photography displays a typical commuter scene, only stripped of all colour with the people
dressed head-to-toe in white with their faces obscured to hide any hint of expression or personality. Both the photography and 'Colourless Future Census' have been created to inspire people to embrace colour in all aspects of their lives and appreciate the transformative and emotional power of colour.
The findings revealed that confidence plays an important part in people's choice of colour. More than half (56 %) of Britons said they would like to use more colour in all aspect of life, but were worried about what friends and family might think. A fifth of people (21%) also revealed that they aren't confident enough to use bright colour in any aspect of their lives and the same number revealed they are reluctant to stand out.
From the clothes we wear to the paint in our homes, the survey has revealed that we have lost our vibrancy and confidence in the shades we choose. Over two-thirds (67%) suggest that Brits were more expressive with colour in the past than they are nowadays and therefore they were happier times (66%) and people were more expressive with their emotions (63%).
When it comes to fashion, 39% always stick to simple or monochrome colours which they believe are unlikely to 'offend' anyone. The survey also found that three-quarters (77%) of women have wanted to dye their hair another colour (19% of them purple) however have shied away from it because they were worried what their colleagues might think. In reality we love colour and understand the value it can bring to our lives, but simply lack confidence to use it.
The survey also found that colour has an effect on people's emotions with 46% of people admitting that they felt happier when they were in a brightly decorated room. However, almost a quarter of people (23%) think using bright colours might get them in trouble with their neighbours.
The research study also found that 24% of people believe that the 1960s was the decade where we embraced colour the most when decorating our homes, however only a staggering 2% of people believe that our current decade is where we are embracing colour the most.
Karen Haller, Applied Colour Psychologist further comments:
"Think about the joy we receive seeing colours develop in each season of the year, the love we express to on-trend colours on the catwalk or the excitement we have from crystal blue sea water – it would all be lost in a colourless world. Without colour the world would be clinical, cold and sterile, it would be devoid of individuality or any self-expression. Having fun and experimenting with colour has a transformative power to influence our mood, behaviour and general wellbeing."
Marianne Shillingford, Dulux Creative Director comments:
"Colour is the visual seasoning in a bland world. It's the antidote to sameness and an expression of joy. Colour makes us smile, attracts attention, inspires and challenges us to be individuals. We add more colour when we are off duty as a celebration of freedom and an expression of individuality. If we could turn up the colour dial in every aspect of our lives, the sense of liberation would feel like a revolution – without colour life would be a devastation. At Dulux, we believe that colour has an emotional and transformative impact on people's lives and we don't want to lose that."
Source : Dulux
https://www.dulux.co.uk/en/inspiration/a-world-without-colour-our-colour-stunt-imagines-how-a-colourless-future-might-look
12 March 2015

Thank you for the excellent presentation that you gave at Woodbury Park on Thursday morning. It was very interesting and thought-provoking for our Retail members. The feedback has been excellent.


Martin Elliott. Chief Executive - Home Hardware.