UK DIY News
eBay Reports Better Than Expected Q2 Results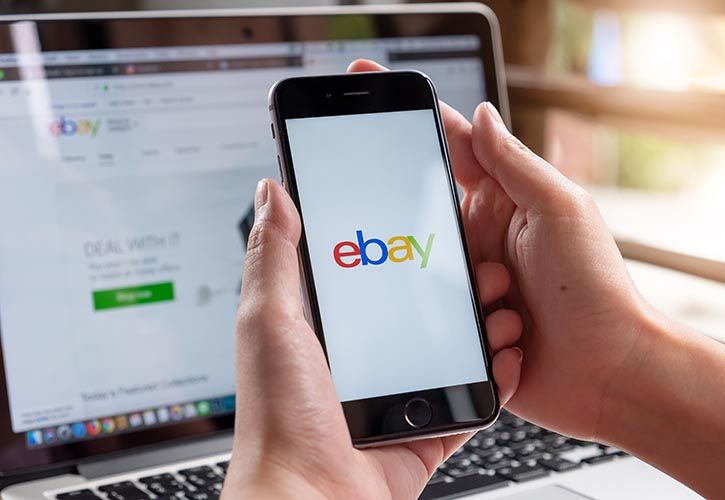 eBay Korea business reported as discontinued operations
Revenue of $2.7 billion, up 14% on an as-reported basis and up 11% on an FX-Neutral basis
Gross Merchandise Volume of $22.1 billion, down 7% on an as-reported basis and down 11% on an FX-Neutral basis
GAAP and Non-GAAP EPS per diluted share of $0.43 and $0.99, respectively, on a continuing operations basis
GAAP and Non-GAAP operating margin of 27.4% and 32.8%, respectively
Returned $1.6 billion to shareholders in Q2, including $1.5 billion of share repurchases and $121 million paid in cash dividends
Announced an agreement to sell 80.01% of eBay Korea business to Emart for approximately $3 billion
Completed the sale of the Classifieds business to Adevinta on June 24th for $13.3 billion, including $2.5 billion in cash and approximately 540 million shares of Adevinta stock (44% ownership)
Entered into an agreement to sell approximately 135 million shares of eBay's Adevinta stock to Permira for over $2.4 billion, reducing our ownership of Adevinta to 33%
Board of Directors expands share repurchase authorization by an additional $3 billion
eBay Inc. (Nasdaq: EBAY), a global commerce leader that connects millions of buyers and sellers around the world, today reported financial results for its second quarter ended June 30, 2021.
"Today I am pleased to announce another strong quarter. In Q2, on an apples-to-apples basis, all key business metrics met or exceeded expectations and revenue growth was driven by the acceleration in our payments migration and growth in advertising," said Jamie Iannone, Chief Executive Officer at eBay. "During the quarter, we hit several important milestones in our ongoing transformation, including the transition of eBay's Classifieds business - a deal that has already delivered exceptional shareholder value - and the announcement of the sale of our Korean business. We are simplifying our portfolio and growing our core while delivering significant shareholder value.
"We remain relentlessly focused on accelerating our product innovation by harnessing the power of next-gen technology and creating a more seamless experience for sellers," continued Iannone. "We are delivering innovative category experiences for buyers and quickly evolving in our pursuit to be the best global marketplace to sell and buy."
Second Quarter Financial Highlights (presented in millions, except per share data and percentages)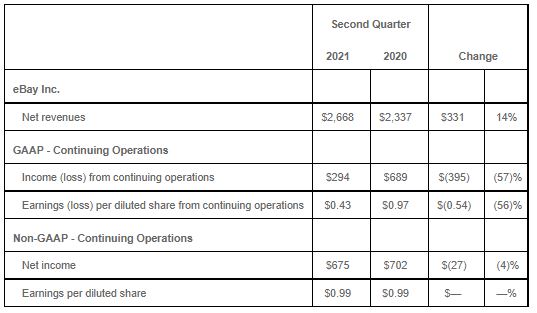 Revenue was $2.7 billion, up 14% on an as-reported basis and up 11% on a foreign exchange (FX) neutral basis.
Gross merchandise volume (GMV) was $22.1 billion, down 7% on an as-reported basis and down 11% on an FX-Neutral basis.
GAAP net income from continuing operations was $294 million, or $0.43 per diluted share.
Non-GAAP net income from continuing operations was $675 million, or $0.99 per diluted share.
Generated $1.0 billion of operating cash flow and $910 million of free cash flow from continuing operations.
Annual active buyers declined by 2%, for a total of 159 million global active buyers.
Annual active sellers grew by 5%, for a total of 19 million global active sellers.(1)
Announced pricing of $2.5 billion senior unsecured notes offering on May 3, 2021.
Business Highlights
eBay announced it has completed the transfer of its Classifieds business to Adevinta in exchange for $2.5 billion in cash and a 44% equity stake in Adevinta, equivalent to approximately 540 million shares. With the transfer complete, the company updated its capital allocation plans for 2021 by increasing its estimated share buyback from $2.0 billion to $5.0 billion.
In July, eBay entered into an agreement with Permira to sell approximately 135 million shares of its stake in Adevinta for more than $2.4 billion of estimated total consideration. This sale reduces eBay's ownership in Adevinta to 33%, which satisfies its commitment to the Austrian regulators that was made as a condition of the Classifieds sale. This includes the announced sale of 125 million shares and the option of approximately 10 million additional shares, which was exercised by Permira.
The company announced it has reached an agreement with Emart for the purchase of eBay's business in Korea. Pursuant to the transaction, eBay will sell an 80.01% stake in its Korean businesses for 3.44 trillion KRW (or approximately $3.0 billion USD) of gross cash proceeds.
eBay announced the appointment of Steve Priest as Chief Financial Officer and Stefanie Jay as Chief Business and Strategy Officer.
Revenue Initiatives
eBay continues to scale its management of payments globally, launching the new experience for sellers in all markets. In Q2, 71% of global on-platform volume was processed through managed payments and the company exited the quarter over 80%. eBay exited the quarter with over 13 million sellers migrated globally.
As a result of the managed payments migration, eBay further reduced unpaid items for sellers, with 99% of fixed price transactions paid up front.
Promoted Listings delivered almost $224 million of revenue in Q2, up 14% on an as-reported basis and up 8% on an FX-Neutral basis.
eBay Ads introduced Automated Promoted Listings Campaigns, using rule-based technologies for sellers to automate how they promote new listings and adjust their ad rates to stay competitive. This makes it easier for sellers to surface their items to buyers, increase their listings visibility and drive overall sales.
Source : eBay Inc.
Image : wichayada suwanachun / Shutterstock.com (1217180158)
For all the very latest news and intelligence on the UK's largest home improvement and garden retailers, sign up for the Insight DIY weekly newsletter.
13 August 2021

Insight DIY is the only source of market information that I need and they always have the latest news before anyone else.

Neil Anderton - Sales Director, British Ceramic Tile