UK DIY News
Gorilla Glue Launches New Waterproof Patch & Seal White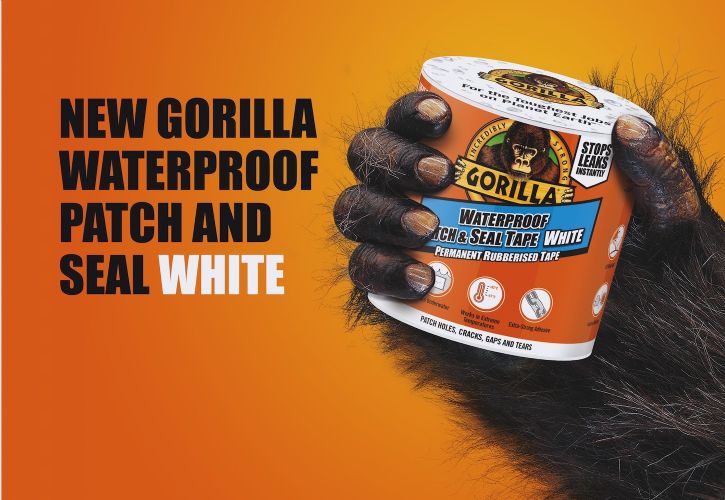 Gorilla brought a brand-new sealing tape to the market, 18 months ago – Gorilla Waterproof Patch & Seal.
This tape was a bit different – mainly because it could be easily patched over holes, cracks, gaps and tears, on all kinds of applications. It could be flexed and stretched to seal all kinds of surfaces. It could even be used underwater.
As a result, Gorilla Waterproof Patch & Seal proved to be a massive sales hit with customers. After all, this was a permanent repair tape that could stop a leak instantly. Whether that was on guttering, drainage pipes or an inflatable paddling pool.
The versatility, performance and subsequent sales were some of the key reasons why Gorilla couldn't leave such a successful product there.
With widespread positive feedback from the industry, Gorilla decided to take this black sealing tape – the second-best seller in the repair tapes market (after Gorilla Tape Crystal Clear) – and turn it on its head.
Gorilla is now launching something totally unique to the category – new Gorilla Waterproof Patch & Seal White.
This new white version makes perfect sense, because not every surface that springs a leak is black. So, neither is new Gorilla Waterproof Patch & Seal White.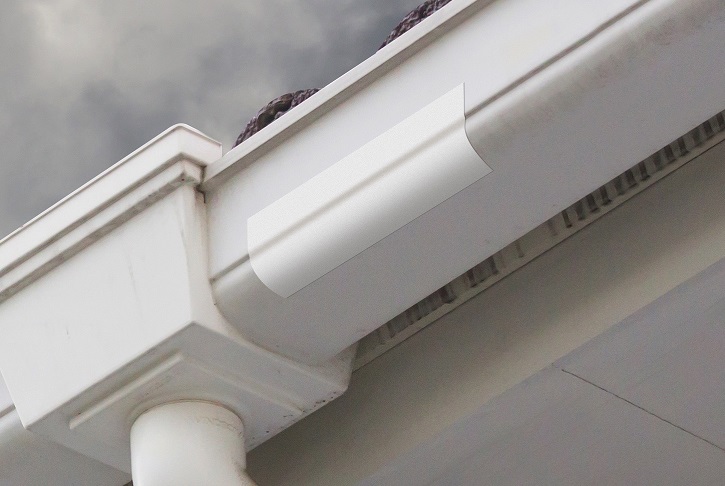 The all-white 4" sealing tape is ideal for repairing white pipes under kitchen sinks. For patching white guttering on caravans. For sealing white drainage and downpipes on conservatories – and more. And the good news for customers is that, just like the original black, Gorilla Waterproof Patch & Seal White is just as effective.
That means it's been developed with an extra strong, extra thick adhesive layer that helps conform to surfaces. The blend of synthetic polymers creates an adhesive that seals out water, air or moisture, and works on rough and uneven surfaces.
In a nutshell, this is a white tape that grips, holds and pretty much refuses to let go – whatever it's applied to.
Then there's the rubberised outer layer. The thermoplastic polyolefin (TPO) backing is UV-resistant – unaffected by direct sunlight – and can be applied in hot, cold, wet and dry conditions. It's ideal for use both indoors and out. And, despite being a very rugged and heavy-duty tape, Gorilla Waterproof Patch & Seal White is still able to be pulled by hand. Moulding and shaping to fit uneven surfaces. Flexing and stretching to cover cracks, gaps and tears.
Of course, the main feature of Gorilla Waterproof Patch & Seal White is that it's 100% waterproof. Actually, it's far better than just being waterproof – you can even stick it underwater.
Just think of the possibilities. Cracked guttering can be sealed as rainwater flows over it. Torn pool lining can be patched up despite being full of gallons of water. The list of applications is endless.
And of course, being a Gorilla product, once bonded, it stays that way. Gorilla Waterproof Patch & Seal White remains 100% airtight for a reassuring repair. No leaks, no water, no fuss.
Gorilla's new white sealing tape is also sure to be a sales hit because it can be used on a wide range of surfaces. From plastics and metals, rubber and vinyl, to wood, glass and acrylic. Whether these surfaces involve sealing windows or roofing, patching up pools, or repairing a cover, users can trust this versatile fix.
It's a statement echoed by Gorilla Glue's Associate Director of Marketing, Jake Witherington: "We're delighted to provide our loyal customers with an all-white version of our waterproof sealing tape. Gorilla Waterproof Patch & Seal is proven to be a consistent performer – both on a variety of household projects and with retail sales across the UK and Europe. We've every faith that new Gorilla Waterproof Patch & Seal White will be just as popular."
The bottom line is that Gorilla Waterproof Patch & Seal White is not just good for professionals and DIY enthusiasts, it's also good for retailers – and their sales figures. Because leaks don't care what colour a tape is. But, when it comes to something that blends in and won't stick out as an eyesore, customers really do.
Available from February 2021 in 3-piece packs, shop-owners could do a lot worse than stocking up on this new white version of a proven favourite.
Gorilla Waterproof Patch & Seal White. It stops leaks. It's all white. It's brilliant.
For more information, email eusales@gorillaglue.com or call 01257 241 319.
Source : Gorilla Glue
For all the very latest news and intelligence on the UK's largest home improvement and garden retailers, sign up for the Insight DIY weekly newsletter.
24 February 2021

Insight DIY is the only source of market information that I need and they always have the latest news before anyone else.

Neil Anderton - Sales Director, British Ceramic Tile