UK DIY News
Habitat reveals second advert from first TV campaign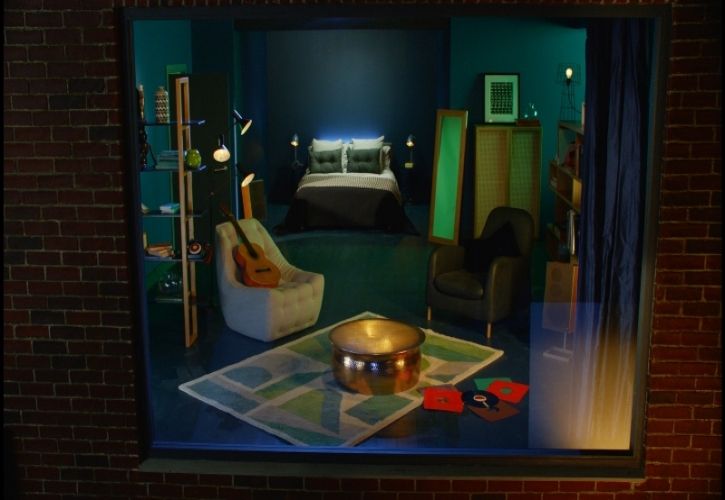 Following on from the success of its first TV campaign, iconic British design brand Habitat once again teams up with creative communications agency Portas for its second advert in the 'Habitat Voyeur' series, 'Home Alone', shot by acclaimed photographer and director Miles Aldridge. In continuation of the Habitat Voyeur campaign the advert uses the original strapline 'We all look but only some of us see', to illustrate how Habitat voyeurs see deeper into the details of the scene, a statement reinforcing Habitat's credentials as a leading design brand.
The integrated campaign taps into the idea that everyone loves to look into other people's homes, but whilst most people would be captivated by what is going on in the house, a Habitat voyeur will be captivated by the products within them. That chair. Those lamps. That coffee table.
Home Alone follows up the first TV campaign 'The kiss' in which the camera focused it's gaze through an apartment window on a couple kissing on a sofa. The camera, however, maintains its gaze on the sofa when the couple move out of shot.
Home Alone is a 30 second spot which features a man in his underwear dancing around his apartment. When the doorbell rings the man moves out of sight, but the camera holds its gaze making it clear that the voyeur's attention was never on the man in the first place, but rather on the new Orrico rose gold coffee table by Habitat in his lounge.
There will also be digital versions of the TV ad online which will be shared across Habitat's Instagram and social channels. To accompany the first TV ad Habitat launched #HabitatVoyeur, an online and social extension of the campaign which takes a voyeuristic view into the homes of culturally influential people, such as Mary Portas and Rick Edwards. To coincide with the second TV ad #HabitatVoyeur takes a journey into Jo Whiley's Northamptonshire family home. See a video tour of her barn conversation, with quotes and images, online at habitat.co.uk/habitatvoyeur.
Jocelyn Dowden, head of marketing for Habitat, said "We know that customers love the brand for its edgy, statement pieces designed with a sense of fun and we've created a stand-out campaign that reflects these ideas. Following the success of 'The Kiss' we've continued our investment in TV advertising with a tongue-in-cheek idea to re-engage with a national audience and to support the current expansion of the Habitat brand across the UK."
Anthony Cassidy, creative director, Portas said: " We're excited to bring the second TV spot into the homes of all fellow voyeurs across the UK. It is a universal truth that humans are fascinated with how other people live and our first TV advert clearly awoke this curiosity in the public. Not only has Habitat seen a significant peak in brand consideration during the Spring campaign , but high digital engagement with our content on the Habitat Voyeur hub. We're confident this next installment will encourage the inner Habitat Voyeur even more."
Watch the video here.
Source : Fiona Briggs - Retail Times
www.retailtimes.co.uk/habitat-focuses-on-furniture-in-new-home-alone-tv-campaign/
17 September 2015

Insight provides a host of information I need on many of our company's largest customers. I use this information regularly with my team, both at a local level as well as with our other international operations. It's extremely useful when sharing market intelligence information with our corporate office.

Paul Boyce - European CEO, QEP Ltd.