UK DIY News
Half-Year Losses Shrink At John Lewis Partnership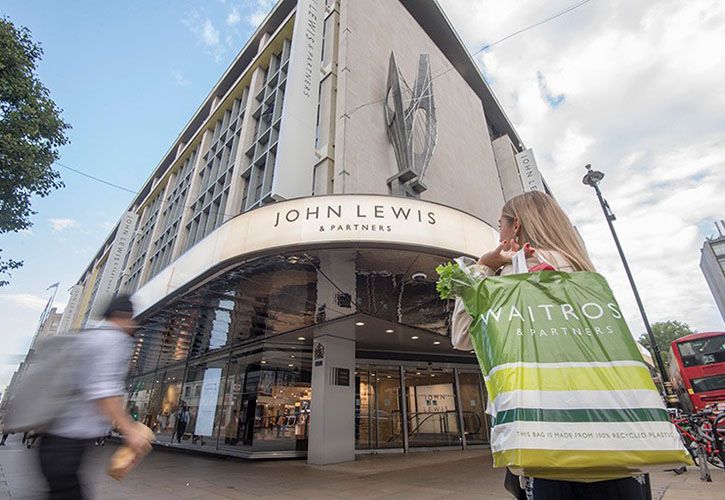 The John Lewis Partnership has published unaudited results for the half-year ended 31st July 2021.
Dame Sharon White, Chairman of the John Lewis Partnership, sent the following letter to Partners:
Dear Partner,
I want to thank you for your extraordinary efforts over the past six months. Throughout the course of the pandemic, Partners have stepped up - going above and beyond to deliver exceptional service to our customers and supporting one another.
We are in year one of our five-year Partnership Plan to return the business to sustainable profit of £400m a year, the level of profit required to meet our ambitions for customers, Partners and communities. This half year, we have had to take difficult but necessary decisions to reduce costs and improve our competitiveness.
We have closed eight John Lewis stores and are consulting on the closure of an associated delivery hub. The number of head office roles have been reduced and we are consulting on plans to have fewer managers in John Lewis and Waitrose. This has been painful for the Partnership. Eighty per cent of affected Partners have found new roles in the Partnership in the half, while retraining support has been available to Partners to secure work outside. We are also creating new jobs: a total of 500 next year to operate our new warehouse at Fenny Lock. We have faced our biggest ever test and we will come through stronger. That is because we are a Partnership and we are invested in our collective success.
Our financial performance in the first half year shows encouraging progress against the Partnership Plan.
HALF YEAR RESULTS
As at full year, we report our profits using two measures - before and after exceptional items. Measuring our profits without these exceptional items gives a better indication of our underlying performance.
For the first six months of the year, our profit before exceptional items1 was £69m. That is £124m up on 2020/21, when the Partnership made a loss2 of £55m. Last year's results were, of course, heavily affected by the pandemic. Therefore 2019/20 is a more meaningful benchmark. Compared to the first half of 2019/20 when we made a loss2 of £52m, profit is up £121m. Cost reduction is a key priority and we made savings of £66m in the first half. We received business rates relief of £58m3.
The Partnership had exceptional costs of £98m in the half, for two main reasons. First, property costs of £24m, principally to settle lease obligations arising from John Lewis shop closures. Second, redundancy costs of £54m from restructuring, reflecting our commitment to ensure proper support for Partners leaving the Partnership. These upfront costs will help to drive an annual reduction in costs of £300m by the end of 2022/23, improving our competitiveness and freeing money to invest in growth.
Including these exceptional items, the Partnership made a loss before tax of £29m. This is a significant improvement on last year's loss before tax of £635m, which was dominated by a write down in the value of John Lewis stores. This year is down on the first half of 2019/20 when profit before tax was £192m because of a one-off gain from the closure of the defined benefit pension scheme.
£m

2021/22
2020/21
2019/20*
Better/(worse)
than 20/21
Better/(worse)
than 19/20
Profit/(loss) before Partnership Bonus, tax and exceptional items (PBTBE)
69
(55)
(52)
124
121
Exceptional items
(98)
(580)
244
482
(342)
(Loss)/profit before tax
(29)
(635)
192
606
(221)
* 2019/20 is also presented due to the unusual nature of 2020/21.
Underpinning the growth in profit was a 6% increase in sales4 across the Partnership. In detail:
Waitrose continued its positive momentum with 2% sales4 growth (like-for-like up 4%) on last year and up 10% on 2019/20. This was largely driven by online growth as we increased capacity in our shops and delivery fleet and through a new fulfilment centre in Greenford, West London, to meet rising demand. Our partnership with Deliveroo expanded from 40 to 150 shops with a potential reach of up to 13m customers. It is already generating sales of almost £1m a week and attracting younger customers.
Online sales now stand at 17%, up from 11% a year ago but back a bit from 20% in March this year. Waitrose was the only supermarket in growth and was the fastest growing online supermarket since the pandemic began, according to Kantar5. Customer service remains high with Waitrose winning Grocer magazine's Gold 33 Award.
A combination of pandemic-related costs and growth of online has diluted operating margins. We are addressing this through investment in stock management systems, delivery charging and other efficiencies.
We are making good progress in exploiting the potential of our two brands to work closer together giving our customers more choice. All general merchandise sold in Waitrose will be sourced by John Lewis in time for Christmas. 17 Waitrose stores now have a dedicated, redesigned John Lewis space, and that number will be approximately 40 by the end of the year. Sales in these stores are higher and customer reaction has been very positive. We are also launching joint ranges for the first time, and have begun with the Levantine Table, which brings together Waitrose food and drink with John Lewis homeware with a Middle Eastern theme.
John Lewis saw strong sales4 growth in the first half: up 12% on last year (like-for-like up 13%). Pleasingly, this was slightly up by 1% on 2019/20 (like-for-like up 11%). Almost 75% of sales were online in the first half, broadly the same as last year, and significantly up on pre-pandemic levels (40%).
Margins also rebounded strongly against last year as we returned to a more balanced pattern of trade: fewer laptops, more lamps and linen sales. Technology sales were flat year on year while growth was strong in Home (up 23%), Fashion (up 22%) and Nursery (up 18%). Compared to 2019/20, margins remained subdued as sales in lower margin categories remained higher than before the pandemic and inflationary pressures in global freight pushed up costs.
In Home, we launched ANYDAY, our new own brand that combines John Lewis' long admired quality with style and value for money. It has been our most successful own brand launch ever for a Spring season with £56m of sales in the half. We announced plans to introduce 90 new Fashion and Beauty brands, and invested significantly in Nursery with the launch of our own brand travel range and launch of post-birth consultations.
Customers are returning to stores typically for larger, more considered purchases such as furniture and beds, and 'take with you' items like stationery and gifts, but so far not in the same numbers as before the pandemic. For the period that our shops were open this year, like-for-like sales6 compared to two years ago were around 20% lower. City centres have been harder hit than retail parks and standalone stores. John Lewis continues to rank highly with customers as the highest rated retailer in the July 2021 UK Customer Satisfaction Index.
As part of our Partnership Plan, we are seeking to grow our profits beyond retail in areas where the brand is trusted, margins are higher and customer demand is strong. Following the relaunch of home insurance and the roll out of point of sale credit for the first time online in the first half, in August John Lewis Financial Services launched its first investment products in partnership with Nutmeg, the digital wealth manager. They are particularly intended for people who are considering taking the first step into investing.
PARTNERSHIP RESPONSIBILITIES
As a Partnership, we measure our success not just by our commercial performance but by the contribution we make to our Partners' lives and to the wider community. As our commercial performance recovers, we will be able to do more on both fronts.
Investing in our Partners: Clearly, it has been a tough year for Partners but we are also investing. From November this year, Partners will be able to take six months' paid parental leave and time off for pregnancy loss, a benefit offered by no other retailer. Where possible, all roles are now advertised with flexible working. In the lead up to Christmas, Partners will be able to eat for free at work and will receive a higher discount at Waitrose. We want Partners to be proud of the benefits we offer and as a Partnership we are gathering views as to how best to ensure our package remains up to date and valued. At our April pay review, the Partnership invested £54m into pay resulting in 28,000 more Partners being paid the voluntary real living wage, taking the proportion from 47% to 81%. Today, the average rate of pay for a Partner who is not a manager is now £10.32. We want to pay the voluntary real living wage to all Partners and last year pledged that we would do so when our profits recover to £200m.
Wider community: We are cutting waste in our own operations and helping customers to do the same. From 27 September, we will no longer sell 10p bags for life in Waitrose and all online grocery deliveries will be bagless. Waitrose 'Unpacked' - which offers customers refillable solutions to help cut out plastics - has been expanded with 13 new lines. Over the next four years Waitrose customers will have access to 800 electric vehicle charging points in 100 of our shops through our growing collaboration with Shell. John Lewis customers can now rent over 350 furniture lines, including ANYDAY, through our tie-up with Fat Llama, and hundreds more lines will be added this month. We made £2.5m in charitable donations this half year and also launched trials with Essex County Council and The Prince's Trust to help care leavers into employment.
OUTLOOK
Our focus for the second half will be execution of the Partnership Plan: delighting our customers with unrivalled products and service (online and in store) and giving them the best possible Christmas. Second half highlights include:
Autumn/Winter expansion of ANYDAY to include Men's, Women's and Children's Fashion;
Relaunching the MyJL app to improve rewards for customers;
Expanding areas dedicated to John Lewis within Waitrose to approximately 40 shops by early 2022;
10 new Christmas emporiums (one-stop Christmas shops offering inspirational experiences, including in-store events and workshops) in John Lewis and over 100 new Christmas lines in Waitrose;
A bigger Waitrose Levantine Table range and new vegan/vegetarian own brands - Plant Life and GoVeggie.
We have begun the financial year with profits recovering, ahead of both last year and expectations set at our year end results. Traditionally, our profits are skewed to the second half of the year because of the importance of Christmas, especially in John Lewis. As we look ahead, there is significant uncertainty. Like the whole of retail, we are managing global supply chain challenges and labour shortages. We are seeing inflationary pressures, which we expect to persist.
We are taking a raft of measures to mitigate these risks and deliver Christmas for our customers. These include a successful campaign to recruit drivers, offering competitive salaries and benefits, recruiting 7,000 temporary seasonal roles and booking additional freight to make sure John Lewis Christmas products arrive on time.
Given the back ended nature of our trading year, we do not generally provide an outlook. And this year we face additional uncertainty. Even with the success of the vaccination programme the course of the pandemic this winter is hard to call. As we set out in March, we retained business rates relief under the original Government scheme to see the Partnership through the pandemic and avoid further job losses. We also said in March that we would keep under review whether to retain business rates relief under the extended scheme. We will take a decision at year end.
The conditions for paying a bonus to Partners - sustainable profits of £150m and net debts of less than four times our earnings - were set by the Board in September 2020 and remain in place. The Board will take a decision on whether to award a bonus for 2021/22 in the usual way in March 2022.
Thank you for your continued commitment to our business and to one another. We will come through stronger.
Source : John Lewis Partnership
For all the very latest news and intelligence on the UK's largest home improvement and garden retailers, sign up for the Insight DIY weekly newsletter.
16 September 2021

Insight DIY always publishes the latest news stories before anyone else and we find it to be an invaluable source of customer and market information.

Max Crosby Browne - CEO, Home Decor