UK DIY News
Homebase Named Worst Online Retailer by Which?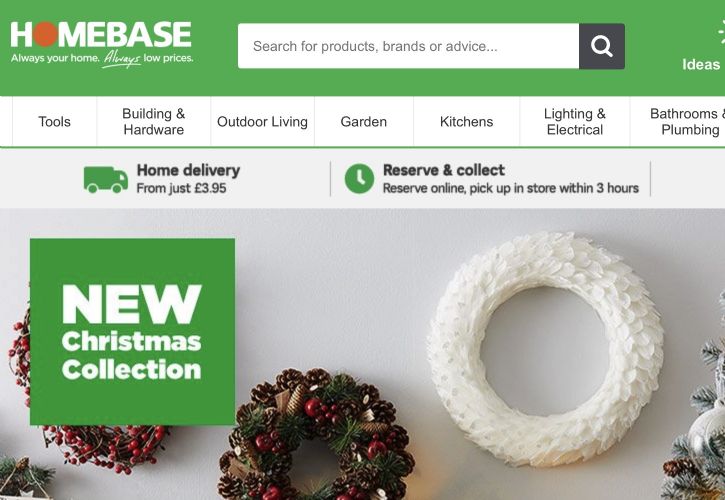 Homebase.co.uk has been rated the worst online retailer in the UK for 2018, according to the latest Which? annual online shop survey.
Shoppers panned the retailer's poor product range, bog standard product quality and poor value for money.
Which? asked more than 10,000 people to rate the most popular online shops based on experiences they have had in the past six months. Those surveyed were also asked to rate websites for their experiences buying particular items and consider a variety of factors including price, product range, deliveries, product quality and the returns process.
The most highly rated shops in the Which? survey were smaller, specialised retailers such as LizEarle.com (94%), RicherSounds.com ( 93%), Rohan.co.uk (93%), SeasaltCornwall.co.uk (93%) and WexPhotoVideo.com (93%).
Finding itself at the bottom of the Which? survey, DIY retailer Homebase.co.uk achieved a customer score of 55 per cent. Shoppers told Which? they found the site difficult to navigate and not always up to date with stock information. One disgruntled customer told Which? that the 'unattractive site is not very clear'.
Joining Homebase.co.uk at bottom of the pile were well-known institutions such as SportsDirect.com (61%) DorthyPerkins.com (61%), DIY.com (B&Q) (62%), WHSmith.co.uk (63%) and JDSports.co.uk (63%).
SportsDirect.com, with a 61 per cent overall customer score, received mixed customer feedback. One shopper said the product they bought from the sports retailer was 'very poor quality'. But its cheap prices win many other customers over. 'It has a fair range at good value,' commended one.
Meanwhile, shoppers who had recently used the Dorothy Perkins website found the delivery process to be too slow, the firm's complaints handling to not be up to standard and poor product quality.
The women's clothing chain received a 61 per cent customer score. One customer told Which? the clothes shop was 'nothing special' but one loyal shopper affectionately said they 'keep going back to Dotty P because the range is great'.
B&Q's website, DIY.com only fared slightly better than its rival Homebase.co.uk, with a 62 per cent customer score, as the site was deemed hard to use. 'It's one of the slowest sites I've ever encountered' bemoaned one customer. 'It's a poor website that is not user-friendly', said another.
It was the less familiar, specialist sellers that trumped the better-known brands when it comes to customer satisfaction and likelihood to recommend. The top of the overall table is populated with smaller retailers that treat their customers well and offer a more personalised service.
Coming out top overall was beauty specialist LizEarle.com, with a customer score of 94 per cent. The skincare retailer was praised for its natural 'high-quality products', 'excellent service' and 'good money off offers'. Many shoppers also mentioned that they were likely to get free gifts in their orders.
RicherSounds.com, Rohan.co.uk, SeasaltCornwall.co.uk and WexPhotoVideo.com all came in with a high overall customer score of 93 per cent. In fact, it was difficult to find a category that these retailers did not achieve a five-star rating in.
When Which? asked people what makes them shop online, two-thirds (68%) of respondents said they liked online shopping because they can do it at a time that is convenient for them.
Around three in five (63%) people told the consumer champion it was easier to find exactly what they wanted online and three in five (57%) also said they had more choice of products.
More than half (56%) of customers said it was easier to compare prices across different stores when shopping online and the same amount (56%) said it was more convenient to have their items delivered than to pick them up in person.
Harry Rose, Editor of Which? Magazine, said:
"The online shops with the happiest customers tend to be the ones that offer a personal service, quality items and deliver quickly and conveniently.
"Where the big players are lacking, either with poor service or confusing websites, smaller more specialised online retailers have seized the opportunity to make their mark and give shoppers exactly what they want."
Analysis & Comment - Steve Collinge
I think it's important to say that the results of this survey were generated in June/July 2018 at a point when Hilco Capital had just acquired Homebase and the over-riding priority and focus for the entire business was simply survival and nothing else.
We also know that when owned by Wesfarmers, Homebase invested very little in any form of online development, choosing to focus on the launch and development of the Bunnings formats. What the Homebase business and it's head office and store employees don't really need now is a further bashing. The business has a long uphill battle ahead of it, but there are already positive signs emerging and we look forward to reporting on further progress in the weeks and months ahead.
Top online retailers
1 LizEarle.com (111) 94%
2 RicherSounds.com (105) 93%
= Rohan.co.uk (99) 93%
= SeasaltCornwall.co.uk (61) 93%
= WexPhotoVideo.com (90) 93%
6 JohnLewis.com (2,988) 90%
7 Dyson.co.uk (212) 89%
= Lakeland.co.uk (596) 89%
= Wordery.com (47) 89%
10 AllBeauty.com (163) 88%
= CTShirts.com (Charles Tyrwhitt) (77) 88%
= Electrical.coop.co.uk (63) 88%
=TheBookPeople.co.uk (277) 88%
= Toolstation.com (88) 88%
= Wiggle.co.uk (195) 88%
Bottom online retailers:
110 CreateAndCraft.com (51) 67%
= LaRedoute.co.uk (84) 67%
= Made.com (36) 67%
113 JDSports.co.uk (60) 63%
= WHSmith.co.uk (98) 63%
115 DIY.com (B&Q) (472) 62%
116 DorothyPerkins.com (50) 61%
= SportsDirect.com (236) 61%
118 Homebase.co.uk (Bunnings) (85) 55%
Background to survey
In June and July 2018, Which? asked more than 10,000 Which? members about their shopping experiences online
Which? generated two sets of results including an overall table based on online shoppers' general experiences over the past six months; and category tables, where shoppers rated websites based on their most recent experience of buying certain types of products
30 responses are needed for a retailer to make the tables (samples sizes in brackets).
Overall customer score is made up of satisfaction and likelihood to recommend per retailer
To calculate the category customer scores, Which? asked members how satisfied they were with their experience of shopping at the retailer for products within a certain category and whether they would recommend the online retailer for purchases in that category.
The full list of results can be found at which.co.uk/onlineshops
Source: Insight DIY Team & Which? press release
For all the very latest news and intelligence on the UK's largest home improvement and garden retailers, sign up for the Insight DIY weekly newsletter.
13 November 2018

Insight DIY is the only source of market information that I need and they always have the latest news before anyone else.

Neil Anderton - Sales Director, British Ceramic Tile