UK DIY News
Homebase St.Albans closes - let the metamorphosis begin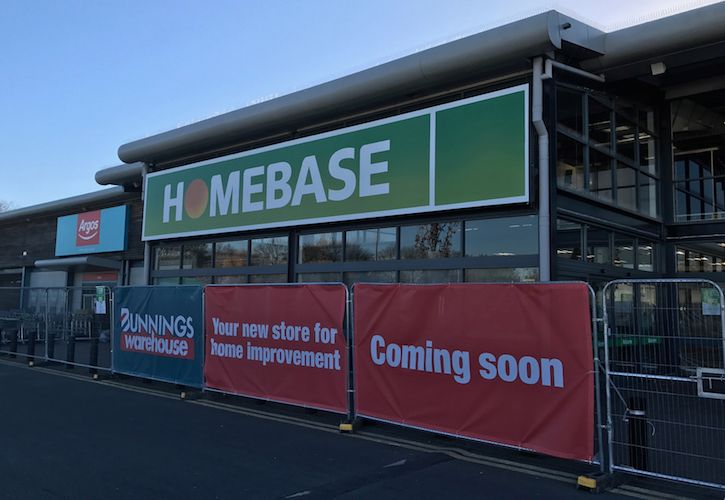 The first Homebase to be converted to a Bunnings Warehouse has closed and the team is now busy starting the metamorphosis. It's probably not over-stating it, to say that the launch of the new Bunnings format in mid-February 2017 is likely to be the most exciting and interesting development that has happened in this industry for a long, long time.
Yes, we've had retailers going bust or being acquired and lots of new formats and shiny new shop fronts, but we've not had anything this big for years.
A very successful overseas formula is being taken and developed into a UK format, which if successful, could be rolled out to another 259 UK stores over the next three years, not forgetting the 15 branches in Ireland. The brand is new to the UK, the product range is likely to be a hybrid of the existing Homebase offer and all the very best, most relevant ranges from Down Under, all sitting under a crisp, new 'Always Low Prices' banner.
But the question on everyone's lips 'Is this actually going to work?' I thought it might be useful to examine a number of previous market entry failures to see what we can be learnt from them.
Case Study 1 - Target Canada In 2011, Target purchased 124 Zellers department stores across Canada. The plan was to enter the new market quickly and aggressively, rapidly converting them to the Target brand. The business believed the new venture would be profitable within 2 years. However, within two years, Target had closed down its entire Canadian operation, after a failed investment of over $4 billion.
The key lesson is the old adage 'location, location, location' which is everything when it comes to a traditional bricks and mortar store. A key reason for the Target failure in Canada, was because many of the former Zellers stores were in poor locations. The Target brand simply replaced the Zellers brand in the same locations that were already losing popularity, as consumers had started to shop elsewhere. For others, distance was a factor, as most customers were forced to drive several miles to shop there, something that they were becoming less willing to do.
Target also had to invest a significant amount of money in renovating and rebranding the Zellers stores, which increased the financial pressures for early success. Dissatisfied with the poor locations, many customers avoided shopping at Target, one of the leading factors in its quick and dramatic decline in Canada. Perhaps Target should have spent more time considering why all the Zellers stores were for up sale in the first place?
Makes for rather uncomfortable reading doesn't it? Well don't stop there. In the case of Bunnings, they purchased Homebase, a deeply unprofitable business for many years, despite the best efforts of some of the most talented individuals in retail to turn it around. But there's more, consider this fact - around 150 of the current 260 Homebase stores are conversions from either Focus DIY, Great Mills, Texas or Do It All stores, all retail businesses that failed in the past and why?Predominantly because they couldn't make money from their poor store locations.
Case Study 2 – Tesco Fresh & Easy Tesco is not the only British retailer to have attempted to make it big in the US and failed. The past 20 years has seen Sainsbury's, Marks & Spencer, WH Smith, Dixons and HMV all forced to pack up and head for home. Some of these companies underestimated the cost of breaking into such a large and highly competitive new market; others took on store locations that were far too expensive or, like Tesco, timing was all wrong and they launched in the US just as it headed for economic downturn. Interestingly, some of the previous US failures have been the victim of arrogance and poor preparation, failing to understand the many differences between US and British shoppers. We may speak the same language, listen to the same music and watch the same films, but other tastes and habits differ quite dramatically. However, Tesco spent 20 years considering a move into the US and put in two years of intensive on-the-ground research, even sending executives to live with Californian families to observe the way they shopped and ate. They built secret test stores and investigated the contents of Americans' fridges.
However, experts say Tesco ignored then much of that research, deciding to set up the stores they wanted, rather than listening to its potential customers. For example, US shoppers prefer to buy in bulk to save money, yet Fresh & Easy offered small pack sizes. The stores also stocked British-style ready meals unfamiliar to US shoppers and initially relied heavily on self-service tills, a big turn-off to American customers, who value good service. The key here is to not assume that just because your format works at home, it is immediately going to work overseas.
Bunnings is a highly successful format that has dominated the Australian Home Improvement market for many years and is today one of the 'most loved brands Down Under. However, that sacred position in the hearts and minds of consumers takes many years to achieve. It is not something that automatically translates to another market, to new consumers who have never heard of your brand and have no emotional connection whatsoever.
I believe the key to success in international expansion is to bring something new to the market, something that makes customers and potential customers sit up and take note. Without something genuinely new, I believe it will be difficult for Bunnings, if not impossible, to make up ground on the entrenched rivals B&Q and Wickes.
I genuinely hope that Bunnings successfully delivers a concept that is new and exciting in St. Albans. Our industry desperately needs something that shakes up the game and that forces the other players to re-examine everything they do. Let's face it, there continues to be far too much focus on navel gazing, process, cost reduction and the ever increasing numbers of sales prevention managers operating at all levels.
If Bunnings really focuses on the UK consumers and finds a way to deliver what they really want, I'm certain they will willingly move their purchases, as there's very little loyalty to DIY retailers in this country. If however, all we get is another DIY store, but with a new name, new signage and professing to have every day, always low prices, consumers probably wont even notice that anything has changed.
Agree or disagree with me, I'd love to hear from you and you can contact me on steve@irg.co.uk Interested in more news and opinion? Check me out on Twitter.
Source: Steve Collinge - MD Insight Retail Group Ltd
30 November 2016

Insight provides a host of information I need on many of our company's largest customers. I use this information regularly with my team, both at a local level as well as with our other international operations. It's extremely useful when sharing market intelligence information with our corporate office.

Paul Boyce - European CEO, QEP Ltd.