International DIY News
Hornbach Achieves Record Sales of €5.9bn in FY 21/22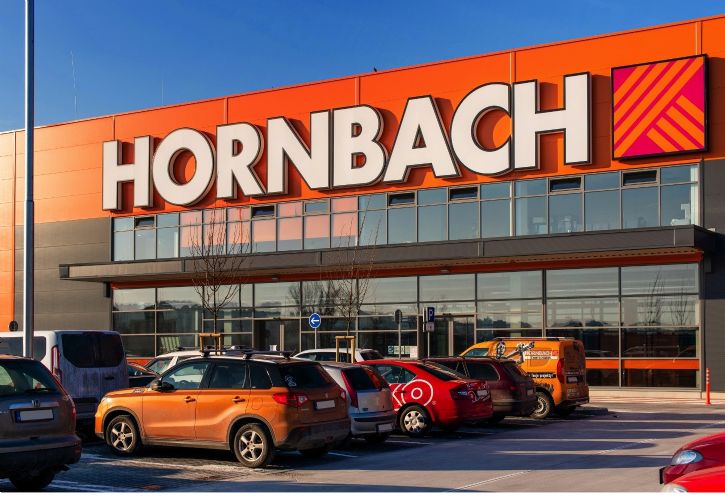 Record sales of EUR 5.9 billion underpinned by strong customer demand
Sales of Hornbach Baumarkt (incl. online retail) grow by 7.4% – sales of Hornbach Baustoff Union grow by 11.8%
Against a challenging environment Hornbach continues to gain further market share in Germany and a number of international markets
Online sales increase by 10.5% to EUR 944 million – online share of total sales at 16% in FY 2021/22
Unaudited adjusted consolidated operating earnings (EBIT) expected to rise by approx. 11% to around EUR 364 million (+60% vs 2019/20)
Successful completion of tender offer with Baumarkt delisting in effect as of February 28, 2022
Bornheim (Palatinate), Germany, March 22, 2022.
In the 2021/22 financial year (March 1, 2021 to February 28, 2022), the Hornbach Group (Hornbach Holding AG & Co. KGaA Group) once again exceeded its record sales from the previous year and gained further share in key markets. As published in an ad-hoc announcement yesterday, net sales grew by 7.7% to EUR 5,875 million according to unaudited preliminary figures and, therefore, slightly exceeded the guided range of +2% to +7%. The increased focus on the home amongst consumers continued and demand for DIY and home improvement products remained strong. Covid-19 related closures of stationary stores serving private customers were offset by an expansion in online retailing and Click & Collect. The largest operating subgroup, Hornbach Baumarkt AG, which operated 167 locations and nine online stores as of February 28, 2022 (previous year: 163), increased its sales by 7.4% to EUR 5,496 million. On a like-for-like basis and net of currency items, sales of Hornbach Baumarkt rose by 5.4%. Online sales (including Click & Collect) increased by 10.5% to EUR 944 million (previous year: 854 Mio. EUR). The Hornbach Baustoff Union GmbH subgroup posted sales growth of 11.8% to EUR 377 million.
"Despite the uncertain market backdrop the business continued to perform well delivering further market share gains. The expansion of our high performance interconnected retail concept (ICR), our consistent focus on project and professional customers, and our forward-looking inventory strategy continue to pay off", commented Albrecht Hornbach, Chairman of Hornbach Management AG.
As in the previous year, many Hornbach regions were affected by temporary store closures for private customers, especially in spring and winter (see Table 3). Sales to commercial customers and click & collect for private customers generally remained open, as did online retail across the board. Home improvement was a strong focus for consumers despite the relaxation of Covid-19 restrictions. In addition, there was sustained high demand from commercial customers, who increasingly sourced at DIY stores.
The Group continued to manage inflationary pressures and supply issues, including bottlenecks in logistics and rising raw material and transportation costs. "Many of the challenges that have accompanied us over the past two years, particularly in the procurement and transport of goods, will continue to stay in the foreseeable future and have even become more acute due to the current geopolitical turmoil", said Erich Harsch, CEO of the Hornbach Baumarkt AG. "Since the beginning of the pandemic, we have worked very closely with our existing suppliers, developed new sources of supply, created additional storage capacities and flexibly used various transport alternatives to ensure the constant availability of goods for our customers."
Net sales in Germany grew by 4.8%
Net sales at Hornbach Baumarkt AG, including online retail, rose by 4.8% to EUR 2,780 million in Germany in the 2021/22 financial year (previous year: EUR 2,654 million). Like-for-like sales, i.e. excluding new store openings and closures in the past twelve months (see Table 2), showed growth of 3.7% (previous year: 18.6%). During the period Hornbach outperformed the German DIY sector, which reported a decline of 8.2% in the 2021 calendar year. Hornbach Baumarkt market share in Germany (GfK4)) meanwhile increased from 14.0% to 15.1% in 2021. In Germany, Hornbach operated 96 (previous year: 96) stores in the stationary DIY retail segment as of the reporting date, as well as two Bodenhaus specialist stores (previous year: two). One DIY store and garden center in Paderborn was replaced by a larger store in February 2022.
International activities grew by 10.3%
In the eight countries outside Germany (Rest of Europe region), the Hornbach Baumarkt AG subgroup, including its online retail activities, achieved net sales growth of 10.3% to EUR 2,716 million (previous year: EUR 2,463 million). As a result the international share of Group sales rose slightly from 48.1% to 49.4%. Net of sales area and currency items, Hornbach increased sales in the rest of Europe by 7.3% (previous year: 10.8%). Including currency items, like-for-like sales rose by 8.0% (previous year: 10.8%). Market share (GfK) in calendar year 2021 rose from 21.1% to 23.9% in the Netherlands, from 17.5% to 17.9% in Austria, and from 12.3% to 12.7% in Switzerland. Four new DIY megastores with garden centers in Trollhättan (Sweden), Cluj (Romania), Apeldoorn (Netherlands) and Sirnach (Switzerland), were opened during the year 2021/22. In the current financial year a new location opened in Nitra (Slovakia) on March 16, 2022. This will be followed by an opening in Enschede (Netherlands) on March 30, 2022.
High demand also in the builders' merchant business
The high level of demand for building materials was also reflected in performance of the regional builders' merchant business. The Hornbach Baustoff Union GmbH subgroup, reported sales growth of 11.8% to EUR 377 million in the 2021/22 financial year (previous year: EUR 338 million). As of March 1, 2022, Hornbach Baustoff Union acquired a further location in Börrstadt (Germany) from a longstanding sales partner, in addition to the 34 outlets in southwestern Germany and two locations in France.
Adjusted EBIT of the Hornbach Group grows to around EUR 364 million
In the past 2021/22 financial year, the Hornbach Group once again exceeded the record earnings posted in the previous year. Based on preliminary unaudited figures, consolidated operating earnings adjusted for non-operating earnings items (adjusted EBIT) rose by approx. 11% to around EUR 364 million (previous year: EUR 326.4 million). This represents an increase of more than 60% compared with 2019/20 (EUR 227.0 million).
Details of the earnings performance and annual financial statements for 2021/22, as well as the sales and earnings forecast for the 2022/23 financial year, will be published on May 17, 2022. A financial press conference and an analysts' conference are also planned for that day.
Source: Insight & Hornbach
For all the very latest news and intelligence on the UK's largest home improvement and garden retailers, sign up for the Insight DIY weekly newsletter.
22 March 2022

I find the news and articles they publish really useful and enjoy reading their views and commentary on the industry. It's the only source of quality, reliable information on our major customers and it's used regularly by myself and my team.

Simon Fleet - Sales & Marketing Director, Thomas Dudley Ltd