UK DIY News
Howdens Delivers Record Results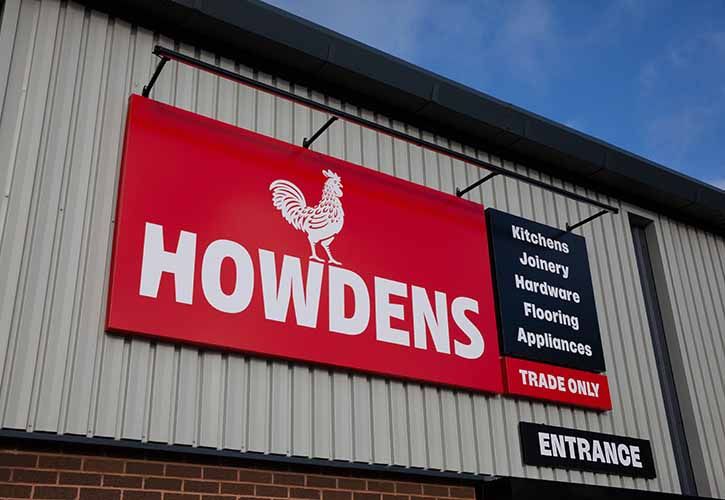 Howdens has published preliminary results for 2021, advising of record financial results.
Results summary
£ millions (unless stated)
20211
2020
Change
vs 2020
Change
vs 20193
Group revenue
2,093.7
1,547.5
+35.3%
+32.2%
UK depots revenue
2,043.3
1,509.6
+35.4%
+31.8%
Gross profit
1,289.0
930.0
+38.6%
+30.7%
Gross profit margin, %
61.6%
60.1%
+150bps
(70)bps
Operating profit
401.7
195.7
+105.3%
+54.5%
Operating profit margin, %
19.2%
12.6%
+660bps
+280bps
Profit before tax
390.3
185.3
+110.6%
+49.7%
Basic earnings per share, p
53.2p
24.9p
+113.7%
+52.0%
Total ordinary dividend per share, p
19.5p
9.1p
Special dividend, p
-
9.1p
Cash at end of period
515.3
430.7
1 The information presented relates to the 52 weeks to 25 December 2021, the 52 weeks to 26 December 2020 and the 52 weeks to 28 December 2019, unless otherwise stated. The 2021 and 2020 results are presented under IFRS 16, 2019 results have not been restated.
2 Same depot basis for any year excludes depots opened in that year and the prior year. See Financial Review on page 4.
3 2019 included due to the significant impact of COVID-19 on the 2020 results.
Highlights(1)
Group revenue of £2,093.7m was 35.3% ahead of last year reflecting the strengths of our trade only,
in-stock business model.
UK depot revenue 35.4% ahead of last year and 33.7% ahead on a same depot basis2.
Gross margin progression of 61.6% year-over-year with disciplined pricing recovering cost increases.
Profit before tax of £390.3m, up 110.6% on 2020 and 49.7% on 2019, significantly outpacing revenue growth.
Good cash generation and the balance sheet remains strong with cash at end of period of £515.3m.
Final dividend of 15.2p per share bringing total dividend to 19.5p per share with £50m share buy-back completed.
New £250m share buy-back announced today.
Good progress on ESG, achieving carbon neutral status at our two principal UK manufacturing facilities this year.
Andrew Livingston, Chief Executive said:
"2021 was a very successful year for Howdens as we both delivered record financial results and progressed our strategic plans for the business. Our performance demonstrates the strength of our trade only, in-stock local business model and our ability to meet heightened demand for our products. I would like to express my thanks to our 11,000 employees for their dedication and commitment to delivering outstanding service to our customers against a continued backdrop of COVID-19 and supply chain challenges.
"We believe there is now potential for at least 950 depots in the UK and we are expanding our presence in France and the Republic of Ireland. We continue to invest in our depot network, market leading products, manufacturing and supply chain, and digital capabilities, all of which improve service to our customers and help us take advantage of market opportunities. Our robust balance sheet gives us the flexibility to continue to invest in our growth plans for the business at the same time as delivering enhanced returns to shareholders through ordinary dividends and share buy-backs."
Operational Developments in the Year
Opened 31 new depots in the UK, bringing the total to 778 at period end and revamped 62 older UK depots in the year. By the end of 2021 we had 210 UK depots trading in the updated format.
Opened 10 new depots in France, bringing total to 40 at the period end.
Introduced 17 new kitchen ranges and grew higher priced kitchen ranges strongly in the year.
Continued to invest in upgrading our manufacturing capacity and capabilities to support future growth which included investment in capacity for kitchen frontals, solid work surfaces, architrave and skirting products.
Invested in regional cross docking facilities (XDCs) with 6 operating at the end of the period supporting around 400 depots. XDCs enable improvements in customer service and product availability by optimising inventory and delivering patterns of product to depots across the full product range.
Invested in our digital platform which amongst other things saves our trade customers time and money and supports them in optimising the procurement process for end users.
Capital expenditure investment is expected to be around £100m in 2022 (2021: £90m) which includes investment in our strategic initiatives. There will also be an additional one-off investment of £10m this year on the acquisition of freehold land to support our investments in additional manufacturing capacity.
Current Trading and Outlook for 2022
The following table shows sales in the first two periods of the new financial year to 19 February 2022 in absolute terms, on a same depot (LFL) basis2 and adjusted for working days.
Revenue growth (%)
Periods 1-2
Periods 1-2 Adj*
%
LFL%
%
LFL %
UK depots
17.1%
15.6%
19.5%
18.0%
Continental European depots**
21.4%
18.9%
* compared with 2021 which had 38.5 trading days, 1 more than 2022 in the UK. The 38.5 trading days in Continental Europe depots are the same in both 2021 and 2022.
** excludes 5 French depots which will be closed in 2022.
We have made an encouraging start to 2022 and are confident in our resilient business model across changing market conditions:
We are continuing to execute and invest in our strategy and see many attractive medium-term opportunities for profitable growth and increased volumes.
We are currently offsetting inflationary pressures through price management and cost control, underpinned by our service-led business model and the scale of our manufacturing and sourcing operations.
We remain watchful of macro-economic uncertainties and vigilant for any potential headwinds in our markets.
During the second half of 2022 we will be trading against record revenue comparatives which includes our all-important peak trading period.
While it is still early in the new financial year, we have, at present, the momentum for another successful year in 2022 and the plans in place to deliver one.
Source : Howdens
For all the very latest news and intelligence on the UK's largest home improvement and garden retailers, sign up for the Insight DIY weekly newsletter.
24 February 2022

Insight DIY is the only source of market information that I need and they always have the latest news before anyone else.

Neil Anderton - Sales Director, British Ceramic Tile