UK DIY News
IKEA begins construction of Greenwich store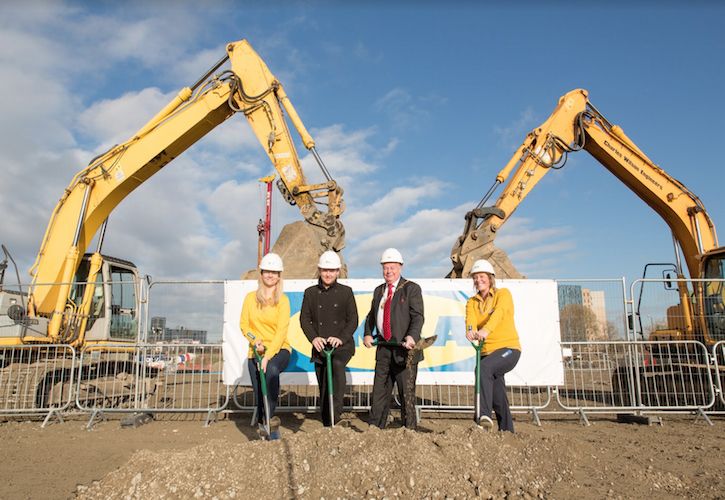 Home furnishings retailer IKEA today officially 'breaks ground' of its new 32,000 sqm Greenwich store. The company's first London-based store built in 13 years will also be a leading sustainable store with key features to help Londoners live a more healthy and sustainable lifestyle.
IKEA Greenwich Store Manager, Jane Bisset and IKEA Sustainability Manager for the UK and IE, Hege Saebjornsen were joined by Cllr Danny Thorpe, Deputy Leader of the Council, and Cllr Peter Brooks, the Mayor of the Royal Borough of Greenwich, in leading the groundbreaking ceremony for the new store.
A leading sustainable store for the UK
Due to open in winter 2018, IKEA will invest £100 million in the new Greenwich store, which will be located on the Millennium Way Retail Park. IKEA Greenwich will be the most sustainable store in the UK to date and easy to access via public transport. The new store will also play a vital role in the retailer's ambitious sustainability strategy as it takes further steps in the shift to a circular economy.
Jane Bisset, IKEA Greenwich Store Manager, said, "I am delighted to be involved in such a landmark groundbreaking and look forward to bringing our home furnishings expertise and inspiration to the people of Greenwich and London. As the country's leading sustainable store, IKEA Greenwich will offer a unique concept that will play a key role for our future stores in the UK."
Targeting a BREEAM 'Excellent' accreditation, IKEA Greenwich will incorporate multiple green technologies including photovoltaic panels, rainwater harvesting and greywater treatment (reducing water consumption by 50%) and renewable materials for construction. Wood will be used as a natural façade and the interior will feature lots of natural light throughout for both co-workers and visitors to enjoy.
Alongside investment in sustainable construction and green technologies, a number of solutions will be incorporated to help customers live a more sustainable life at home. These include the IKEA furniture take-back scheme, as well as a dedicated 80 sqm space to help support customers to re-use, recycle and re-imagine products that they already own.
Hege Saebjornsen, IKEA Sustainability Manager for the UK and IE, commented, "As we celebrate IKEA's 30th anniversary in the UK, we are proud to mark the start of constructing our latest store in Greenwich. IKEA Greenwich will demonstrate our ongoing commitment to people and planet alongside innovation in customer experience, and sets out a bold statement for the next 30 years.
"Sustainability is at the heart of everything we do at IKEA. Not only will IKEA Greenwich be our most sustainable store in the country, we are also very excited that the new store will demonstrate our commitment to circular economy."
There will also be a 1,200 sqm roof terrace which will be open to the public with capacity for 500, as well as a 240 sqm roof pavilion and biodiversity garden.
IKEA Greenwich will also benefit from being highly accessible by public transport and will be serviced by 6 bus routes and up to 42 buses every hour, stopping just outside the store. IKEA is investing around £2m in the local area including sustainable transport solutions. All co-workers and visitors will be encouraged to take one of the many forms of transport serving the store including buses, trains, tubes and bicycles. There will also be cycle spaces and electric vehicle charging points available free of charge to customers.
A unique experience created for Londoners
The new store has been designed with the needs of customers, the community and IKEA co-workers in mind. Recognising that the way people work and live in London has changed, IKEA Greenwich will be geared towards specific needs for those in the local area. The store's product range will reflect London's growing rental market, alongside solutions for small space living and those with little or no outdoor space.
As well as offering free green space and communal relaxation areas for people to meet, share and learn, IKEA Greenwich will function as a community hub with bookable event areas and shared spaces for local groups, members of the public and co-workers to enjoy.
Jane Bisset, IKEA Greenwich Store Manager, continued, "Our new store will offer much more than a great shopping experience for customers and an enhanced working environment for co-workers. We believe the store will enable us to deepen relationships with a vibrant and diverse local community by providing great career opportunities and a range of multipurpose spaces for them to enjoy, including free green space."
A new style of recruitment
The store will create up to 500 new job opportunities, which will include full and part-time roles in customer relations, sales and interior design.
IKEA Greenwich will also be taking a completely new approach to recruitment when the main drive to fill vacancies begins in Spring 2018. The first six co-workers joining the store team will play a key role in recruiting their managers and team leaders. IKEA is committed to being a good neighbour and engaging with local communities around its stores and will therefore work closely alongside local employment agencies to ensure that job vacancies are made available to people in the local area.
Deputy Leader of the Royal Borough of Greenwich, Councillor Danny Thorpe, said, "I am pleased that IKEA is working with Greenwich Local Labour and Business to maximise recruitment of local people for the new store which should create about 500 jobs. Residents were invited to attend a recruitment open day earlier this month and a roadshow will promote other job opportunities going forward. I am delighted that IKEA Greenwich is also working directly with local community groups.


"The Council is working closely with IKEA and Transport for London to encourage shoppers to use sustainable transport when they visit the new store."
The Greenwich store will be the 22nd IKEA store in the UK and is scheduled to open in winter 2018.
For more information please visit: www.IKEA.com/greenwich
Source: Insight DIY Team & IKEA press release
For all the very latest news and intelligence on IKEA, sign up for the Insight DIY newsletter today.
01 December 2017

Thank you for the excellent presentation that you gave at Woodbury Park on Thursday morning. It was very interesting and thought-provoking for our Retail members. The feedback has been excellent.


Martin Elliott. Chief Executive - Home Hardware.