International DIY News
IKEA Concludes First Pilot-Focused IKEA Bootcamp Programme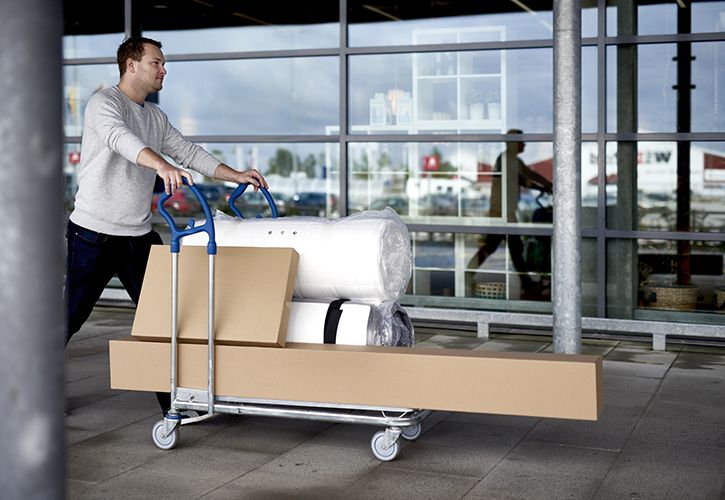 In November last year IKEA announced the second edition of the startup programme IKEA Bootcamp, a programme designed to create engagement with up to 20 growth-stage startups. A world tour and a call for applications generated over 1100 applications from 62 countries and after an extensive selection process, 18 startups joined the programme in March. June 18 is the IKEA Bootcamp Demo Day where the startups and their IKEA sponsors present their co-creations and pilots.
The innovation approach has its starting point in the IKEA vision – To create a better everyday life for the many people – and in the core IKEA values of renewal, improvement and togetherness. In a changing world it is important to co-create with others, in order to find sustainable solutions for the many people The foundation of IKEA Bootcamp has been to find startups that not only share the IKEA vision but that can innovate around solving three big challenges connected to the IKEA direction; affordability for the many people, connecting with and being accessible for people across the world, and enabling a positive impact on the planet, people and society.
"During the 12 weeks that we have been working together we have seen fantastic development where we have brought together the best of two worlds; the agile, fast startup world and the global life at home, scalable product development and supply chain world from IKEA" says Per Krokstäde, responsible for the IKEA Bootcamp programme. "We have already started to test the solutions in different parts of the IKEA world and we see some very promising results fulfilling the goal that the customer is the winner, the startup is the winner and IKEA is the winner" Per continues.
The IKEA Bootcamp programme started March 25 and ends with the Demo Day on June 18. During this period the startups and their IKEA sponsors have been working semi-remotely with Älmhult, Sweden, as the base – the home of IKEA. The development has been done utilizing competencies throughout IKEA. The IKEA Bootcamp is a partnership between IKEA Range & Supply and Ingka Group, strategic partner to the IKEA franchise system and the largest IKEA franchisee.
"This way of working has already proven to be successful" says Davide Urani, Strategy, Development and Innovation Manager at Ingka. "The innovation in combination with the speed from idea to test is impressive" he continues.
"The programme was designed to accelerate the engagement between the startups and IKEA, ensuring that the companies would only invest further commitment in the programme where there was a mutual recognition of the potential to explore a pilot together" says Michelle Hart, Programme Director at Rainmaking. "We are amazed by the outcome of the programme, where 13 startups ended up co-creating with IKEA in the Bootcamp, and with several additional collaborations on the side" Michelle continues.
The startups that are part of the IKEA Bootcamp programme and the tests that they have been co-creating together with IKEA are;
Bumblebee Spaces (US)
Bumblebee Spaces uses robotics, AI and machine learning to enable the next level of organisation in your home. Together with IKEA, we co-create a seamless experience to support the many people with the everyday struggle of organising your home.
Liquiproof LABS (UK)
Liquiproof LABS is providing powerful but sustainable clean and care solutions using natural science to give your textile home furnishings a longer life and keep them looking like new for longer. Prolonging the life of furniture and ensuring it can be given a 2nd life is a priority for IKEA.
Flow Loop (DK)
Flow Loop provides smart and sustainable showering solutions for any bathroom that saves up to 70 per cent of water and. 65 per cent of energy. They re-cycle and clean the shower water for maximum comfort and lower your energy & water cost. The solution will have great impact on the total water and energy consumption for a household as showering is the biggest water consuming activity in the home.
Streem (US)
Makes the worlds expertise more accessible by enhancing real-time communication and collaboration through on-demand video streaming using advanced techniques like artificial intelligence and machine learning.
Adlede (SE)
Creates more successful, relevant and cookie-free advertising through contextual analysis powered by machine learning. In real-time, Adlede scans digital publishers to find relevant articles to place ads in. This way, advertisers reach more of the right target group with the relevant ad, and the customers get information and ads that are relevant for them.
IOVIA (CAN)
IOVIA provides best practice methodologies and proprietary platforms to help activate a brands most loyal and active fans, to create new value through community generated content, co-creation and commerce.
Freemi (DK)
Freemi is developing a 'freeconomy' marketplace to help people reduce waste and prolong product life. Freemi makes it more convenient to give than to throw out enabling everyday life circularity for the many people. IKEA customers in the test markets are 'freecycling' and testing an easy way to give products a 2nd life without adding to landfill or waste resources.
Jido Maps (US)
Jido is making the world more intuitive and interactive using computer vision and augmented reality. During the IKEA Bootcamp, Jido and IKEA developed a digital way for customers to easily find what they are looking for in stores. The solution is highly scalable, requiring zero infrastructure changes to implement in a new store allowing IKEA to deploy to five international markets already during the IKEA Bootcamp programme.
GIAB (SE)
GIAB is working with developing business models and processes that are based on circular economy, turning what is considered as waste into an economically valuable resource. GIAB provide input in circular ways to prolong the product life cycle which is an IKEA priority. GIAB and IKEA has tested and evaluated practical methods of refurbishing and reuse of furniture in circular and profitable ways.
Beam Impact (US)
Beam is the first and only solution building values-based customer relationships, not transactional, discount-driven ones. Beam helps retail brands reach young customers by empowering users to donate part of their purchases at partnered brands to causes they both believe in.
The Syrup Company (DK)
The Syrup Company deliver the most economical high-end Organic certified beverage using natural ingredients.
Kaffeform (DE)
Kaffeeform produces products from recycled coffee grounds and biopolymers. They collect coffee waste and turn it into a material that is possible to be used for creating long lasting products. This way we are able to turn a waste into new value!
Laesk (DK)
Opposite conventional sodas, Laesk use fermentation as the key to unlock flavours and reduce sugar. The result is complex sodas with low sugar content. With IKEA, Laesk have co-created affordable kombucha and a home brewing kit that is now being tested in an IKEA test market.
Source : IKEA
For all the very latest news and intelligence on the largest UK home improvement and garden retailers, sign up for the Insight DIY weekly newsletter.
18 June 2019

Insight DIY always publishes the latest news stories before anyone else and we find it to be an invaluable source of customer and market information.

Max Crosby Browne - CEO, Home Decor