UK DIY News
IKEA Delivers Stable Retail Performance In A Year Of Homecoming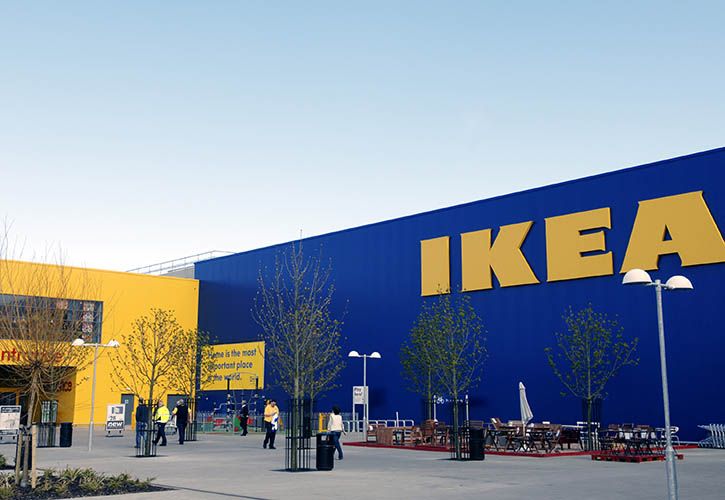 Today, Inter IKEA Group shares IKEA facts and figures for financial year 2020 (FY20). The IKEA financial year runs from 1 September to 31 August.
This year families changed kitchens into schools, bedrooms into workplaces, and backyards into amusement parks. Together we've rediscovered home as a place to work, relax and socialise.
"These are uncertain times. We're all more careful with our wallets, and we're spending more time in our homes. Our passion at IKEA is to help the many with functional home furnishing solutions at affordable prices," says Inter IKEA Group CEO Jon Abrahamsson Ring.
"Low price is more important than ever, and our lowest-price segment accounted for more than half of IKEA retail sales this summer. Making IKEA even more affordable is continuously one of our biggest opportunities for the future," says Jon.
Online retail sales increased 45% this year, and the IKEA website welcomed four billion visits. E-commerce expanded to three new markets, including China – an important milestone.
"The IKEA website, stores and other locations complement each other to create a great customer experience all the way around. We're pleased about online sales growth, but also very happy that customers still love our stores. People want to touch and try our products or get personal help. As a result, we welcomed 825 million visitors to stores and opened 33 new locations this year," says Jon.
IKEA continued work to reduce the climate footprint and pledged to invest EUR 200 million in renewable energy and responsible forestry. And IKEA continues to integrate sustainability into every step of the business – from raw materials and production through to IKEA customers' homes.
"IKEA makes the biggest impact by offering products that are both affordable and sustainable. For example, I'm extremely proud of our new plant-based 'meat' ball, which tastes great and has a really good price. But its climate footprint is just 4% of the traditional IKEA meatball," says Jon
Together these efforts led to total FY20 IKEA retail sales of EUR 39.6 billion by IKEA franchisees, compared to EUR 41.3 billion in FY19 (including sales of products and services).
"That's less than last year, but retail sales recovered quickly. And online sales remain high even as stores re-open. Going forward we'll continue our work to satisfy and exceed customer expectations in existing stores every day, as well as to innovate new solutions for a better IKEA," says Jon.
During FY21, IKEA will expand to new markets like Mexico and the Philippines. Several locations will also open in existing markets. And there will be lots of great new products.
"This was a year of homecoming. We're proud to have made IKEA more affordable, accessible and sustainable for people around the world." says Jon.
Full Press Release
Ingka Group today announced strong IKEA retail sales of EUR 35.2 billion[i] for the financial year 2020[ii] (EUR 36.7 billion FY19), despite the economic and public health challenges posed by COVID-19. The company continues to transform its business to become more affordable, accessible and sustainable as people's dreams and needs in life at home shift.
2020 will be remembered as a challenging year that has impacted the way people live and socialise as well as how businesses operate. For many weeks during the year, Ingka Group had to close 75% of the IKEA stores it operates across the world due to lockdowns. This is when the company also announced a series of wide-ranging commitments to help and protect the health and livelihoods of those affected by the pandemic. It included a EUR 26 million emergency relief of in-kind donations to support communities as well as providing support to IKEA co-workers by securing income stability, extending parental leave and offering flexible work arrangements. In addition, the company has decided to return the government stimulus support it received for co-worker's wages in the beginning of the pandemic, as the business recovered faster than expected.
"Our strong performance over this unique time, shows the resilience of our business and the impressive leadership among colleagues across IKEA. During the last six months we managed to quickly adapt to meet the new needs of our customers – and even if our values have been put to the test it's clear that our purpose is what unites us. We are determined to create a better everyday life for the many people in a time when home has never been more important," said Jesper Brodin, CEO Ingka Group.

Ingka Group has accelerated its retail transformation over the year, re-purposing its stores to fulfilment units, as well as implementing click&collect services, offering pick-up and drive thru options and in some cases even turning store car parks into COVID-19 testing facilities for the community. Over the year, the company has opened 26 new IKEA locations in cities such as Shanghai, Seoul, Moscow and Tokyo, and developed a more seamless IKEA experience with new digital solutions. It has also invested in real estate such as Kings Mall in London and Rue de Rivoli in Paris while acquiring Geomagical Labs, a 3D and visual AI developer for interactive home furnishing solutions.
As life at home has become more important than ever for people, behaviours and needs have shifted, which has led to a repurposing of the home in many ways. People need their home not only to accommodate their basic needs, but also to act as a workplace, a school or even a gym. The interest to improve the home is growing which has led to strong visitation to both the stores, 706 million (839 million FY19), and IKEA.com, 3.6 billion (2.6 billion FY19). Over the year, the online sales grew by 60% (48% FY19), amounting to about 18% of total sales (11% FY19).
"This year has clearly demonstrated that purpose and profit goes hand in hand. This is the most important decade of humankind and the coming years will be bumpy, but we have it in our own hands to design and invest in a future that leaves no one behind – that is clean, green and more just. Our target is clear, we want to be a part of solving the climate crisis and recover and reset for generations to come," said Jesper Brodin, CEO Ingka Group.
Recently, the company accelerated its efforts in sustainability with an investment of EUR 600 million in order to reach the IKEA ambition to become people and planet positive by 2030, aimed to speed up the transition to a net zero carbon economy. This brings its investments into sustainability to a total of EUR 3.8 billion.
Source : Ingka/IKEA
For all the very latest news and intelligence on the UK's largest home improvement and garden retailers, sign up for the Insight DIY weekly newsletter.
07 October 2020

Insight DIY is the only source of market information that I need and they always have the latest news before anyone else.

Neil Anderton - Sales Director, British Ceramic Tile