UK DIY News
IKEA returns to solar power market in UK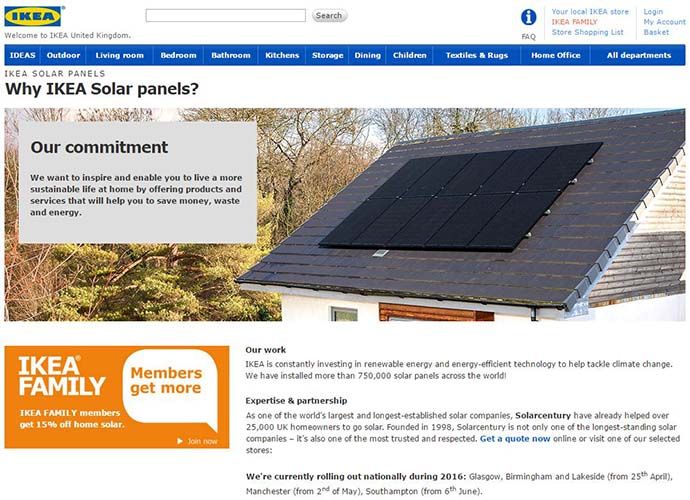 IKEA UK today announces a new-look home solar offer featuring IKEA branded "Solar Shops" in store, as part of the company's mission to help people live more sustainably and affordably in their homes.
The announcement coincides with new research by IKEA UK which reveals that a third (33%) of UK homeowners would like to invest in solar panels for their home. The key factor influencing decisions being the desire to cut your electricity bills (60%), with statistics suggesting the average UK homeowner could save up to 50%* on their electricity bills.
Helping to support these ambitions, IKEA "Solar Shops" will launch in three major stores across the UK, with a plan to sell solar panels in all stores by the end of the summer, following an initial UK pilot. Despite the recent changes to the Government-backed Feed-in Tariff Scheme (FiT), a home solar system remains one of the best investments a homeowner can make today with a 6% annual return**, allowing people to pay off the capital invested in the system in roughly 11 years, meanwhile generating free, clean energy.
Joanna Yarrow, Head of Sustainability at IKEA UK and Ireland, said, "At IKEA we believe that renewable energy is undoubtedly the power of the future. We're already using solar power across our operations, and it's exciting to be able to help households tap into this wonderful source of clean energy. We know our customers want to live more sustainably, so together with Solarcentury we are making solar panels as attractive and affordable as possible. Evidence shows that installing solar panels enables households to save up to 50%* on their electricity bills, and with our new solar panel offer we hope to encourage more and more people to embrace solar energy for their homes. Despite the challenging UK renewable energy policy situation, we want to turn solar into an essential part of any home and believe our new "Solar Shops" will be a major milestone in making this happen."
Solarcentury, one of the oldest solar companies in the world, has been appointed as IKEA UK's business partner to provide solar expertise and to supply local installers from its trusted network for IKEA customers purchasing solar for their homes.
Susannah Wood, Head of Residential Solar at Solarcentury commented, "Together with IKEA we have designed an offer which makes solar simple for homeowners. We've blended IKEA's retail expertise with our solar expertise to arrive at an offer which combines quality with great value for money. Solar is now a mature, tried and tested technology that is being deployed the world over, and we want IKEA customers to be able to join this energy revolution with confidence and ease. At Solarcentury, we've always aimed to make solar accessible for all, and this new collaboration with IKEA achieves exactly that."
The "Solar Shops" will launch on April 25 2016 in Glasgow, Birmingham, and Lakeside (Thurrock) and online followed by the Manchester and Southampton stores in May, then all other stores by the end of the 2016 (excluding Order and Collection Points).
To find out more, please visit our IKEA website:
ikea.co.uk/solar

Source : IKEA Press Release
www.ikea.com
25 April 2016

Insight DIY is the only source of market information that I need and they always have the latest news before anyone else.

Neil Anderton - Sales Director, British Ceramic Tile