UK DIY News
Is Travis Perkins running out of patience with Wickes?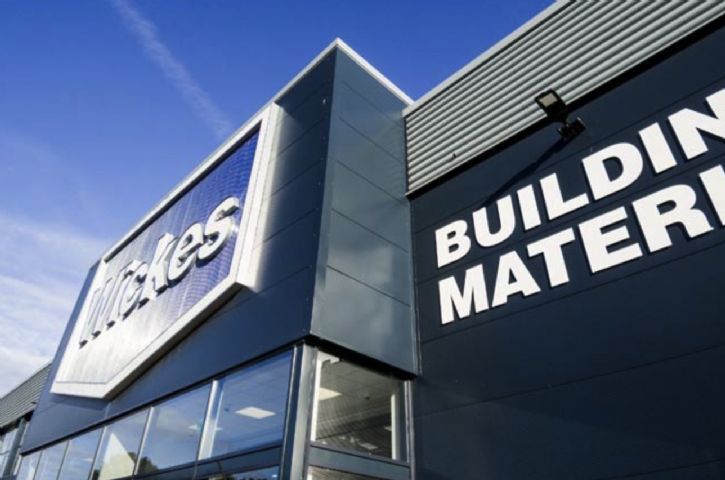 On 31st July 2018 Travis Perkins provided investors with their usual Interim Results update for the six-month period ending 30th June 2018. Investors and the City were expecting more of the same, a solid set of results from a well-managed company that has done little to disappoint shareholders in recent memory.
What they actually reported, came as something of an uncomfortable surprise to many. The overall Group performance was good, with solid revenue growth of 4.4% and like-for-likes, a pleasing 4.2%. This had been generated through a good trading performance in the trade focused parts of their business including General Merchanting, an improving Plumbing & Heating Division, Contracts and fast growing Toolstation. So, with such a strong performance in what we all keep convincing ourselves is a challenging market, why did the TP share price close at £1102 on 3rd August, almost 18% below it's Monday closing price of £1340.50?
The answer is Wickes, who in less than 18 months has moved from blue-eyed boy to the problem child of the group.
In the six-month period to 30th June 2018, Wickes sales declined 5.8% (7.7% LFL). Surely there's nothing out of the ordinary here, after all it was only in May that Kingfisher announced B&Q had suffered an 8.8% decline (9.0% LFL) in sales during Q1 (Feb-Apr 2018). The only other remaining Big-Box DIY retailer Homebase, has had its own, well documented troubles and the last update from Wesfarmers, prior to giving the business away to Hilco, stated Homebase performance at -14.7% (LFL -13.9%) for the nine months to the end of March 2018. So what's the problem? If Wickes are outperforming their peers and looking to reduce costs, including the decision to lay off almost a third of their Head Office staff, then we should all be relatively pleased with their performance?
Read – One third of Wickes Head Office staff to be made redundant
The truth is, Wickes performance during the six month period to 30th June was staggeringly poor. So poor in fact, I believe John Carter and the senior TPG team, still haven't got to the bottom of what actually went wrong and even more concerning, what to actually do about it.
We all know how the weather impacted the market during the first three months of 2018, but there was a dramatic improvement during Q2. In the UK, when we experience a period of good weather, it always benefits the Home Improvement and Garden market, we're a seasonal business and as retailers and suppliers, we live with the peaks and troughs. But there's an interesting element to this. In the UK, when we first experience a period of good weather (let's be honest, this usually lasts no longer than one or two weeks), we flock to DIY Sheds and garden centres to buy plants, BBQ's, lawn-mowers, garden furniture and everything else garden related.
But when the period of good weather continues and looks settled for some time ahead, we can no longer put off those larger home improvement projects and tasks that we've been waiting to do for some time – painting the inside or exterior of the house, tiling the bathroom, laying that deck, building that shed etc.. I'm sure we've all experienced the 'feel-good' factor that comes hand in hand with the good weather, triggering our desire to improve our homes and living spaces and this is exactly what happened between April and July 2018.
This had a positive and sustained impact on our market, lasting some 14 weeks across the summer. So, with the weather having such a positive impact and with at least ten good weeks contained in the Wickes figures to 30th June, why has that business suffered?
The reality is that with much smaller seasonal ranges and an almost non-existent garden offer, Wickes have not been in the game. With the majority of customers shopping baskets containing some garden or seasonal related products, when it came down to the choice of store for consumers, Wickes was ignored in favour of B&Q, Homebase, The Range and B&M Bargains. During the investor call in August Carter admitted 'And so the weather opened up in May and June, it clearly would have been a benefit to us, but it actually benefits the outdoor categories, which is one of our weaker categories. So, although we benefited from the better weather, we weren't actually in the sweet spot of garden products and outside furniture'.
Consumers had chosen to flock to the retailers who offer large and credible garden and seasonal ranges and whilst there, they've purchased a broader range of home improvement products and everything they need for their larger projects. This led to a number of record sales weeks across B&Q, Homebase and Wyevale in May and June.
The poor performance of Wickes triggered Carter to announce "a comprehensive review of its business, with a view to driving stronger performance and enhanced value for shareholders in the medium term." In the investor call, he elaborated further "we are looking and have been thinking very much about how appropriate our business should be going forward. We expect these market conditions to continue for the foreseeable future. So we think it's appropriate time to step back and take a comprehensive review of our business. As always, we're going to be focusing on improved performance and enhancing shareholder value, and we aim to bring you the conclusions of that review at our Capital Markets Day in early December".
The Q3 Trading Update provided by TP on 23rd October provided no reassurance, as the decline in Wickes sales worsened. The business commented "'The market environment in UK DIY remains challenging, resulting in continued volume declines in Wickes in both core DIY and Kitchen & Bathroom showroom categories. Significant pricing competition across the sector has prevented the recovery of cost price inflation, albeit pricing pressure has begun to moderate in recent weeks, and K&B order activity has shown some early signs of recovery. Cost reduction activities are progressing as planned, with reduced distribution costs and tight control of overhead costs".
In less than four weeks time, Travis Perkins will reveal the outcome of their strategic review and it doesn't look good for Wickes, whom TP have owned since acquiring them for what now feels like an astronomical £950m from the now defunct Focus DIY in December 2004.
Read - Travis Perkins buys Wickes for £950m.
In our view, with a solid, growing and more predictable trade business, the strategic review of the TP business can only lead to one conclusion and that's the disposal of the Wickes business. It's delivered good sales growth in recent years, but it's barely profitable (EBITDA of around £56m for the 12 months ending 31st December 2017 on a turnover of £1.236.4bn), before their position worsened this year. It's market position has been painfully exposed during 2018 and we believe TP shareholder value can only be enhanced without Wickes in the Group.
Source: Steve Collinge & Insight DIY Team.
For all the very latest industry news and views follow Steve and share your views on LinkedIn here and on Twitter here. Steve can be contacted directly on Steve@irg.co.uk.
08 November 2018

Insight DIY is the only source of market information that I need and they always have the latest news before anyone else.

Neil Anderton - Sales Director, British Ceramic Tile