UK DIY News
It's not a Bunnings and it's not a Homebase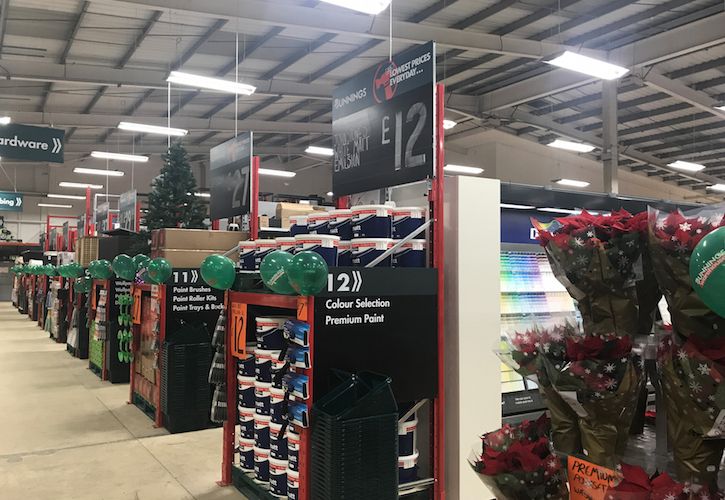 Earlier today Wesfarmers opened their first Bunnings UK store (note the Warehouse bit has gone), as they search for a lower cost conversion format, which can quickly and easily be rolled-out across the ailing Homebase estate.
Bicester is the first store to be a new hybrid Bunnings, although we do know they continue to tweak the format in the Luton store and as of yesterday, we were informed that Herne Bay in Kent, will be the second hybrid store, which will close just after Christmas.
Read - Two further Bunnings stores announced.
On the site of the former Homebase on Launton Road, the Bicester store is 36,700 square feet, 40% of the size of the largest Bunnings Warehouse store in Milton Keynes (90,000 sq ft) and just over half the size of the first Bunnings Warehouse on Griffiths Way (67,000 sq ft), St.Albans, which opened in February.
From the outside, this is clearly a Bunnings and as you enter the store, you're greeted with the same friendly welcome you receive in all of their warehouses. The till area, customer service, special order desk and high profile front promotional ends are full of stock and topped with the familiar hand-written descriptions and pricing.
The store has the usual red Bunnings racking, but only around the perimeter and approximately 40% of the inside of the store. What sits in the middle is the old silver, Homebase System 52 racking that's been wiped down and used again.
At this point it might be worth downloading the Bunnings Bicester Image Gallery, so you can see what I mean.
At times, it's obvious you're in a Bunnings Warehouse and others it's not; you're only reminded of the fact when you see one of the numerous members of staff in their smart new uniforms or the hand written pricing labels. Interestingly, the garden centre is virtually unchanged from the Homebase, with the exception of some shiny, new racking towards the one end.
Having had ten months to get used to the UK's first Bunnings Warehouses with their strong branding, their functional no-nonsense approach to home improvement and garden retailing, their huge stock levels and their genuinely helpful and friendly staff, I have to say, I kind of like them.
I've even grown to like their 'we're always in stock, who needs click'n'collect?' approach to UK retailing. I still think it's bonkers to not have a transactional website, but there's a consistency and an honesty in their approach that I've grown to respect. At least they are a business with a heart and a soul, a company who knows who they are and who to date, have delivered such a perfect replica of their well-loved Australian Bunnings format on UK shores that at times, you simply don't know whether you're in Milton Keynes or Melbourne.
On one hand, you can say that Bicester is a really clever way to take everything that's good about the Bunnings Warehouse format and bring it to life in a smaller store. A way if you like, to bring Bunnings to the masses and to deliver on their original commitment to replace all Homebase stores with a Bunnings within five years. If this format is successful, I'm sure it can quickly and cost effectively be rolled out to at least another 20 to 30 Homebase stores in the next twelve months.
On the other hand, you could say that Bicester is a needs-must, watered down, even contaminated version of a Bunnings Warehouse. The format leaves me feeling cold.
It's not just the lack of a café or the kids play area, that makes the real difference, it's the fact that some of the heart and soul of Bunnings Warehouse has been lost. What they've created here is not a scaled down Bunnings, it's a new, ugly and totally unproven, frankenstein of a format that doesn't exist anywhere in the world. That magic retail formula you create when you combine the right branding, lighting, staff uniforms and great product ranges all enhanced by the smell of freshly cut wood is barely evident in Bicester.
Just putting slightly different products and ranges on the same Homebase shelving does not make this a new format. It's just not right and seems incomplete. Many of the bays under Homebase had brightly coloured headboards and all these have gone and have been replaced with nothing, just the struts sticking up in the air or blank pegboard – look at the paint, wallpaper and tile adhesive fixtures.
And while we're talking paint, I know the mixing bases sit on open shelves in the Warehouse stores, but to locate the bases on the lower Homebase racking, just looks odd and makes them far too accessible to confused shoppers who will think these are ready mixed colours.
The Kitchen category in Bicester is so small, that if this is rolled out to the full Homebase estate, their exit from the kitchen market will be almost 100% complete. Similarly, Bathrooms is almost non-existent and tiles an after-thought with no category credibility at all. The hand and power tool department is as strong as ever, as is seasonal garden, but the store now feels far too reliant on those categories, the latter of which may drive sales and profit 365 days a year down under, but in the UK, you've got five good months at best.
What Wesfarners is hoping for here is a store that will significantly outperform the Homebase that stood here previously, a Homebase that continues at regular intervals to poke through the thin veneer of the green and red branding as you walk around the store.
Retailing has never, and should never, be about just making do, trying to replace the dying Homebase format with something that might be just a bit better and hopefully won't cost too much.
And quite franky, I don't think this store will deliver. With a rejeuvenated Wickes sitting right next door with its shiny Kitchen and Bathroom displays, it's Toolstation concession and pleasant shopping experience, I can't see the people of Bicester falling over themselves to shop in this Bunnings.
Herne Bay in Kent has been announced as the second new smaller format store, which is due to close after Christmas and re-open some time in February/March. Let's hope they don't just replicate Bicester and in that store, find a way to deliver the real essence and heart of the Bunnings business.
Steve Collinge - Managing Director, Insight Retail Group Ltd.
Join in the conversation on Linkedin or feel free to email me directly on Steve@irg.co.uk.
For all the very latest news and intelligence on the UK's largest home and garden retailers, sign up for the Insight DIY newsletter today.
21 December 2017

Insight provides a host of information I need on many of our company's largest customers. I use this information regularly with my team, both at a local level as well as with our other international operations. It's extremely useful when sharing market intelligence information with our corporate office.

Paul Boyce - European CEO, QEP Ltd.