Digital Retail News
Jet.com is ready to take on Amazon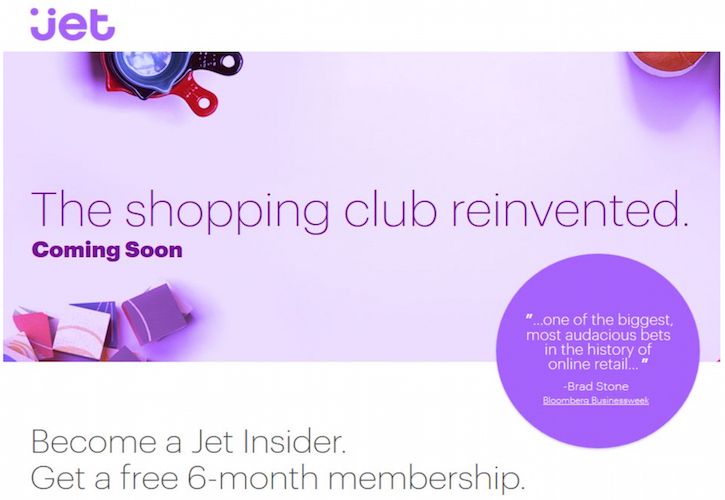 A Wells Fargo analysis shows prices are 9% lower on the new online marketplace than they are on Amazon.
Online marketplace Jet.com has raised more than $225 million in funding according to CrunchBase and become one of the more highly anticipated e-commerce site launches in recent memory.
The site, which charges members a $49.99 annual membership fee and aims to bring the Costco/Sam's Club buy-in-bulk mentality to e-commerce, on Tuesday exits its trial phase and launches to the general public. Jet is offering more than 10 million products for sale at prices that are, on average, 9% lower than prices on Amazon.com Inc. according to a Wells Fargo analysis of pricing comparison data gathered by software provider Boomerang Commerce.
"In e-commerce, price is the jugular and Jet is going for the jugular," says David Spitz, CEO of e-commerce services provider ChannelAdvisor Corp., whose services include helping retailer clients sell on online marketplaces like Amazon, eBay and Jet.
Going for the jugular means doing everything the company can to ensure the customer is happy, both with selection and price.
The Wall Street Journal reported that during beta testing, the company bought products it doesn't sell off of other websites so that consumers can get what they want, even if it means Jet absorbs a loss on the sale.
Spitz says he thinks the company is willing to go to such extremes for the purpose of building brand loyalty among customers. "Early on, some of what you're seeing is an investment in customer acquisition and making sure the customer experience in the early days is as good as it can be," he says.
"There are certainly questions about the economic viability of Jet's current model, but this will likely evolve if and when Jet attracts more shoppers," adds Keith Anderson, vice president of strategy and insights for e-commerce intelligence agency Profitero. "In the near term, Jet is in pure growth mode and investing aggressively in customer acquisition."
Jet representatives could not be reached for comment.
Spitz tells Internet Retailer that an unspecified number of ChannelAdvisor's clients have signed up to sell on the marketplace.
"[Jet] is not proven but it does represent the potential of a significant new channel to connect to consumers," he says. "Amazon is a juggernaut but there's also been this concern [among retailers] that Amazon can compete with you if you're a retailer." That is because Amazon sells products it owns as well as providing a platform for other retailers to sell. Amazon collects data about all sales on its site, and can use that to determine which items to buy and promote. Jet will not sell products on its own account, instead operating as a pure marketplace, like eBay.com.
Executives at Jet, co-founded by Marc Lore of Quidsi, the parent company of Diapers.com and now owned by Amazon, have said all along the marketplace isn't trying to compete with Amazon, No. 1 in the Internet Retailer 2015 Top 500 Guide. Instead Jet aims to offer more value than convenience. Shoppers can browse a selection of goods from participating merchants that pay an unspecified commission on sales. Retailers can adjust prices to reward consumers for choices that lower the seller's costs, such as long delivery time, ordering multiple items and agreeing to wait until the merchant can ship all orders at one time. Jet y profits only on annual membership fees.
So what's it like shopping on Jet? Jason Smith, a graphics designer who has done work for Internet Retailer, was among the consumers who shopped on Jet.com during its test period this year. He placed two orders through the site, ordering mostly household items, and said he saved $21.59 on his orders combined, or roughly a third of what those goods would have cost elsewhere.
The interface fairly easy to navigate, with some purchases arriving in Jet-branded boxes and others arriving in blank boxes, he said.
"I see Jet as replacing my trips to Target every couple of weeks—sort of that category of stuff that is too small to be cost-effective to get on Amazon," Smith says. "With Jet, it seems like the savings that I'm getting are going to add up to that $50 membership fairly quickly."
Shmuli Goldberg, director of marketing with automatic repricing services platform Feedvisor, says the audience Jet is pursuing isn't necessarily the same one targeted by Amazon.
"Jet basically wants to remind us that there are always cheaper options out there. It's the antithesis of Amazon Prime," he says. "Amazon Prime says pay a little bit more and we will give you the world's best customer experience. Jet is saying the opposite. You pay more to enter a shopping club and we will find you the cheapest possible items and your shipping time will be long and your shipping fees may be heavy."
"If they can keep the prices at the levels they're at right now, yes," Smith says. "I have not personally come across any site that has that variety at that price."
Anderson still sees Amazon with the advantage. "The terms for merchants may be favorable compared to Amazon, but Amazon still has a massive advantage in terms of sheer scale and traffic as well as logistics services Anderson says. Those logistics services include Fulfillmetn by Amazon, in which Amazon handles fulfillment on behalf of sellers for a fee. "Jet," Anderson says, "seems like a marketplace platform worth watching, but is not a near-term substitute for Amazon."
Source: InternetRetailer.com.
Read more here.
21 July 2015

I find the news and articles they publish really useful and enjoy reading their views and commentary on the industry. It's the only source of quality, reliable information on our major customers and it's used regularly by myself and my team.

Simon Fleet - Sales & Marketing Director, Thomas Dudley Ltd