UK DIY News
John Lewis opens up 2016 JLAB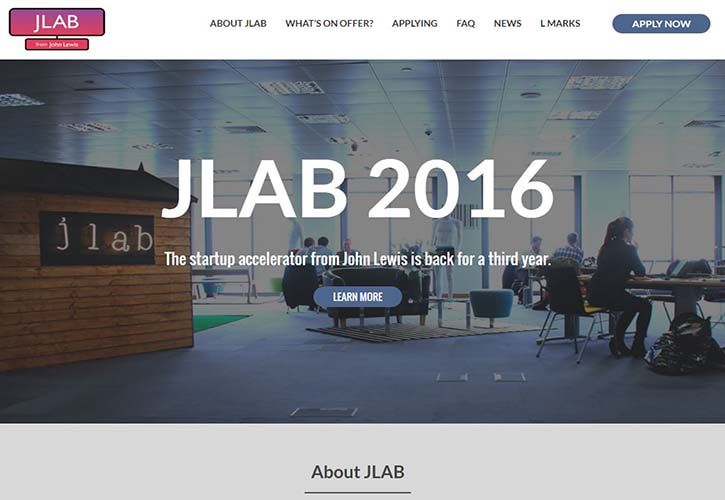 John Lewis has opened applications for JLAB 2016, its startup accelerator programme run in association with innovation partner L Marks. Now in its third year, JLAB supports the development of bold new ideas, and drives innovation in retail.
JLAB 2016 immerses startups in the workings of John Lewis, exposing them to different facets of one of Britain's leading omnichannel retailers. Based in John Lewis' London HQ, participants will work with top‐level mentors for 12 weeks, assigned according to specific industry expertise.
The startups will benefit from commercial insight offered by John Lewis' commercial, retail, online and IT directors, and collect valuable public feedback via the use of customer panels. Six months' free office space will also be made available to one company, as voted for by John Lewis Partners. When combined, the aspiration is that JLAB will produce a product or service that will help shape the retail experience for customers of the future.
Startups participating in JLAB will have access to capital from the dedicated microfund attached to the programme. Each team will be eligible to apply for funding of up to £100,000 from the total pot of £200,000, in exchange for equity in their company.
Innovations from 2016 JLAB will be designed to meet the needs of the modern day John Lewis shopper, who navigates different channels seamlessly to browse, purchase and collect goods. JLAB is inviting startups to collaborate with John Lewis in the following categories:
Health and Wellbeing: taking care of our bodies has never been so important. Looking
for exciting new products or services that can help customers look after themselves.
Simplify My Life: technology has helped us to simplify our lives in many ways, and John
Lewis is looking for new ways to do this for its customers.
Effortless Shopping: bring digital inspiration to shops and help John
Lewis to further understand customers' in store behaviour. Enable John Lewis to
enhance the experience in store through self‐service and other innovations.
Tech for Kids: exciting and innovative new products aimed at the tech‐savvy kids of
today.
Surprise Us: innovations that are so out of this world they can't be classified.
Chris Chuter, CEO of Peeple (2015 JLAB winners), said: 'JLAB turned us into a global company. Working with John Lewis and L Marks took us to the next level, and helped us better understand and create a product for the international market.'
Paul Coby, IT Director at John Lewis, said: 'JLAB is about bringing disruption and innovation to the retail industry ‐ we want to develop ideas and technology that really excite John Lewis shoppers. To do this, it's essential that we work collaboratively with fast‐growing businesses to add value to their operations. Under mentorship from John Lewis, JLAB startups will have a unique opportunity to hone their ideas and create a product which has a genuinely positive impact on our customers. We've seen from previous years the value of combining an agile startup mentality with John Lewis' extensive industry knowledge, and I'm personally looking forward to working with the 2016 applicants.'
Stuart Marks, technology entrepreneur and Chairman of L Marks, said: 'JLAB is a fantastic opportunity for startups to get access to the UK's leading omnichannel retailer, and working closely with John Lewis over an intense 12‐week period will see them gain traction within the organisation at a much faster pace than through traditional channels. We've enjoyed fantastic success with JLAB so far, and I'm excited to see what businesses we discover this year.'
Applications are now open, and will close at midnight on Sunday 8 May. John Lewis and L Marks will then select up to five startups to complete the 12 week JLAB programme, commencing in July 2016. The overall winner will be announced at a showcase event in September 2016.
John Lewis - John Lewis operates 46 John Lewis shops across the UK (32 department stores, 12 John Lewis at home and shops at St Pancras International and Heathrow Terminal 2) as well as johnlewis.com. It is part of the John Lewis Partnership, the UK's largest example of worker co-ownership and all 30,000 John Lewis staff are Partners in the business. John Lewis, 'Best Clothing Retailer 2015' , 'Best Electricals Retailer 2015' and 'Best Homewares Retailer 2015'¹, typically stocks more than 350,000 separate lines in its department stores across fashion, home and technology. Johnlewis.com stocks over 280,000 products, and is consistently ranked one of the top online shopping destinations in the UK. John Lewis Insurance offers a range of comprehensive insurance products - home, car, wedding and event, travel and pet insurance and life cover - delivering the values of expertise, trust and customer service expected from the John Lewis brand.
¹ Verdict Consumer Satisfaction Awards 2015
L Marks - L Marks is an innovation partner and startup investor, building bridges between big companies seeking innovation and disruptive startups. Founded by serial entrepreneur Stuart Marks, L Marks work with some of the UK's biggest brands, including DPD, John Lewis and William Hill, running bespoke startup partnership programmes across industry sectors, supporting rapid innovation and connecting them with the best startups. Each programme is tailored to deliver real solutions to the corporate partners frustrations and opportunities, as well as creating real opportunities for startups to test and grow their product with a major partner.
Source : John Lewis Partnership Press Release
www.johnlewispartnership.co.uk
04 April 2016

Insight DIY is the only source of market information that I need and they always have the latest news before anyone else.

Neil Anderton - Sales Director, British Ceramic Tile