UK DIY News
John Lewis Partnership Updates On Strategic Review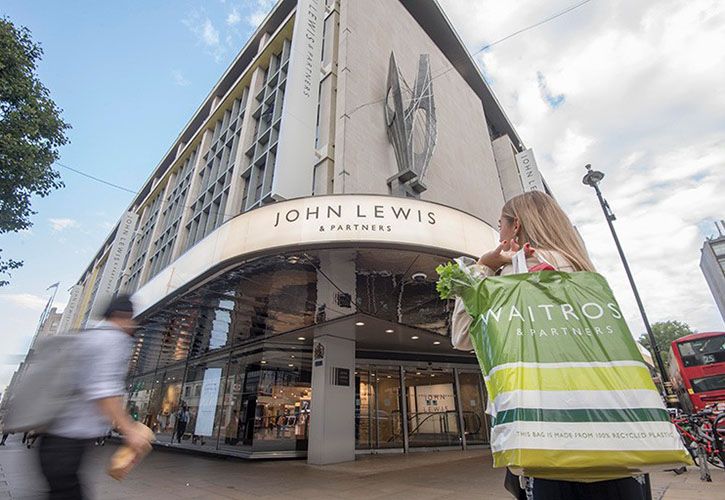 Sharon White, Chairman and Partner at the John Lewis Partnership, has written to staff to update on the business' strategic review.
Key points from the letter follow and you can see the publication in full, here.
We've conducted a thorough review of our performance, how we are delivering for customers and how we compare to competitors. We've listened to feedback from more than 10,000 customers and more than 100 suppliers.
I have been blown away by the number of Partners who have got involved - over 12,000, with more than 650 ideas submitted.
As you all know, these are testing times, with profits this year and next likely to be challenged. But the beauty of being a Partnership is that we are able to take a long-term view. The strategic review should see green shoots in our performance over the next 9-12 months, and our profits recovering over the next three to five years.

In my recent note on 'resizing and regrowing' the Partnership, I talked about the opportunities to remain a thriving Partnership in 100 years' time. The review has highlighted five important areas where we will focus our efforts over the coming months:
1. DRIVEN BY PURPOSE
Our updated purpose will drive our commercial decisions and shape our employment practices. It will influence the services we offer to customers and how we work with new commercial partners. It could see us, for instance, taking firmer action on fair pay, working conditions, diversity and inclusion.
With customers more thoughtful about the environment, we want to make it easier to shop sustainably, with clearer information about the origins of our products and our supply chain - building on the fashion buyback and 'Unpacked' trials.
2. SIMPLIFYING HOW WE WORK
We will simplify how we work, taking out duplication and cost. Our central teams will work in service of our customers and we will give more freedom to frontline Partners to do what's best for customers. We are still targeting at least £100 million of savings in head office costs. We have reduced the number of senior managers by one third, and our transformation of Tech & Change - which draws on new technology and expertise from outside suppliers - also helps with the target. We will aim to make savings as early as possible this financial year and next. These are very difficult decisions and I deeply regret the personal impact on Partners.
3. STRENGTHENING RETAIL
We have two of the best loved and trusted brands in the UK, rated highly for our personal service and expert, impartial advice. Customers are, however, shopping in very different ways - younger people especially - with the pandemic accelerating the importance of digital. We expect John Lewis to be a 60% online retailer, from 40% pre-Covid-19; and Waitrose to rise above 20%, from 5%.
In both brands we will double down on making shopping easier and more convenient, investing in: availability in store and online; useability and personalisation of our apps and websites; better rewards for our most loyal customers; online personal services; convenient pick-up, like the 505 Co-op stores offering John Lewis Click & Collect; and introducing John Lewis into Waitrose.
Outside of their regular grocery shop, we also know that our customers are spending a lot on food delivery services. We see significant scope for us to grow in this area, and are actively exploring early opportunities.
We expect to see continued rebalancing of stores, opening new ones where we see strong customer demand, and potentially closing others where demand wanes. Our existing stores will be updated to meet customers' expectations.
4. EXPANDING INTO MORE SERVICES
Retail profit margins are under pressure. For the Partnership to be sustainable over the long-term, we need to expand beyond retail. More than that - we have the opportunity to offer our customers new services where trust and a strong sense of purpose are important.
The Partnership has a strong track record of innovation and enterprise. We are at our best when we are at our boldest. Partners have put forward many exciting ideas and we have selected four for further development:
Financial services: We have a long-standing, successful business offering customers financial products, including the Partnership credit card, insurance, personal loans and foreign currency exchange. Our ambition is to grow this business significantly over the next five years.
Horticulture: This was the number one idea from Partners and is highly relevant to our target customers. We are exploring how we build a new business out of Waitrose Garden, Leckford Estate and the Waitrose Farm, landscaping and John Lewis Outdoor Living - potentially with new partnerships and acquisitions.

Private rented housing: As we repurpose and potentially reduce our shop estate, we want to put excess space to good social use. We are exploring with third parties the concept of new mixed-use affordable housing.

Rental/Resale/Recycle: This is a growing priority for our customers. Options include creating a market leading channel for rental of our products or building a marketplace to sell 'used' products.
5. PARTNERING TO GROW
We clearly won't be able to achieve all this alone. So we will create partnerships with other businesses who respect our ethos and can bring resources or capabilities we don't have. This will allow us to grow efficiently. Partnerships will give new meaning to our '& Partners' rebranding. We are already in a number of commercial discussions and are also looking at acquisitions.
Source : John Lewis Partnership
For all the very latest news and intelligence on the UK's largest home improvement and garden retailers, sign up for the Insight DIY weekly newsletter.
30 July 2020

Insight DIY is the only source of market information that I need and they always have the latest news before anyone else.

Neil Anderton - Sales Director, British Ceramic Tile