UK DIY News
JYSK Sets New Turnover Record Despite Coronavirus Challenges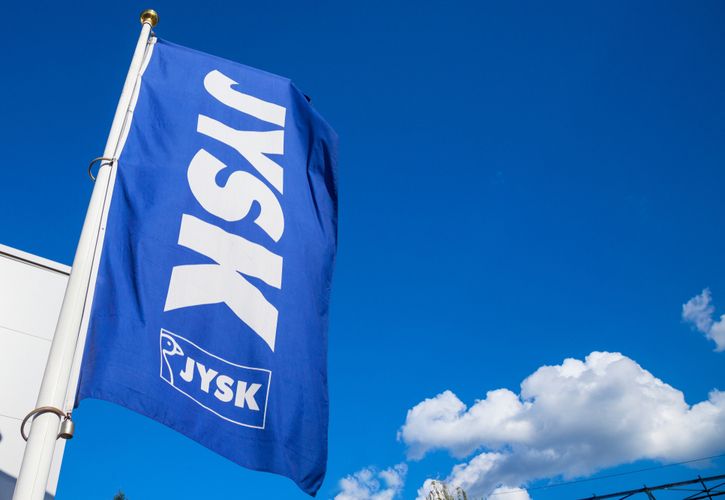 With a turnover of 4.386 billion EUR, JYSK has once again set a new record in the financial year 2020/21 despite closed stores and restrictions.
During JYSK's financial year from 1 September 2020 to 31 August 2021, JYSK and other nonfood retailers have faced a lot of challenges.
Nevertheless, JYSK can once again present an all-time high turnover of 4.386 billion EUR, even though the company has been challenged – especially in Germany, which is JYSK's biggest market, and where the stores were closed for a period of more than four months.
"I am very pleased that we have been able to increase turnover by 7 percent despite the fact that our stores have been temporarily closed in almost all markets. I see this both as a result of customers in Europe spending more on home furnishing in general, and as a result of my colleagues around the countries being quick to adapt to a new situation and focus more on online sales and Click & Collect," says Jan Bøgh, President & CEO of JYSK.
Online sales increased significantly
This is supported by the fact that online sales have increased by 43 percent during the financial year. This is in addition to JYSK's Click & Collect solution, where customers order from home and pay in the store when the products are picked up.
"Because customers pay in the store, it does not count as online sales in JYSK in terms of accounting, but it is obvious that the interaction between our webshops and physical stores has been absolutely crucial for us to be able to raise our turnover in the past financial year," says Jan Bøgh.
Additional customers
He is also pleased by the fact that JYSK has been able to say "hello" to 230,000 additional customers compared with the previous financial year.
"We are very pleased with this, as it has been achieved despite the restrictions and closing of stores in many countries. This has caused the number of customers to decrease in some countries, and it makes me extra proud that we have managed to compensate and increase the number of customers so significantly in other countries. Now the challenge will be to hold on to the new customers, while returning to the previous level in the countries where the closures resulted in a loss of customers," says Jan Bøgh.
He is also pleased that JYSK has succeeded in significantly increasing both the number of customers and sales in some of the countries where JYSK has only in recent years begun to open stores.
This applies to, among other countries, Ireland and Belgium, where growth is very high despite the fact that JYSK has not been able to open as many stores as planned due to restrictions.
Thus, at the end of the financial year, JYSK had 3,085 stores, which is 136 more than the year before.
Big plans
That number must be increased in the coming years, where JYSK, in addition to opening new stores, will convert a large number of stores to the latest concept. The plan is that all stores will have been converted by the end of August 2024.
At the same time, there is a special focus on Germany, where almost 1,000 stores will already be rebranded on 27 September this year from DÄNISCHES BETTENLAGER to JYSK.
"It is a huge investment. Both physically in rebuilding and updating stores, changes in the range in Germany and the whole communication and marketing task of getting our German customers used to a new name. It comes on top of a year in which we have experienced a declining turnover in Germany due to the long shutdown, so it is a big task that awaits," says Jan Bøgh.
Facts
Turnover in 2020/2021: 4.386 billion EUR
Turnover increase: 7 percent
230,000 additional customers
136 new stores – total of 3.085 stores
Lars Larsen Group strengthens the retail organisation
As of 1 September 2022, current President & CEO of JYSK, Jan Bøgh, will take up a new position as President & CEO of Lars Larsen Group Retail.
Although Lars Larsen Group today works in a large number of sectors, the backbone is still the group's retail companies with JYSK as the primary brand focus.
To further strengthen the retail organisation, Lars Larsen Group creates a new position as President & CEO of Lars Larsen Group Retail to focus on retail companies across the group and on opportunities for further acquisitions of other companies.
The man in charge will be the current President & CEO of JYSK, Jan Bøgh, and Chairman of Lars Larsen Group, Jacob Brunsborg, is very happy about that.
"It has always been clear that retail is the backbone of Lars Larsen Group. That is why I am very happy that Jan has agreed to take on a more general role. All the retail companies in Lars Larsen Group can benefit from Jan's extensive knowledge and experience. At the same time, the changes in the organisation mean that we will become better at utilising synergies across companies. Jan is already chairman of the board of ILVA, SOFACOMPANY and SengeSpecialisten and is part of the board of Bolia. By releasing him from the day-to-day management responsibilities at JYSK, he gets much more time to work with development and acquisitions," says Chairman of the Board of Lars Larsen Group, Jacob Brunsborg.
Due diligence
He is also pleased to announce that it will be Rami Jensen, who will join JYSK on 1 September 2022 and later takes over the position as President & CEO as of 1 September 2023.
"It is all about making important decisions in due time. Jan had promised both my father and I that he would be in charge of the entire process of merging JYSK Nordic and Dänisches Bettenlager into one unit. With this timeline, Jan can complete that task, at the same time as he gets a year to work alongside Rami Jensen preparing him to take on the role. This ensures the necessary continuity, which means that we can keep up the pace while making the changes," says Jacob Brunsborg.
Exciting task
Jan Bøgh is looking forward to his new role, where he gets the opportunity to work across all retail companies in the group.
"For many years, I have been involved in all the retail companies in Lars Larsen Group through the work of the board, and therefore I also know that there is a lot to gain from creating a dedicated retail organisation. At the same time, it is no secret that we are looking for possible acquisitions, and by handing over the responsibility for the day-to-day management of JYSK, I get much more time for that work. This is something I am very much looking forward to," says Jan Bøgh.
Like Jacob Brunsborg, Jan Bøgh is pleased that a model has been created in which he can continuously transfer responsibility for the day-to-day management of JYSK.
"Lars Larsen often referred to JYSK as his child. I probably see myself as the 'nanny'. I have spent an incredible amount of time with JYSK, and it is important to me that we can make the change without slowing down. That is why I am also happy that Rami has accepted the position, because he knows JYSK thoroughly and can be at the forefront of the continued development of JYSK without compromising on the values on which the company is built," says Jan Bøgh.
Source : JYSK
For all the very latest news and intelligence on the UK's largest home improvement and garden retailers, sign up for the Insight DIY weekly newsletter.
14 September 2021

I find the news and articles they publish really useful and enjoy reading their views and commentary on the industry. It's the only source of quality, reliable information on our major customers and it's used regularly by myself and my team.

Simon Fleet - Sales & Marketing Director, Thomas Dudley Ltd