UK DIY News
Kingfisher Issues Update To Analyst Estimates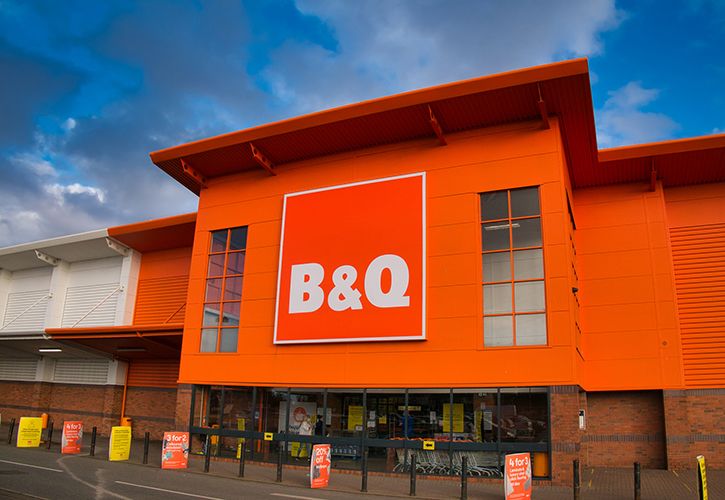 Kingfisher's latest 'analyst estimates' data shows predictions of the home improvement retailer's like-for-like sales and retail profit for the current and future financial years.
Like-for-like sales summary
%

Jan 2020/21

Full year

Jan 2021/22

Full year

Jan 2022/23

Full year

UK & Ireland
8.9%
-1.7%
1.7%
- B&Q
11.0%
-3.9%
1.1%
- Screwfix
5.0%
2.1%
2.8%
France
2.9%
2.7%
1.5%
- Castorama
3.5%
3.3%
1.4%
- Brico Dépôt
2.5%
2.1%
1.7%
Poland
4.1%
1.0%
2.1%
The data indicates that B&Q will see like-for-like growth of 11% for the year ended January 2021, with Screwfix noting a 5% rise in like-for-like sales during the period.
For the next financial year, analysts are forecasting a like-for-like decline of 3.9% at B&Q, with Screwfix maintaining positive growth of 2.1%.
By 22/23, B&Q is anticipated to have returned to like-for-like sales growth of 1.1%, beaten by Screwfix with a 2.8% rise.
Despite previous challenges in its French business, the analysts are expecting positive like-for-like sales growth throughout the three reporting periods. Interestingly, the B&Q business is the only one expected to return negative like-for-like sales at any point during the forecast data, potentially because the significant growth in demand during the 20/21 financial year will make for strong comparable figures.
Retail Profit Summary
£ millions

Jan 2020/21

Full year

Jan 2021/22

Full year

Jan 2022/23

Full year

UK & Ireland
660
580
605
France
153
153
173
Poland
142
139
144
Other(1)
-19
-3
8
Other International
123
136
152
Total retail profit
936
869
930
Associate and JV interest and tax
-5
-6
-5
Central costs
-59
-61
-62
Interest
-172
-163
-156
Adjusted PBT
700
639
707
Tax
-162
-154
-171
Profit after tax
538
485
536
Adjusted EPS (p)
25.5
23.0
25.4
Ordinary DPS (p)
3.6
9.2
10.1
Euro rate
1.12
1.11
1.11
PLN rate
5.01
4.98
4.98
UK and Ireland retail profit - combining figures from B&Q and Screwfix - is predicted to decline by £80m in the 21/22 financial year, rising by £25m in 22/23.
The French business is forecast to return retail profit of £153m for the 20/21 and 21/22 financial years, rising by £20m in 22/23.
Poland is expected to see a £3m decline between 20/21 and 21/22, rising by £5m at the end of the 22/23 reporting period.
Overall, total retail profit is set to reach £936m in the 20/21 financial year, dropping to £869m in 21/22, before rising by £61m to reach £930m the following year.
(1) 'Other' includes a retail loss of £5m for Russia in FY 20/21 (consensus estimate). However, Russia has been excluded from FY 21/22 and FY 22/23 consensus estimates following the completion of the Castorama Russia disposal on 30 September 2020. 'Other' also includes retail profit or loss estimates for Iberia, Romania, and Kingfisher's 50% JV in Turkey.
All information is correct as of 4th January 2021 and Kingfisher states that the figures are a simple arithmetic average of recent forecasts that have been provided by registered investment analysts. The figures do not give greater weight to the forecasts of any individual analyst and may or may not represent the market consensus. These average estimates are not endorsed by Kingfisher, nor does Kingfisher assume any obligation to update or revise them after the date above. Kingfisher reserves the right, from time to time, with or without notice, to exclude one or more analysts' forecasts on the basis that Kingfisher believes them to be unrepresentative and/or out of date.
Source : Insight DIY using Kingfisher data
Image : iStock / 1281594226
For all the very latest news and intelligence on the UK's largest home improvement and garden retailers, sign up for the Insight DIY weekly newsletter.
14 January 2021

Insight DIY is the only source of market information that I need and they always have the latest news before anyone else.

Neil Anderton - Sales Director, British Ceramic Tile