Digital Retail News
Made.com looks to disrupt the mattress market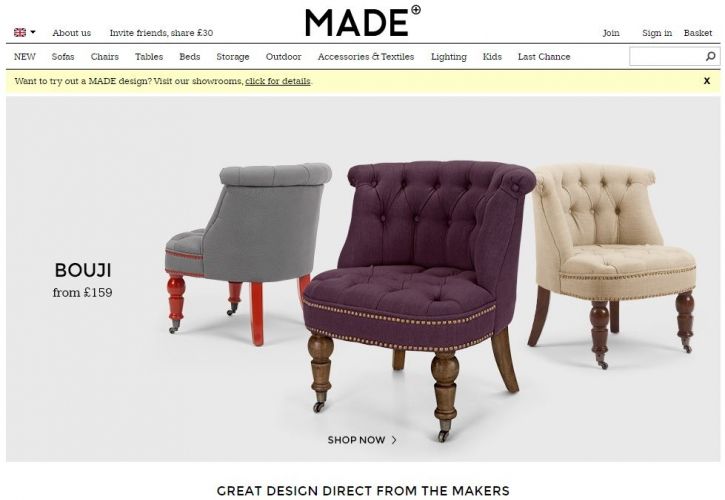 Made.com has entered the £1bn UK bed market with a new online mattress shop.
As reported by the Daily Telegraph, the company has created a hi-tech mattress, dubbed "the One", which aims to suit the majority of consumers, and goes on sale today.
"We're always looking for ways to disrupt new categories," Julien Callede, Made's Co-founder told the national. "Mattresses are complicated to sell and we've been looking at how to address the market for a year."
The One will launch in the UK, then France, before being rolled out across Made's four other European export markets. The company has not shared forecasts but cited that the mattress arm would be a "multi-million pound business" within a few years.
"We've designed this mattress from scratch using hi-tech materials so we're very different to others on the market," Callede said.
The upmarket furniture e-tailer is using its existing distribution network to offer shoppers a 48-hour delivery window for the new product, as well as a 101-day refund policy to allow consumers ample testing time.
It is understood that The One has been developed with a small team on a limited budget.
"We haven't spent millions on this," said Callede, adding that Made.com must keep innovating in order to maintain its current course of growth. "We want to keep shaking things up. Companies like us that disrupt markets in the past need to remain innovative in the future."
Made.com was launched five years ago by Callede, Ning Li, Chloe Macintosh, and LastMinute.com co-founder Brent Hoberman. It recently reported a 63.4% jump in revenue to £42.8m and in July raised £38m in new growth capital from Partech Ventures and Fidelity Growth Partners to accelerate its expansion.
The new mattress will retail at between £500 and £700 which Callede claims is "equivalent to rivals selling mattresses for £2,000" in terms of quality.
"It's a medium to firm mattress. I've slept on it for quite a few nights now and it's firm in the base and soft in the top, very comfortable."
Source : Veebs Sabharwal – Retail Gazette
www.retailgazette.co.uk/blog/2015/11/made-dot-com-continues-growth-with-new-online-mattress-business
23 November 2015

Insight DIY always publishes the latest news stories before anyone else and we find it to be an invaluable source of customer and market information.

Max Crosby Browne - CEO, Home Decor