UK DIY News
Masters Home Improvement - an obituary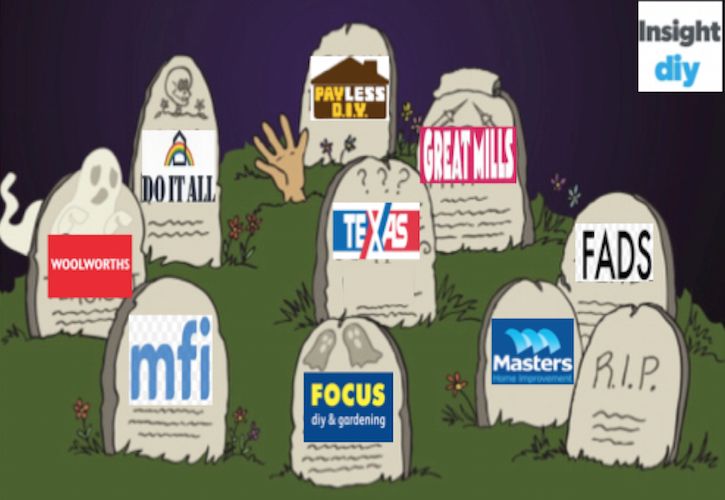 The Australian DIY Chain Masters, has closed its doors for the last time and joins a number of well known, national Home Improvement brands in the DIY retailer graveyard.
Hindsight is of course a wonderful thing and it's easy for us to sit back and say the project was doomed from the start. Interestingly, in 2009, two years before the launch of Masters, investment banking firm Merrill Lynch reviewed the prospective business and quickly warned shareholders the idea was one big, fat dog. "We believe that Woolworths entering the (Australian) hardware market will dilute returns on investment for its shareholders and will not provide the company with the growth platform that clearly its management team so strongly craves," Merrill Lynch said at the time.
But who was going to argue with two huge and successful businesses like Woolworths and Lowes? The later is still the second largest home improvement retailer on the planet, employing over 265,000 staff from 1,850 stores and second only to Home Depot.
Woolworths is the second largest company in Australia (after Wesfarmers), with extensive retail interests across both their home country and New Zealand. Together, you would have thought they had a recipe for success; a business that knew hardware inside out, partnering with a company that knew the Australian consumer and market, probably better than any other.
The brand name 'Masters' was announced to the world on 2nd May 2011 and the first store opened on 1st September 2011 in Braybrook, Victoria, with 1/3rd of the business owned by Lowes and 2/3rds by Woolworths.
From an article published on 3rd May 2011, you can read 'Masters plan for the DIY market' here.
At the time, CEO Don Stallings said that all staff would receive at least 100 hours training and that stores would offer more than 35,000 product lines. They planned to differentiate themselves from Bunnings with brightly lit, colourful stores, with large coloured signage and store displays, aimed at attracting more of the female consumers. They were the first to have buzzers scattered around the stores, which, when pressed, would send nearby staff members running to help out that customer. They intended to offer softer product ranges and introduce McDonalds restaurants and McCafes in selected stores.
In June 2012 they launched their transactional website, offering more than 30,000 products to the Australian consumer, giving Masters the accolade of being the first online hardware and home improvement retailer in Australia. To this day, Bunnings still don't have a transactional website - take a look here.
At the end of its first trading year, Masters had generated revenue of $146m Australian dollars from 15 stores. In 2013, revenue grew to $529m from 31 outlets, $752m in 2014 from 49 branches and in 2015 it reached a peak of $930m from 62 branches.
However, during this period, due to significant investment costs and competitive pressure from Bunnings, Masters continually made losses and on 18 January 2016 Woolworths announced that it intended to "either sell or wind up" all its home improvement businesses, including Masters and it's Home Timber & Hardware retail business.
Chairman Gordon Cairns said that it would take years to become profitable and that ongoing losses simply could no longer be sustained. The windup involved Woolworths buying back Lowes 1/3rd interest in the venture.
Read 'Woolworths confirms that it intends to exit Home Improvement business'.
Read more about the Woolworths/Lowes break up here.
In the months following the announcement, speculation was rife over which companies would purchase the 63 Masters stores that were being sold, as the branches themselves commenced a slow and often criticised mark down of the millions of dollars of remaining stock. In August 2016, it was finally announced that the stores would close their doors for the last time in December 2016.
You can also read 'Masters stores to close for the final time here'.
An article worth reading from yesterdays News.com.au website - 'Masters slashes prices by up to 90 per cent to clear stores of stock before the retail disaster closes for good'.
I wrote this article as an obituary to Masters and to record for the sake of history, the key events during this period. But this of course, completely misses the personal side of the story and the 6,000 people who for a few and exiting years, gave everything to the Masters project. If you get chance, take a look at the range of content on Linkedin from Masters employees, this one below was written by Cherie Duarte, who I feel sums up the feeling of everyone involved.
Source: Steve Collinge MD - Insight Retail Group Ltd
If you'd like to comment, please contact me at Stever@irg.co.uk
15 December 2016

Thank you for the excellent presentation that you gave at Woodbury Park on Thursday morning. It was very interesting and thought-provoking for our Retail members. The feedback has been excellent.


Martin Elliott. Chief Executive - Home Hardware.