Digital Retail News
Nest Hello Video Doorbell is Coming to the UK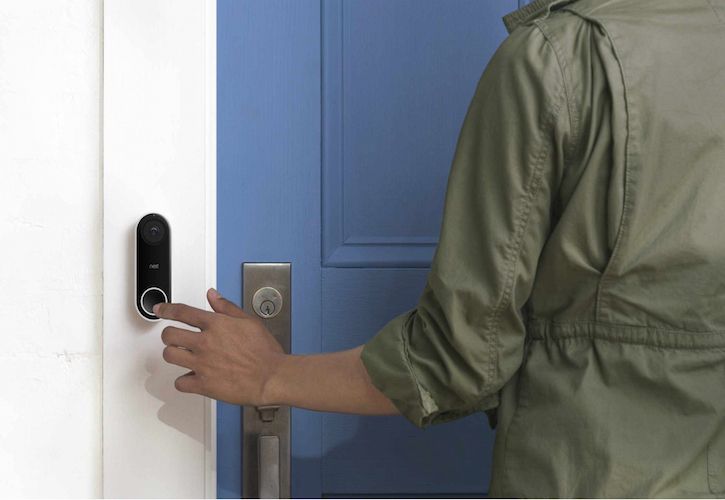 Following it's launch in North America at the back end of 2017, it's been announced that the Nest Hello video doorbell is now coming to the UK.
Owned by Google, the Nest product will be launched on 13th June at two different price points; £229 for the standard doorbell and £329 for the doorbell plus installation.
The product is one of a range of items now referred to as 'wired-wireless' where its power comes from the mains, but its connection to the internet all happens over Wi-Fi.
With an award-winning design, Nest Hello customers will be notified when a guest is at the door even when they are not home via their mobile phone, and can choose to have a natural conversation with HD Talk and Listen. If they're not available, a list of pre-recorded responses makes it easy to quickly and effortlessly answer visitors with one tap from the app. And just in case the baby is sleeping or you don't want to set off the dog, Quiet Time lets you turn off your chime, right from the app, while still receiving notifications.
Nest Hello can even let you know there's someone at your door on your Google Assistant-enabled speaker. And with a Nest Aware subscription, you can get personalized alerts based on who is at the door, such as whether it's a family member or the next-door neighbor.
"Your front door is where home begins. It's the entryway to special moments with family and friends – but also the most common way burglars enter your home," said Lionel Guicherd-Callin, head of EMEA Product Marketing for Nest Labs. "So we've designed a doorbell experience that makes your front door more safe and secure, yet still feels friendly. You can truly connect with your guests at the door from anywhere. Never miss a package. And have added security and peace of mind when it's needed."
Nest Hello includes the following features:-
• An HD camera designed for your front door. With a 2K image sensor at a 4:3 aspect ratio, a 160° field of view and HD video, you can see your visitors head to toe when they ring the bell. High-dynamic-range (HDR) imaging lets you see key details, even in uneven light, while night vision powered by IR LEDs lets you see when it's dark.
• Say hello even when you can't. Have a natural conversation using HD Talk + Listen. Echo and ambient noise cancellation make sure you hear your guests clearly, even on noisy streets. And if you are not available to talk, choose from a list of pre-recorded responses, such as "Just a moment, we'll be right there!" or "You can leave it, thanks!", to quickly and effortlessly answer visitors from the Nest app.
• Smart and thoughtful. A light ring will show your guests the button. And Quiet Time lets you turn off your chime from the Nest app, while still receiving notifications on the Nest app. So you don't wake up the baby or set off the dogs.
• Never miss a moment. With 24/7 video streaming, you can check what's happening at the front door anytime from your smartphone, tablet or even your TV, or check the free 3-hour history using Sightline in the Nest app to quickly find snapshots of important moments. And with Person Alerts built-in, you'll get a specific alert and snapshot when someone is at your door.
Makes other doorbells seem like dumbbells.
When customers add a Nest Aware subscription to their Nest Hello video doorbell they get an extra layer of intelligence, and continuous cloud video storage, delivering even more precise, actionable, and effortless video monitoring.
For example, with Familiar Face alert's powerful face recognition technology, teach Nest Hello to know if it's a friend or stranger at your door, so you'll know when it's someone important.
And with Nest Aware, customers will also benefit from existing features, including 5-, 10- or 30-day video history that you can browse and share in seconds using features like Sightline, clip and timelapse creation.
Pricing, availability and installation
Nest Hello is available to order today for £229 / €279 incl. VAT from www.nest.com/eu. Nest Hello will be available from leading retail, wholesale, professional and enterprise partners starting mid-June.
Before you purchase or install Nest Hello, we recommend you check the compatibility of your home using the online widget. Nest will be able to provide a recommendation on whether it's a simple installation, where you can follow the in-app step-by-step instructions, or whether it's time to call in a Nest Pro. You can also read these guidelines before installing your camera.
About Nest
Nest's mission is to create a home that's thoughtful - one that takes care of the people inside it and the world around it. The company focuses on simple, beautiful and delightful hardware, software and services. The Nest Learning Thermostat™ and Nest Energy Services keep you comfortable and can help reduce energy consumption. The Nest Protect™ smoke and carbon monoxide alarm helps keep you safe and the Nest Safety Rewards program lets you save money through participating home insurance providers. The Nest Secure™ alarm system, Nest Cam™ security cameras, and Nest Hello™ video doorbell help keep an eye on home from anywhere.
Nest products are sold in 20 countries and have been installed in almost every country in the world. The Nest Learning Thermostat has helped save approximately 20 billion kWh of energy to date. And through the Works with Nest program, third-party products can securely connect with Nest devices to make homes safer, more energy efficient and more aware. More than 30,000 Nest Pros around the world help install Nest products.
Source: Insight Team & Nest Labs press release.
For all the very latest news and intelligence on the coolest new products in the Home Improvement industry, sign up for our weekly newsletter today.
04 June 2018

Thank you for the excellent presentation that you gave at Woodbury Park on Thursday morning. It was very interesting and thought-provoking for our Retail members. The feedback has been excellent.


Martin Elliott. Chief Executive - Home Hardware.