UK DIY News
Online DIY marketplace - ManoMano - launches in the UK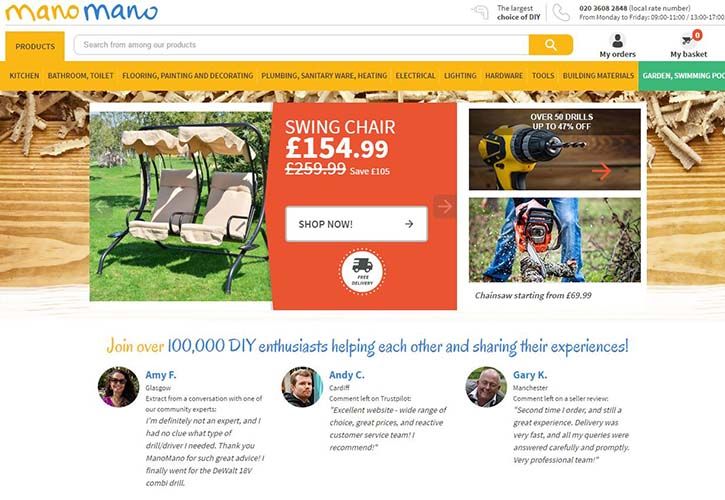 Online DIY marketplace ManoMano has launched in the UK.
The company was founded in France, in 2013, by Philippe de Chanville and Christian Raisson. The two venture capital investors and DIY enthusiasts came up with the idea of acting as a secure, online intermediary between customers looking to purchase DIY goods online, and a network of merchants. The company holds no stock; instead, orders are directly fulfilled by the suppliers.
In addition to the marketplace, ManoMano is also a community of DIYers who provide advice and support to one another. Philippe de Chanville said: "We don't pay them, these are DIY enthusiasts who want to help people out, " adding, "people who need help with a project can get up to 10 answers in real time. That's better than asking one person in a shop, who may just be trying to sell you something."
The company website explains its offer as below:
"ManoMano.co.uk is an online market specialised in DIY and gardening products which puts sellers and buyers in contact with one another. On ManoMano, you can find the tools to make your home and garden unique with super-affordable prices.
The main objective of ManoMano is to make DIY easy and accessible to all.
But how does ManoMano.co.uk work?
The customer chooses and orders online from the site ManoMano.co.uk their favourite products out of a choice of over 80,000 products available in our catalogue.
ManoMano sends the customer order to the seller and blocks their payment in a secure third party account.
The seller dispatches the order.
The customer receives their order and checks the contents.
In 4 easy steps, DIY and gardening becomes simple and fun.
And at this point the spontaneous question arises… Why open a blog? ManoMano wants to INSPIRE you. Here you will find creative and novelty tips from the world of DIY and gardening.
As Kotler said, we know that "People don't want a drill, they want a hole in the wall". To do so, ManoMano offers you all of the tools to make the wall of your home a true Swiss cheese!
Happy DIYing!"
The UK launch has been made possible by a €13M investment by Partech Ventures, which was also joined by Bpifrance, Piton Capital and CM-CIC Capital Privé.
Text from the press release, published April 6th, follows:
"Partech Ventures today announced its investment in ManoMano (formerly monechelle.fr), a community marketplace specialized in DIY and gardening products and services. The €13M financing round has also been joined by Bpifrance, Piton Capital and CM-CIC Capital Privé.
'The decision to invest in ManoMano quickly became obvious. The management team is excellent, and we were impressed by their strong ambition: becoming the European leader of this vast sector', explained Philippe Collombel, Managing Partner of Partech Ventures.
Thanks to its large community of DIY enthusiasts, ManoMano brings new inspiration to this sector. It accompanies them from a project's beginning to end, as well as installation with the help of SuperMano, a service connecting handymen and people seeking assistance with home improvement.
Since it was founded in 2013, ManoMano has set ambitious growth objectives and has consistently surpassed them, with business increasing from €1 million to €32 million in three years for 500,000 listed product references.
"Today, we are especially proud to announce having raised such substantial funds, and that we are supported by such prestigious investors. With these funds, we will accelerate our development and have the resources required for our European and community strategy. Ever since ManoMano was founded, we've had ambitious goals – and thanks to our teams, we have always surpassed them!" explained Christian Raisson and Philippe de Chanville, cofounders of ManoMano, whose workforce has grown from 9 to 53 since 2013.
Source : Partech Ventures, ManoMano.co.uk and Insight DIY
www.partechventures.com/news
06 April 2016

Insight provides a host of information I need on many of our company's largest customers. I use this information regularly with my team, both at a local level as well as with our other international operations. It's extremely useful when sharing market intelligence information with our corporate office.

Paul Boyce - European CEO, QEP Ltd.