UK DIY News
Retail Armageddon - coming to a store near you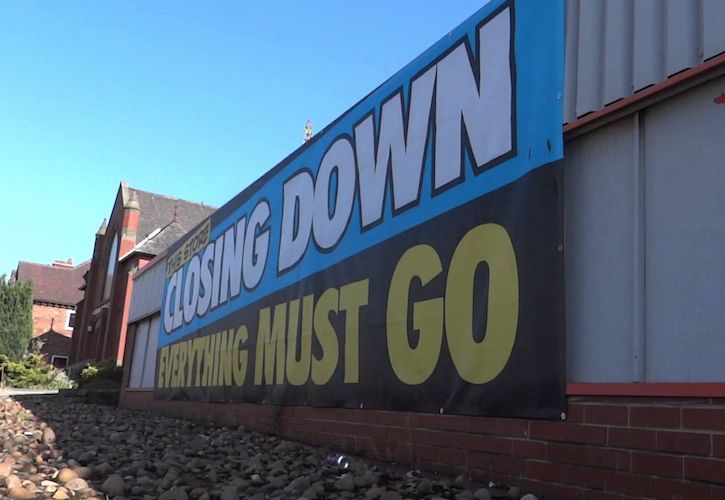 Earlier this week, The Home Depot, the worlds largest home improvement retailer announced a robust set of Q1 results, delivering a +4.9% increase in sales, +5.5% on a like for like basis, with sales growth across all geographical regions. You can check out the detail here - Home Depot Q1 trading update.
On it's own, this is a stand out performance, delivered by a company that has long recognised the importance of the digital transformation of its business. In less than 4 years e-commerce sales have grown from below 2% to 6% of total sales (equivalent to close to $6bn) and in Q1 2017, they're already running 23% up over last year. Another time we'll look at exactly what they've done to achieve this, but this article below gives you a good idea:- Home Depot building interconnected retail for digital DIY.
But these Q1 result are even more impressive when you consider the current retail landscape in the US. Words like armageddon and devastation are regularly being used across the pond to describe the recent dramatic changes in retail, as the number of bricks and mortar store closures accelerate to unprecedented levels.
In April, Credit Suisse issued a report on the state of retail in the US and concluded that "barely a quarter into 2017, year to date retail store closures have already surpassed those of 2008". According to their calculations, at that point approximately 2,880 store closures had been announced, more than double the 1,153 announced in the same period the year before. If you analyse the historical figures, around 60% of US store closures occur during the first 5 months of every year, meaning there could be as many as 8,640 closures in 2017. This is far higher than the peak of 2008, when 6,200 closed, suggesting we're facing a period of change, far more damaging than the worst point in the credit crisis. This is the list of US retailers, confirmed store closures so far in 2017.
Rue 21 (Clothing) – 400 stores
Sears & Kmart (Department store) – 150 stores
JC Penney (Department store) – 138 stores
Macy's (Department store) – 68 stores
Bebe (Clothing) – 180 stores
Abercrombie & Fitch (Clothing) – 30 stores
Guess (Clothing) – 60 stores
Crocs (Shoes) – 160 stores
The Limited (Clothing) – closed all 250 stores
Wet Seal (Clothing) – closed all 171 stores
Amercican Apparel (Clothing) – closed 110 remaining stores.
BCBG (Clothing) – closing 120 stores
Gander Mountain (Outdoor retailer) – 126 stores
Payless (Shoes) – closing all 400 stores
HHGregg (Electronics) – closing all 132 stores
Gamestop (Electronics)– 150 stores
Radio Shack (Electronics) – 552 stores
Staples (Stationery) – 70 stores
CVS (Pharmacy) – 70 stores
Family Christian (Books) – 240 stores
So is this dynamic typical to the US, or are they in reality just a couple of years ahead of the UK? Industry commentators have drawn interesting comparisons between the housing bubble and the retail bubble, where thousands of new outlets have been opened over the last 20 years, whilst rents have soared. There's no doubt the US still has excess retail space, a glut of outlets and too many shopping malls. On a per capita basis, they have 24sq ft of retail space per person, double that of Australia and five times that of the UK.
But should we really be concerned, after all, there are no home improvement retailers on the list? From our industry's perspective, it's reassuring, but that may be because the online DIY market is still relatively immature, both here and in the US. We both continue to head the list of ecommerce participation by country and still have the highest spend per online shopper, so if Retail Armageddon is going to happen, it will hit the US/UK first.
Online sales penetration of some of our categories is rocketing, with furniture, appliances and equipment delivering the second fastest year on year growth rate in the US in 2016 at 26%, second only to Jewellery and Watches with 39%. The Home & Garden category was 7th on the list, increasing 22% year on year and above the overall average of 19%.
In the UK, the figure of 5.5% online penetration of DIY and Gardening is regularly banded about by market research companies, although with so many new e-commerce market entrants every month, I don't believe anyone really knows. What we do know, is that online penetration is gathering pace and e-commerce retailers are already taking close to 10% market share in key categories such as bathrooms, power tools, ironmongery and garden furniture.
Companies like Uber, Airbnb, Deliveroo, Tesla and Purple Bricks have taught us to embrace new businesses and not only accept, but to love innovation and to be intollerant of 'traditional' business that make our product or service purchase process slow and clumsy. And yet, even with this backdrop, Home Depot have managed to grow their overall sales in every geographical region, proving their investment in 'interconnected retail' is clearly starting to pay off.
What concerns me the most is that with the exception of Screwfix and Toolstation, the UK's leading home improvement retailers haven't grasped the importance of the digital transformation of their businesses. All I see, is a gradual, almost reluctant move towards having to adopt a digital focus, examples being B&Q's eventual roll out of click'n'collect across their store estate and Bunnings recent announcement accepting that a transactional website in the UK is necessary evil!
If or rather when Retail Armageddon hits the UK shores, yes, it will be department stores, clothing, shoe and electronics retailers that are devastated first - don't forget that we've already lost in the last 15 months BHS (department) 164 stores, Jaeger (clothing) 34 stores, Austin Reed (clothing) 155 stores, Brantano (shoes) 73 stores and Jones the Bookmaker has been sold in a pre-packed administration deal. Retail Armageddon in the UK is less than 2 years away and unless the home improvement retailers get their act together now, they'll wonder what the hell hit them.
Steve Collinge – MD Insight Retail Group Ltd - steve@irg.co.uk - Twitter
If you like this article and are interested in hearing more, I'll be presenting at the 5th Global DIY Summit in Berlin on 8th/9th June this year. Read more here - 'The fourth industrial revolution and the transformation of our industry".
18 May 2017

I find the news and articles they publish really useful and enjoy reading their views and commentary on the industry. It's the only source of quality, reliable information on our major customers and it's used regularly by myself and my team.

Simon Fleet - Sales & Marketing Director, Thomas Dudley Ltd