UK DIY News
Retailers set for a subdued Christmas sales period as fewer consumers plan to bag a bargain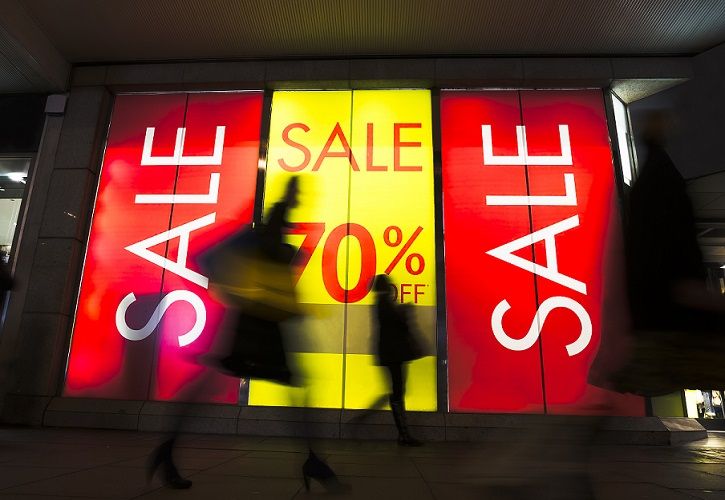 New research from Barclaycard suggests the traditional Boxing Day sales may be on the wane in 2016, as more retailers slash prices on Black Friday and in to early December.
Of those who plan to shop in this year's festive sales, only a quarter (23 per cent) will do so on Boxing Day – down from a third (32 per cent) last year, according to Barclaycard, which processes nearly half of all debit and credit card transactions in the UK. One in five (20 per cent) will shop on Christmas Eve – down from a quarter (26 per cent) in 2015 – and just one in seven (15 per cent) will shop on Christmas Day.
Consumer appetite for the post-Christmas sales has dampened against a backdrop of an extended discounting period that, for many retailers, began on Black Friday and continued well into December. Separate data from Barclaycard showed the number of payment transactions on Friday 25th November rose 6 per cent compared to Black Friday 2015 – the highest volume increase to date.
For those who are planning to disrupt their Christmas Day celebrations to stock up on sales items, almost three in ten (28 per cent) are motivated by the fear of missing out on the best bargains. Almost a quarter (23 per cent) say it is simply because they will be bored and want something to do, while one in ten (11 per cent) will be seeking a cut-price present for friends and family they are yet to see this Christmas period.
A few keen bargain hunters (15 per cent) will stay up late on Christmas Eve to hit the online sales when they first launch, while one in six (17 per cent) plan to shop online during the Queen's Christmas Speech.
Despite historically being seen as a bumper day for consumer spending, shopping in the sales ranks lower on the list of things consumers would prefer to do on Boxing Day. Almost half (48 per cent) are most likely to be spending time at home with friends and family, followed by watching Christmas television (33 per cent) and going for a walk (25 per cent), rather than sales shopping (10 per cent).
Reflecting this shift in priorities, Barclaycard's spend data shows more growth on entertainment spending than any other category on Boxing Day last year, up 26.9 per cent on 2014, with double digit growth across pubs (23.4 per cent), restaurants (21.9 per cent) and cinema (25.8 per cent) as consumers prioritised leisure time with friends and family.
Half (50 per cent) of consumers hunting for a bargain in this year's festive sales expect to spend the same amount as they did last year, compared to just one in ten (11 per cent) who plan to spend more this year. Of those that plan to spend more, securing value for money is top of the agenda, as a quarter (26 per cent) say they want to take advantage of deals now because they expect prices of goods to increase in 2017.
Department stores and furniture stores were big winners on Boxing Day last year, welcoming spending uplifts of 5.5 per cent and 10.2 per cent respectively as shoppers took advantage of slashed prices on a range of household goods. This year, clothing and jewellery tops the list of most sought-after items for 44 per cent of Brits, followed by books (21 per cent) and CDs, DVDs and computer games (20 per cent).
Consumers in the North West are planning to splash out the most on sales goods, with an average predicted spend of £235 per person, followed by the South East (£221), London (£191), and Scotland (£120).
| | |
| --- | --- |
| Region | Estimated average spend on this year's post-Christmas sales |
| UK average | £162 |
| North West | £235 |
| South East | £221 |
| London | £191 |
| Scotland | £120 |
As pre-Christmas discounts rise to record highs, savvy shoppers are also demanding more from retailers, with a third (34 per cent) of Christmas sales shoppers requiring at least a 50 per cent discount to make a purchase either online or in-store. However, a fifth (20 per cent) don't need to be persuaded by a reduced price tag in order to make a purchase; if they like it they will pay full price.
Paul Lockstone, Managing Director, at Barclaycard, said:
"Consumers have become accustomed to bagging a bargain during the extended festive sales period, with many retailers closing the gap between Black Friday and the Boxing Day sales with month-long discounting events. As a result, the long queues we've traditionally seen outside flagship stores on 26th December may progressively become a thing of the past.
"Although we are now spending more on leisure activities with friends and family on Boxing Day than sales shopping, many will still be searching for deals – whether that involves staying up late to buy that must-have item at a cut price, or 'double-screening' during the Queen's speech."
Source : Barclaycard
www.home.barclaycard

Sign-up for our weekly newsletter here.
If your business is interested in pricing intelligence or you're currently trying to track retail prices manually, there really is a much easier way. Just contact us here.
26 December 2016

Insight provides a host of information I need on many of our company's largest customers. I use this information regularly with my team, both at a local level as well as with our other international operations. It's extremely useful when sharing market intelligence information with our corporate office.

Paul Boyce - European CEO, QEP Ltd.