UK DIY News
Stelrad Announces Intention To Float On The LSE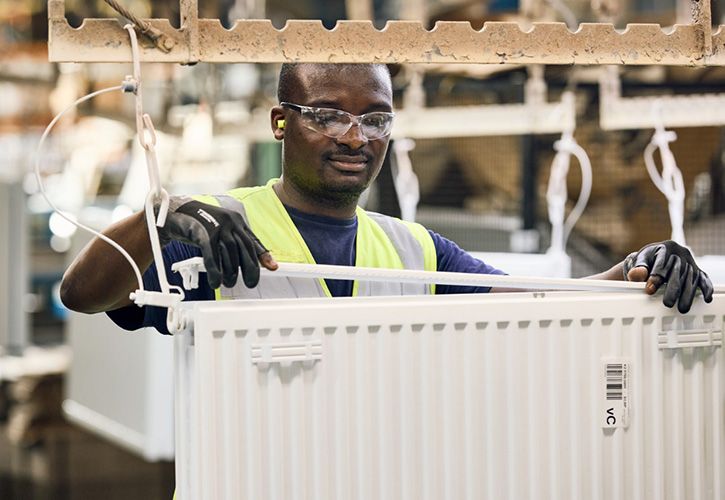 Stelrad, a leading specialist manufacturer and distributor of steel panel radiators in the UK, Europe and Turkey, today announces that it is considering an initial public offering (the "IPO" or the "Offer") and that it intends to publish a registration document (the "Registration Document") today. Stelrad is considering applying for admission of the Ordinary Shares to the premium segment of the Official List of the FCA and to trading on the Main Market of the London Stock Exchange ("Admission").
Group highlights
Stelrad is a leading specialist manufacturer and distributor of steel panel radiators in the UK, Europe and Turkey, selling an extensive range of standard and premium steel panel radiators, low surface temperature ("LST") radiators, towel warmers, decorative steel tubular radiators and other steel "column" radiators ("Radiators") to more than 500 customers annually.


The Group offers a comprehensive range of radiators across all price categories, with higher margin premium steel panel and other designer radiators representing 6.2 per cent. of sales volumes and 32 per cent. of the Group's Contribution1 in 2020, reflecting a highly effective upselling strategy over recent years (2015: 25 per cent.).


The origins of the Group date back to the 1930s and Stelrad enjoys long established commercial relationships with many of its customers, having served each of its top five customers for over twenty years.


The Group is headquartered in the United Kingdom, and has been a leading supplier across Europe for over twenty years, with manufacturing and distribution facilities in the United Kingdom, Netherlands and Turkey, additional distribution facilities in Poland and Denmark and sales personnel in seven other countries, including China.


The Group operates across six core geographies: UK, Benelux, Germany, France, Turkey and Poland (the "Core Geographies"). Collectively, the total addressable market across these geographies has an estimated value of £1,100 million, and equates to approximately 24.4 million radiators2.


The Group has developed strong market positions across the UK, Europe and Turkey, particularly in the UK, which in 2020 was Europe's second largest market for steel panel radiators. The Group has number one positions in five markets (UK, Ireland, Netherlands, Belgium and Denmark) and top three positions in a further six markets.


The Group focuses on a number of strong, established brands and has a well invested, lowcost manufacturing base, supported by extensive distribution facilities.


Stelrad's four distinct business units are UK Radiators; Continental Radiators; Termo Teknik; and Hudevad.
Financial highlights
The Group has a track record of sales growth, having generated sales revenue of £197 million in 2020 and delivered 5.2 per cent. compound annual growth rate ("CAGR") in sales from 2015 to the end of 2019 (which rises to 6.8 per cent. when excluding sales to Turkey).


Further, its business model has proven resilient, through the three major disruptive market events of the last 15 years, being the 2008 financial crisis, Brexit and COVID-19 pandemic. In particular, the Group's financial performance experienced only a limited impact from the COVID-19 pandemic.


The Group's revenue for the year ended 31 December 2020 was 11 per cent. lower than budget, with the most significant reduction in sales volumes experienced in the UK during the restrictive lockdown period in Q2 2020. Since Q3 2020 there has been a significant recovery, particularly in the higher margin replacement sector, and the Group's EBITDA for the year ended 31 December 2020 significantly exceeded the Group's pre-COVID-19 budget.


In the twelve months ended 30 June 2021, the Group's revenue grew to £242.508 million, up 23.4 per cent compared to £196.565 million in the year ended 31 December 2020, principally as a result of increased sales volumes which were lower in the six months ended 30 June 2020 due to the COVID-19 pandemic and selling price rises in the six months ended 30 June 2021 following an increase in steel prices. During the same period, the Group's operating profit grew to £31.991 million, a 63.9 per cent increase on the £19.524 million generated by the Group in the year ended 31 December 2020. This was principally as a result of an increase in sales volumes, increased production at lower cost facilities and the benefit of increased selling prices partially offset by the impact of steel price rises.
Growth drivers and strategy
Broadly, the demand for hydronic radiators is driven by the replacement cycle in the private repair, maintenance and improvement ("RMI") sector and by new build housing installations. New build demand is typically characterised by buyer specification, which is also a driver in other channels such as social housing and commercial. The Group has strong relationships with specifiers, merchants and installers, particularly in the UK where Stelrad is the main supplier of the significant majority of hydronic radiators to four of the largest national housebuilders and has entered into other contracts with leading specifiers.


The Directors believe the Group is the standout platform of scale in the European heat emission market and a natural market consolidator as smaller competitors who lack the scale to compete are expected to struggle to adapt to anticipated changes in the market, resulting in the Group increasing its overall market share.


As a consequence, the Group is ideally placed to influence the direction of the market and is poised to play a significant role in the decarbonisation journey as it adapts in response to various governments' initiatives and benefits from the estimated additional £240 billion which needs to be spent annually renovating approximately 35 million buildings (approximately £7,000 per building) to reduce buildings' carbon emissions by at least 60 per cent. by 2030 as part of the EU Climate Target plans.


There are opportunities to use Stelrad's brand strength, channel access, logistics capability and customer relationships to extend its product offering into emerging and fast-growing categories suitable for a low or zero carbon future, such as air management and heat recovery, hydronic convectors and electric heat emitters, alongside more conventional products such as water treatment, valves and controls.


Stelrad's strategy builds upon the Group's leading market position to achieve further organic growth within existing product categories through increased penetration of existing geographies, further leveraging the Group's low-cost base alongside ongoing product mix improvement, notably in premium steel panel radiators. This will be aided by effective channel positioning and brand marketing, focusing on the higher margin premium radiator segment and continuing to optimise the Group's operational infrastructure.


Stelrad will also continue to position itself to react to market shifts resulting from the decarbonisation drive, developing its product portfolio and introducing products which are compatible with low carbon, low temperature heating systems.



The Directors also believe that Stelrad has the opportunity to strengthen its market position in the heating sector through complementary acquisitions providing further product breadth and geographic expansion opportunities.
Click here to review a factsheet on the Stelrad business.
Bob Ellis, Chairman of Stelrad, commented: "Stelrad is a leading specialist manufacturer and distributor of steel panel radiators with a track record dating back to the 1930s. Today, the Group benefits from an unrivalled combination of brand strength, highly efficient operating infrastructure and market access, trading across six core geographies of the UK, Benelux, Germany, France, Turkey and Poland.

"The European countries where the Group operates have been progressive in advancing the decarbonisation agenda through strong regulation and policies and Stelrad's products will play a key role in the longer-term transition away from traditional gas boilers with larger surface area radiators in particular being well suited to low temperature systems such as heat pumps.

"The Group's highly experienced management team have a wealth of industry experience and a longstanding commitment to the business having put in place a strategy that has seen the business deliver a resilient financial performance in recent years and, as a result, the Group is well placed to build on the strong momentum through both organic and inorganic growth opportunities."

Trevor Harvey, Chief Executive Officer of Stelrad, commented: "Our successful growth strategy has been built upon a combination of standardised product design across all our manufacturing facilities, a key focus on specifiers across all of our end-markets and continued range innovation, alongside our multi-brand strategy that enables products and brands to be tailored to specific channels. As a result, we are the number one steel panel radiator business in a number of the markets where we operate.

"Hydronic systems dominate the heating market and steel panel radiators remain by far the most popular heat emitter with demand driven by both first-time installations and replacements. The overall market value is growing thanks to positive underlying market activity and continued adoption of premium panel radiators with the move towards decarbonisation presenting numerous opportunities and limited disruption to our longer-term growth plans.

"Our extensive product offering, strong relationships with all major distributors and specifiers plus this supportive market backdrop mean that we are confident of delivering further upside as part of our growth plan as we continue to play a leading role in keeping Europe warm."
Click here to review a factsheet on the Stelrad business.
Source : Stelrad
For all the very latest news and intelligence on the UK's largest home improvement and garden retailers, sign up for the Insight DIY weekly newsletter.
07 October 2021

I find the news and articles they publish really useful and enjoy reading their views and commentary on the industry. It's the only source of quality, reliable information on our major customers and it's used regularly by myself and my team.

Simon Fleet - Sales & Marketing Director, Thomas Dudley Ltd