UK DIY News
Strong Annual Results From M&S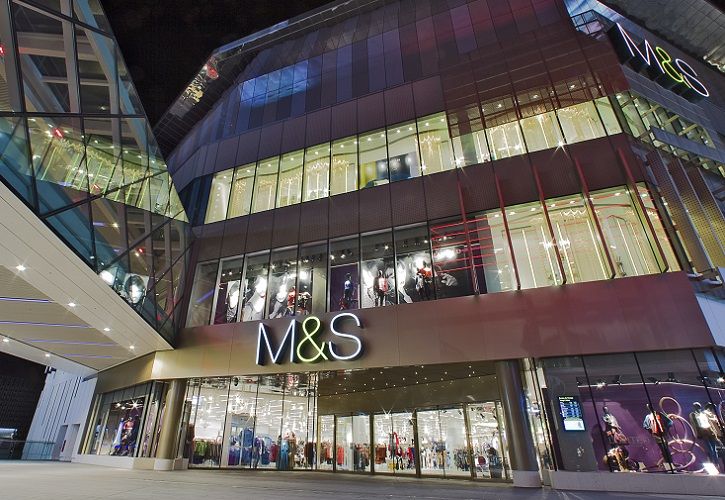 Marks and Spencer Group Plc has published full-year results for the 52 weeks ended 2 April 2022, advising of a "strong performance delivered by a more resilient M&S".
The impact of Covid in 2020/21 renders comparisons to the prior year less meaningful. To aid understanding, throughout this document we [M&S] are showing the 52 weeks to 28 March 2020 as the comparative period, unless stated otherwise.
Strong all-round performance
Profit before tax and adjusting items of £522.9m (2019/20 £403.1m).
Statutory profit after tax of £309.0m (2019/20 £27.4m).
Food growth of 10.1%, ex hospitality and franchise sales1 up 14.7%.
M&S share of Ocado Retail net profit £13.9m including £7.2m net exceptional costs.
C&H sales up 3.8%. Online growth of 55.6%, stores down 11.2%.
Strong cash flow, reducing net debt excluding lease liabilities by £1.0bn to £420m.
Business well positioned for inflationary headwinds and the next phase of transformation
M&S Food outperformance supported by record quality and improved value perception.
Ocado Retail basket size normalised as anticipated, transitioning to rapid capacity growth.
Reshaped C&H range and value commitment delivering full-price sales growth of 28.5%.
Online C&H sales now 34% of UK C&H sales and nascent brands platform established.
Sparks has grown to 15m members, fuelling data and personalisation drive.
International online retail sales over £250m vs £100m in 2019/20.
Increased store rotation pipeline in both Food and C&H; new format stores performing well.
Steve Rowe, CEO: "When I took over the reins at M&S six years ago, I committed to tackling the underlying issues that had eroded the strength of the business and building the foundations for future growth. For me, what is important about these results is not just the restoration of profit and strong cash flow; it is that they demonstrate that M&S has fundamentally changed. While there is much more to do, the business has moved beyond proving its relevance and has the opportunity for substantial future growth. It has been my privilege to be the steward and shopkeeper of this fantastic business and extraordinary brand at such an important stage in its history. The changes we have delivered are down to the commitment and hard work of colleagues across the business, and I am delighted to hand the baton on to Stuart, Katie and Eoin to lead the next phase."
Group Results

52 weeks ended

2 April 22

53 weeks ended

3 April 21

52 weeks ended

28 March 20

Change vs 2019/20 (%)

Statutory revenue

£10,885.1m

£9,166.9m

£10,181.9m

6.9

Sales before adjusting items2

£10,909.0m

£9,166.9m

£10,181.9m

7.1

Operating profit before adjusting items

£709.0m

£222.2m

£590.7m

20.0

Profit before tax & adjusting items

£522.9m

£50.3m

£403.1m

29.7

Adjusting items

£(131.2)m

£(259.7)m

£(335.9)m

-60.9

Profit/(loss) before tax

£391.7m

£(209.4)m

£67.2m

482.9

Profit/(loss) after tax

£309.0m

£(201.2)m

£27.4m

1,027.7

Basic earnings/(loss) per share

15.7p

(10.1)p

1.3p

1,107.7

Adjusted basic earnings/(loss) per share

21.7p

1.4p

16.7p

29.9

Free cash flow

£699.2m

£296.4m

£205.7m

239.9

Net debt

£2.7bn

£3.52bn

£3.95bn

-31.7

Net debt excluding lease liabilities

£0.4bn

£1.11bn

£1.39bn

-71.2

Dividend per share

-

-

3.9p

n/a
1 The Food ex hospitality and franchise sales APM is based on total revenue rather than like-for-like revenue, as was presented at the 20/21 year-end results, and 21/22 half-year results.
2All references to sales, a new APM, throughout this document are statutory revenue plus the gross value of consignment sales excluding VAT.
Source : Marks & Spencer Group
For all the very latest news and intelligence on the UK's largest home improvement and garden retailers, sign up for the Insight DIY weekly newsletter.
25 May 2022

Thank you for the excellent presentation that you gave at Woodbury Park on Thursday morning. It was very interesting and thought-provoking for our Retail members. The feedback has been excellent.


Martin Elliott. Chief Executive - Home Hardware.