UK DIY News
Survey shows 14% of homeowners considering a major renovation project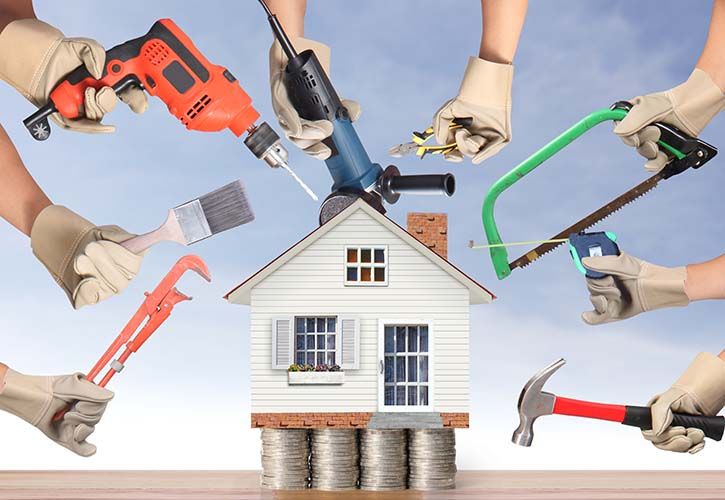 New research reveals that 14% of homeowners are considering making improvements to their home. The survey, commissioned by Gocompare.com Money, found that 5% of homeowners have decided to extend their current home rather than move house. Fitting a new kitchen, building an extension, installing a new bathroom, and a garden make-over top homeowners' renovation wish-lists.
Home improvements wish list
1 - A new kitchen - 36%
2 - Build an extension - 34%
3 - Install a new bathroom - 33%
4 - A garden make-over - 24%
5 - Convert the attic into an extra room - 19%
6 - Install a new boiler or central heating system - 17%
7 - Knock through rooms to create an open plan space - 16%
8 - Fit double glazing - 10%
9 - Add an extra bedroom - 10%
10 - Install solar panels - 7%

Gocompare.com's money spokesperson, Matt Sanders, commented: "Whether it's to increase your living space to accommodate your growing family, or to reduce your household bills by improving your home's energy efficiency, home improvements are a great way of making your home a nicer place to live and can add value to your property.
But, while it can be cheaper to improve rather than move, major renovation projects can still run into tens of thousands of pounds. So, unless they have built-up substantial savings, most homeowners will need to consider either taking out a loan or re-mortgaging their home to fund their projects. For less costly projects, a 0% credit card or an agreed bank overdraft may also be worth considering."
Personal loans
Personal loans aren't secured against property or assets. The most you can borrow is typically £25,000 and the maximum term of the loan is likely to be 10 years. Monthly payment amounts, the interest rate and repayment levels are usually fixed up front which helps with budgeting. The interest rate you pay will depend on your personal circumstances.
Secured loans
Loans are secured against your property and the amount you can borrow, the term of the loan and interest rate will depend on asset equity, your credit history and personal circumstances. Secured loans are typically repaid over five-to-25 years and are for sums over £15,000. Interest rates are typically lower than for unsecured loans, but as your home is used as security it could be at risk if you fail to make repayments to the lender.
Re-mortgages
If you need to raise a large secured loan to fund your home improvement project then you may want to consider re-mortgaging your home. Re-mortgaging enables you to release equity from your home and can be a good option if your project will add to the value of your property – for example, if you're thinking of building an extension. But, like the secured loan, your home will be at risk if you are unable to make the repayments.
Matt Sanders concluded: "If you need to borrow money to fund your renovation plans, it's essential to do your homework and weigh up the pros and cons of each option against your personal circumstances. This will help you to properly understand the full costs of borrowing and whether you can afford it.
"The amount you pay in interest will have a big impact on the overall cost of any loan – so, it's important to shop around to make sure you're getting a good deal. But, beware of low advertised interest rates. Legally, these only need to be given to 51% of successful applicants so, the deal you're offered may not be as good as it first appeared. Whatever type of loan you're interested in, use a smart search tool – such as the one on Gocompare.com - to make a soft search. A soft search will show you the deals you're likely to be accepted for without impacting on your credit rating."
For more information read Gocompare.com's guide on financing home improvements.

Source : GoCompare Press Release
www.gocompare.com/press-office/2016/hom-improvement-wish-list

07 April 2016

Thank you for the excellent presentation that you gave at Woodbury Park on Thursday morning. It was very interesting and thought-provoking for our Retail members. The feedback has been excellent.


Martin Elliott. Chief Executive - Home Hardware.